I was lucky enough to be part of the audience for the pilot of Yorkshire Telly LIVE! I had no idea what to expect, but Matt Humphreys' blog post helped to put in context what the project was trying to achieve.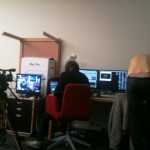 This pilot show was an experiment, and a very exciting experiment at that! Mr M and I turned up at 8.30pm to a surprisingly calm studio. I'd expected much flapping and hair pulling, but everything was in order and ready to go with no fuss, and no panic. The room was jam packed with technology, had Archie the dog doing all he could to claim a scotch egg, and contained a group of talented and inspiring folk ready to share the wealth of Yorkshire culture with the world.
There's something brilliantly magical about live events. Perhaps it's the possibility that things can go wrong at any minute, that someone might say something awful or fail to speak at all, the roof might cave in or in this case the marvellous Archie could cause a disastrous ruckus! Or perhaps it's because you're communicating directly with people in that exact moment. Wherever it comes from, that magic was tingling and vibrating in the atmosphere at the Yorkshire Telly studio as we got closer to broadcasting time.
Then the clock struck 9pm, Will counted us in and the show began. Albert Ross proved to be a perfect presenter for the occassion. He has an ease and witty gentility about him that is just right for a show like this.
The first guest was comedian and musician Silky, (who has a striking resemblance to Dr Green from ER), followed by Ivor Tymchak, (a talented caricature artist and co-creater of Bettakultcha – see my earlier post). On third was Nigel Vardy who has an awe inspiring attitude and an incredible tale to tell. He used the Bettakultcha format to share his story on Yorkshire Telly LIVE, and I'll be interested to watch it back to see how this format comes across on screen. Closing the show was the fantastic musician Ryan Spendlove.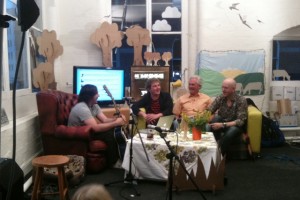 Questions for guests were tweeted live to the set so that the audience could have real input to the show and this is one of the fantastic benefits of a live broadcast.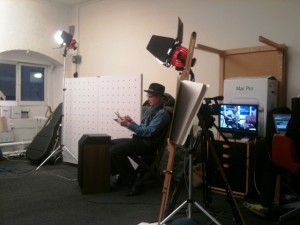 If anything, I felt that the show needed more time (or fewer guests?), but that's largely because I was enjoying it so much, and felt a slight twinge of disappointment when we had to move on from each person! That's a clear sign of success though, especially given that it ran to 1hr, and was initially meant to be 30 mins!
Sadly, there were some people who couldn't load the live streaming, which is a real shame, but Yorkshire Telly will sort out this problem for next time and it shows that there is a great demand for the project. Given that this was a pilot and that was the only hiccup, I'd say that it was a resounding success! I can't wait to see it develop. It's such an exciting format, and live telly is something that shouldn't belong to the 80s and 90s alone!
(Thanks to Sean Murricane for the photos!)
Comments
comments