The Sunshine Bakery has been featured every Friday for the last month at The Source's stall in Leeds Kirkgate Market. I saw a picture on Twitter of what was on offer and just couldn't resist it, so nipped in on my lunch break.
I say 'nipped', but my knowledge of the roads south of Leeds is still a little hazy, so it took me a good while longer to get there than it should have, and the fractious journey was accompanied with lots of cursing! I then made the mistake of parking in the NCP car park right next to the markets. Don't do it!! 2 hours minimum parking for a whopping £5.40. Being slightly roadragey and starving wasn't a good combination for discovering this and I entered the markets with a distinct frown on my face.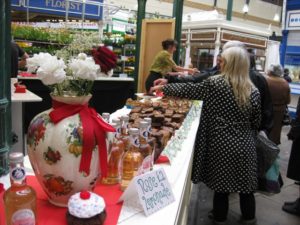 However, the radiance of the Sunshine Bakery stall and the beaming faces of the staff soon obliterated this. I was welcomed with enormous smiles, as well as samples of pork and black pudding sausage rolls (delicious) and chocolate brownies (devilishly delicious).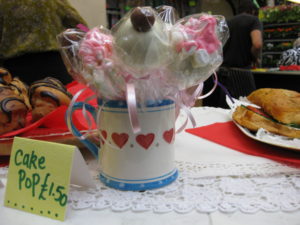 The stall is laid out with the same charm and character as Sunshine Bakery's cafe in Chapel Allerton. There is a parade of cakes and brownies, as well as savoury rolls, sandwiches etc. Such attention to detail in their creation makes the stall buzz with excitement, and I imagine that wherever these delights are created to be something like Charlie's chocolate factory. They certainly create the same wonder and giddy excitement when you see them. Cake pops?! Brilliant!
I left with an enormous Yorkshire Cheddar, pickle and salad roll, a sausage roll, and 2 chocolate brownies, and proceeded to stuff the roll into my face. I then went to another stall and got some material to extend my childhood curtains for Bump's nursery. The man there was really helpful, and I got what I needed for £3!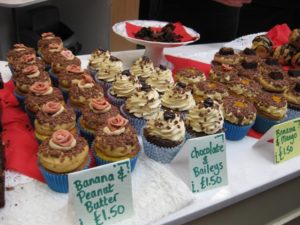 I love the markets! I just hate the parking. The nearby council car park has a £1 hourly rate, but is often full. I will have to try there next time though, or just not go. I hate that such boring things can be so preventative, but £5.40 for 20 minutes parking is insane and added a 50% cost to my previously bargainous purchases.
If you haven't been to The Sunshine Bakery in Chapel Allerton I highly recommend it, and hopefully it will return to The Source on a regular basis. Sign up for The Source's newsletter so that you're in the know!
Comments
comments