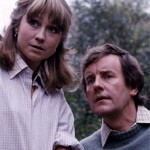 When I was little I loved The Good Life and wanted to be just like the beautiful, long suffering but happy Barbara. She had such amazing jumpers!! Without planning it I have found myself accidentally steering into a slightly similar way of life. Although we don't have the pigs. Not yet.
I've been growing vegetables for the last few years, but I'm certainly no professional. I very much just give it a bash, see what happens(!), and hope to learn as I go.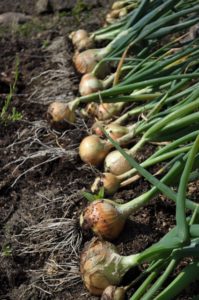 In the autumn I planted onions for the first time and this week they were ready! I had to look up how to tell that this was the case – apparently the stalk leaves start to yellow and fall over. When half of them have fallen over, wait a week or two then lift them all up. (What did people do before Google?!)
This was yesterday's harvest!! It is embarrassingly satisfying to me. There is a whole drying ritual that I am going to try. From what I can tell, leave them outside or on a window sill for a couple of weeks to dry out – this is how the brown skins form – then you can hang them up, or trim them and store them somewhere dark. I eat onions in nearly everything though, so can't see them lasting too long… this may all be entirely unnecessary!

We used the first home grown onion in our salmon pasta dish last night and it was brilliant. Although I love them, I'm fully aware that onions generally aren't that exciting, but after spending over 6 months growing the things, I have a whole new appreciation for them!
I need some recipe ideas – I might make a French onion soup this weekend, but anyone got any other onion dish suggestions?!
Comments
comments