Before last week, I'd never heard of Yorkshire Day. What is it? What's the point? If you're as lost as me, Yorkshire Telly's Matt Humphreys gives you a bit of a background in his blogpost.
There's quite a lot of cynicism about the day – it's a marketing ploy, it reinforces stereotypes etc. But that's such a negative approach. No matter where the day originated from and how some people use it now, what's wrong with celebrating the great things that Yorkshire has to offer?!
Yorkshire has an incredible variety of landscapes, communities and traditions, old and new, so there's a lot to discover. There are large urban centres like Sheffield and Leeds, rural towns and villages nestled within the beautiful rolling Yorkshire Dales, and the rugged North Yorkshire coastline. With such distinct differences not only in the landscape, but with it's people and lifestyles, how do you sum up what is 'Yorkshire'? Well, I don't think that you necessarily should. Any attempt would miss out too much!
Some people celebrate Yorkshire throughout the year anyhow. Yorkshire Telly actively seeks out and shares the region's artistic and cultural talent with the world, setting and recording videos in locations throughout the region, using both urban and rural settings. Fantastic restaurants like Dough Bistro source local foods from Yorkshire and creates dishes around them. And then there are the top quality producers themselves. Swillington Farm in Leeds is a fantastic example. These are just a few of Yorkshire's heroes that make Yorkshire a fantastic place all year round. Perhaps people like them are what we should celebrate.
However, many businesses and visitor attractions will be going all out for Yorkshire Day. Lishman's has spent the last 3 months creating a Yorkshire Sausage recipe. And why not? Let's rival the Cumberland! I'm intrigued to try it, and it's being launched in Ilkley as part of Yorkshire Day celebrations, (which boasts a larger than life sausage mascot?! Terrifying!). David Lishman will then be sharing the recipe with butchers, so ask your local butcher to start making them!
Whilst I'm intrigued by the all new Yorkshire Sausage, let's not ignore well known traditional foods like the fantastic Yorkshire Pudding. I could eat them all day, every day and be happy. But probably pudding shaped! So if you do nothing else to celebrate Yorkshire Day, perhaps you could whip yourself up a batch of these on 1st August! Please don't cheat and get the cardboard textured frozen ones… They are easy to make. Look:
Yorkshire Pudding Recipe
Makes 8 small puddings.
Ingredients (same as for pancakes):
100g plain flour
250mls milk
1 free range egg
Pinch of salt
Oil or beef dripping for cooking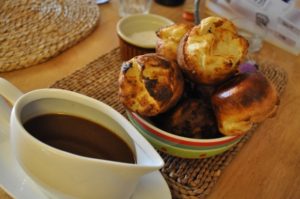 Preheat oven to 230. Whisk all the ingredients together. When the oven is hot, put a small amount of oil or beef dripping (much tastier) in the bottom of 8 sections of a muffin tray. Put this in the oven so that it gets really hot – it should be starting to smoke. Add enough batter to each muffin section so that they're roughly half filled, and quickly get the tray back in the oven and shut the door. Don't keep opening the door for sneak peeks! Keeping the oven as hot as possible is the trick to great puds. Cook for 20 minutes then devour.
Comments
comments