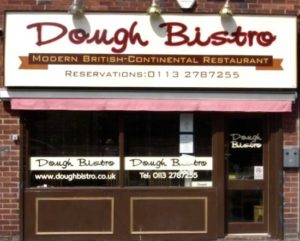 A couple of weeks ago, Mr M and I tried out Dough Bistro in West Park, Leeds.
What interested me most about Dough was the focus on locally sourced food. I can't believe that more restaurants don't do this as a matter of course (ha), but it's still quite a rarity. Local food is something that this restaurant celebrates as it builds its menu around the produce available both seasonally and regionally.
Besides this, there is the added bonus of being able to bring your own alcohol, which helps to make a meal out more affordable. Mr M and I opted for the four course set menu, at £26.95 per person. It's good value as the dishes are a clear step up from your average bistro fare without being off-puttingly poncy. They suit the bistro perfectly, which itself is a relaxed and welcoming space that has a definite touch of class with its wooden tables and floors, and brick walls.
I started off my meal with slow cooked Leeds hare. I'd never tried hare before, but it was delicious – full of flavour without being too strong. This course was followed by a home-grown raspberry, elderflower and Leeds Sparkling wine sorbet, which was really refreshing.
For the main course I had beef fillet with frog's legs, green olive velouté & black tiger prawns. YES. Frog's legs. Now, this was a new experience for me. I'm not one to shy away from trying interesting food choices, and I'm generally not squeamish about alternative foods… BUT. I didn't cope well with the sight of the legs sitting there in front of me, presented like a crown atop my beef fillet. It was largely my own fault though for having a total misconception about them – for some reason I had it in my head that they would be a bit like crispy green beans?! This was not the case. They were bulbous, pale, and impressively large legs, complete with well defined toes. I think it was the toes that ultimately put me off. I did try eating the legs though, and Mr M was right in saying that they're a bit like chicken wings. They actually tasted good and were quite sweet if anything, however, my stomach had objected to the toes, and so the legs were banished to Mr M's plate for the remainder of the meal. The beef fillet was amazing though!
I finished off with a strawberry and lemon sponge, which I was a bit too full to get through, so Mr M was very brave and helped me with it. The best part of this dish was the strawberry and balsamic ice cream, which was a summer sensation.
We had a fantastic time at Dough Bistro, and if you haven't been I'd really recommend it. It's a definite treat, but without the pomp and circumstance you find in other restaurants serving the same quality of food.
Keep an eye on their website, and sign up for the newsletters to hear about special events. For example – 1st August is Yorkshire Day, and Dough is serving a special 7 course tasting menu, with drinks for £50 per person. It's bound to brilliant, so get booking quick!
(Tip: follow Dough on Twitter to get a 10% discount – @DoughLeeds)
Comments
comments