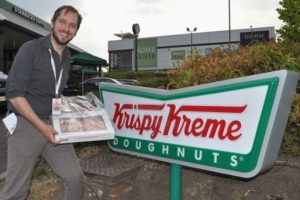 Krispy Kreme has opened a new store in Leeds, and I was invited to the VIP launch. Free doughnuts?! A doughnut theatre?! Brilliant.
Mr M and I arrived with gurgling tummies ready to be filled with sweet delights, and we were not disappointed. On arrival we were warmly greeted by the staff, were handed champagne and orange juice and even given a tour of the store including an explanation of the hotly anticipated doughnut theatre.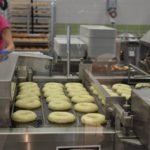 First there is the mixing and extruding section – the doughnuts expand on shelves which rise and fall as they move through to the belt. They then cook one side in hot oil, and then impressively flip them with a device halfway along to cook the other half. Next they drain off the oil and pass underneath a glazing fountain before moving along to the belt and round to be boxed, unless they get picked off first for eating. It's amazing! I love that the process is on show – not only is it a great pull factor just for entertainment, but it also shows people how food is created, and maybe sparks an interest somewhere if there wasn't one before.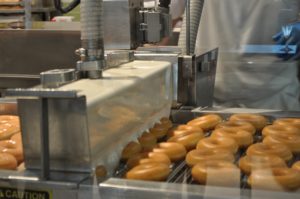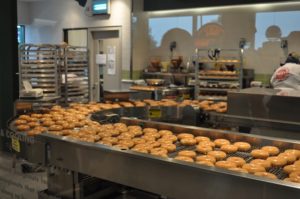 The store is designed in a 50s American diner style, and there are great touches such as an old style photo booth, which creates 4 individual pictures like they used to. (Much better – I am not a fan of the pick your best shot, new fangled techy type – they've spoiled all our fun.) There are also some lights in ring doughnut shapes and a huge neon sign which, when lit, indicates that you can buy the hot Original Glazed straight from the belt. If you visit you have to try one of these!! They are so light and airy, such sweet pillows of doughnutty goodness… hmmmmm…. the trouble is making yourself stop!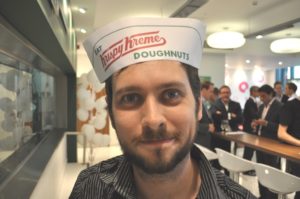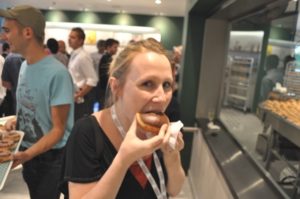 Suffice to say, Mr M and I had a brilliant time! The only way to describe Mr M's reaction is GIDDY, and the combination of sugar and booze did nothing to calm this! It was a really exciting event, with a fantastic atmosphere. The staff were great, really friendly and enthusiastic, and made sure we got to try far too many of the doughnuts on offer as they manouvered their way around the room with tray after tray of the glistening goodies.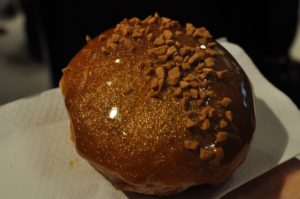 I think this store will be a fantastic hit and is well worth a visit. It's based at the retail park in Birstall, which holds the cathedral of Ikea amongst other stores. I imagine Krispy Kreme will be a very handy bargaining tool for getting families out shopping and kids behaving, so they can grab a treat on the way home. Having it as a drive-thru is a canny decision and perfect for this location.
Myself and Mr M will definitely be returning! Although we might not eat quite as much next time… We got through a fair few Tums when we got home.
Comments
comments