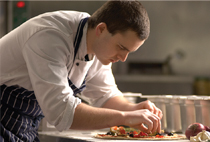 As mentioned in my previous post, Box Pizza is a fantastic pizza delivery business in Leeds. The service is brilliant and, most importantly, the pizza is amazing.
Box Pizza has created a fantastic offer for my Twitter followers and blog readers, as well as Mr M's: 10% off when you quote "Murricane Madness" when placing your order – starting tonight!
This offer is valid on the takeaway service, as well as on the chilled pizzas you can collect from the store. Being outside the delivery zone, I recently bought a couple of chilled pizzas when Box Pizza was at Kirkstall Deli Market. They really are good, and have the same quality and taste as their delivered pizzas, plus the price is better than any supermarket bought chilled pizzas, (which are nowhere near as good).

Box Pizza makes the chilled pizzas on a Wednesday, and they are ready to collect on Wednesday evenings. If you would like to buy some, please pre-order these by Monday evening at the latest to make sure there is sufficient dough ready for the week's batch. They can be pre-ordered by emailing info@boxpizza.co.uk. Don't forget to quote "Murricane Madness" to get the 10% discount.
Box Pizza is one of those independent businesses that just 'gets it right'. It cares about what it does, it cares about it's customers and, crucially, keeps the product at the heart of everything. For example, you won't see delivery vans / cars / bikes doing the rounds stacked high with piles of pizzas, because they only deliver one order at a time. This is to make sure it reaches you as quickly as possible after coming out of the oven, and this makes a real difference. It's this type of diligence and thought that means their pizzas are the tastiest you will ever get delivered!
So next time you're ordering in, or thinking of buying a chilled pizza for later in the week, give Box Pizza a try, quoting "Murricane Madness" to get 10% off!
Comments
comments