I was asked to review Domino's Pizza, and was sent a free voucher to do so – any pizza, any size – fantastic! So, in true Friday night fashion, Mr M and I ordered in.
We checked the menu on the website where you can order your pizza online, but as we were using a voucher we called up our local branch in Horsforth, Leeds, and we ordered the Firenze pizza from Domino's gourmet range, (Ventricina Salami, Pepperoni and Peruvian Roquito Peppers on a thin crust base).
The girl that took our order was friendly and did her job well; she double checked all the details, offered us upgrades etc. She was a little suspicious of the voucher at first, but I don't blame her for that! While we waited, I made a list of how I would judge the pizza (GEEK), and here are the results:
Delivery – 5/5
Earlier than expected – 23 minutes rather than the 30 we were told – great when you're as hungry as I was!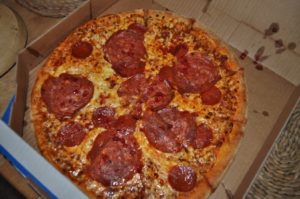 Temperature of pizza – 4/5
The pizza was nicely hot when it was delivered.
Quality of ingredients – 2/5
The flavour of the pepperoni was ok, but it let out an insane amount of grease, which drenched the whole pizza. The cheese (which itself was ok though not top quality), grease and sauce combined together to become a congealed mess and began seeping into the base. The ingredients lost all their definition.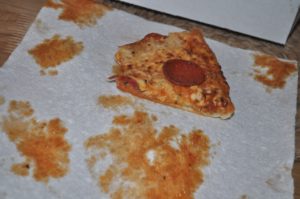 Tomato sauce – 1/5
This was a real let down. It was very sweet, had too much salt in it and didn't taste at all fresh.
Pizza base – 3/5
Not as thin as I was expecting and was fairly doughy, but did taste fresh.
Amount of topping – 5/5
For me, the quantities were just right, but Mr M thought there was too much cheese.
Pizza size – 5/5
As advertised.
Would I order this again if I was paying for it?
The short answer is no.
Mr M and I got through about 2 slices each, not even half of the pizza, before giving up because of the high levels of grease, which left us both feeling somewhat queasy. Besides that, at a cost of £16.99, I think it is extremely overpriced.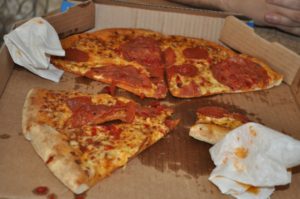 I may I have been spoilt in Leeds by having a fantastic local pizza delivery service from Box Pizza. It's pizzas are as close to an authentic Italian style as you're likely to find in the UK. A Pipperonata from Box Pizza would cost you £6.55, saving you over £10 in comparison(!), and the quality is top notch. On the downside, it doesn't deliver in Horsforth any more – gutted!
Perhaps I was judging Domino's by the standard set by Box Pizza, but I expected much more from such a massive chain that has the resources and capacity to be the best of the best. However, as they have a whopping 9 branches in Leeds alone, Domino's must be doing something right for it's customers, but I will not be one of them I'm afraid.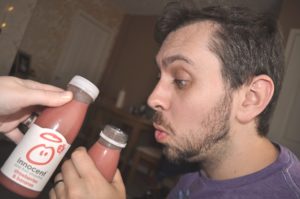 Comments
comments