Cornucopia: A symbol of plenty consisting of a goat's horn overflowing with flowers, fruit, and corn. (This definition is according to 'the internet', so not guaranteed to be entirely correct, but I really like it. Although with the goat's horn it seems perhaps a bit pagan?!)
I'm not sure if it was just me who had to look up the word?! Now that I understand it, I think it suits this food event and location perfectly. The aim of Cornucopia was to showcase the best produce the region has to offer, and provide an eclectic mix for shoppers. This is hopefully the first of many food events to be held at the Corn Exchange. I know there is one planned for December, and after the success of this launch harvest festival, I'm really looking forward to it.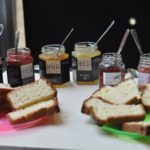 Mr M and I arrived for The Big Breakfast (no, not the 90s show, but I loved that too) on Sunday morning, just before the event opened fully. This was a great opportunity to sample some of the products being sold, and a chance to gather information and figure out what the event was all about. I sampled the Yorkshire granola, buffalo sausages and brioche with strawberry and pink champagne jam (ooh!), all of which were delicious! The only downside was that I'd filled myself up on this too much to take full advantage of the tasters each of the stalls were giving out… Mr M however, had no such trouble.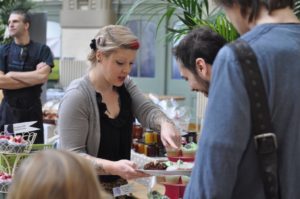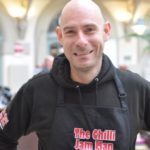 For me, something that made this more than just another farmers market (and don't get me wrong, I love a farmers market) was the planning and thought that went into it. There was a fantastic balance of producers, something that isn't easy to achieve at normal markets, and each seller was bursting with enthusiasm about their products and ready to talk to you as long as you were willing to listen. A great example of this was The Chilli Jam Man, who took us through each of his products, (and there were many), explaining the types of chillies, the numbers in each jam, and the balance and heat level etc.
I think the involvement of Shelf Life in this event has been key. It's clear that the behind the scenes work really paid off and made this a classy, yet wholeheartedly charming event, that stands out from others. The environment was relaxed and the venue, as always, stunning. The Corn Exchange leant itself to this type of event perfectly, and delivered what I was always hoping this 'food emporium' would. It's been a long time coming – more please!

The next event is planned for 211st, 22nd and 23rd December – perfect for last minute Christmas presents, or just treats for the season.
www.cornucopia-leeds.co.uk
Comments
comments