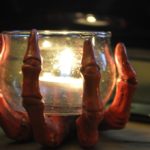 Mr M and I tend to get rather overexcited about Hallowe'en, so we're looking forward to next weekend. We've already got the decorations down from the attic and will probably spend a ridiculous amount of time making our living room into some sort of spooky Dracula-style cave dwelling, as we do each Hallowe'en. A bit much for just one day? True, but we do it none the less.
We always carve a pumpkin each, and somehow Mr M's always appear to be friendly, in a gonky kind of way, while mine look genuinely demonic! We put one (normally Mr M's so as not to scare the kids!) in the window so the trick or treaters know to stop by. Interaction with complete strangers dressed as ghouls and witches etc. is one of the best things about Hallowe'en. It gives people an excuse to interact and is pretty much the only time in the year that neighbours actually come out of their houses and talk to each other. I also love the amount of effort people put into dressing up, and how excited the kids get. That being said, my favourite trick or treater is still a 2 year old boy who stood on our doorstep dressed as a bright orange rotund pumpkin, complete with a green stalk hat, with a blank face looking totally nonplussed and unimpressed! He had no idea what he was doing there and clearly just wanted to go home. I think his parent were having much more fun than he was!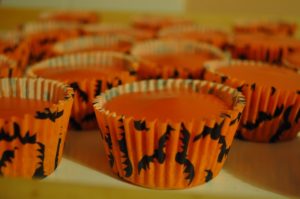 It's somehow become tradition for me to make cupcakes for trick or treaters. When I did this the first time, I was really surprised at how much they appreciated them, which I guess encouraged me to keep doing it every Hallowe'en. I had a slight disaster last year though, only realising after making and decorating a good 40 or so, that the icing colouring had actually gone off giving the cupcakes a distinctly unpleasant mouldy flavour… It was quite heartbreaking throwing them all out and starting from scratch!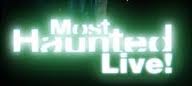 We used to have the excitement of the Most Haunted Live Hallowe'en weekend spectaculars to look forward to. These were somewhat ridiculous, but surprisingly scary ghost hunts that ran on TV for four nights in a row. Sadly, the show is no longer running, so what on earth will we do once the pumpkins are carved and the trick or treaters have been sufficiently sugared up?!
Coming up soon… posts on Cornucopia (a new food event in Leeds) and Pumpkins!
Comments
comments