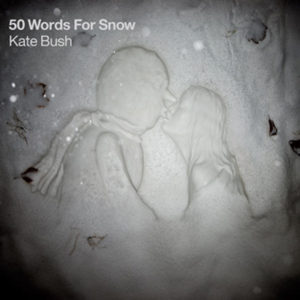 I flipping love Kate Bush, so the news that her new album was out was incredibly exciting to me. Earlier this year she released Director's Cut (a reworking of some tracks from two of her previous albums), which I confess I've yet to listen to. 50 Words for Snow, being an entirely new creation, seemed much more appealing to me and it hasn't disappointed.
Kate Bush tends to be an elusive creature, but she was recently interviewed by the brilliant Lauren Laverne on 6 Music. This rare interview gave me an insight to how Kate's fame and success isn't at the forefront of her mind at all, but seems to be an accidental bi-product of her love of making music, at least these days anyhow. She seemed surprised whenever Lauren showed an interest in her every day life, as if she couldn't understand why anyone would care. Kate said that she stopped performing live because she had got into the other aspects of producing music so didn't really have the time for it. I love this about her. Many musicians crave the attention and applause of performance, whereas Kate Bush genuinely seems to be all about the music.
50 Words for Snow is an album that should be listened to as a whole if you want to get the most out of it, and as the title suggests it's based around the theme of snow. Each track is like another chapter within the same book, and all are incredibly atmospheric. Kate has captured the mood of a winter's day, like you're sitting alone by the window looking out at a frozen landscape with only thoughts and memories for company. It's makes you restrospective and quiet as you listen to it. That's not to say it doesn't have the Kate Bush magic though, and only she could get away with making a song about being a snowflake falling down to earth! The title track is also fun, challenging Stephen Fry to come up with 50 words for snow. Other tracks are imaginative and romantic, if tragically so. Like the song Misty, which is a different and much less innocent take on a snowman coming in your window at night than we're used from the Christmas film. The track is about a disappointing romance, and the bereft feeling of the morning after (I think?!). Kate's piano playing is simple but soulful, and the length and undulating nature of the early tracks draw you into a hazy state of thought, and you float along with the melodies easily.
Go and give it a listen! It'll be perfect for cold January days, so could be a good Christmas present…
Here is a Kate Bush treat for you – as it's nearly December I can get away with it! This is one of my favourite Christmas songs – December Will be Magic Again (1979).
Comments
comments