I braved the sales this year, a few days after Christmas. Foolishly perhaps, but I did. It was quite a disheartening affair, full of elbow bashing and treading on hangers and disappointing clothes rejects, so after a wee while I gave up and was about to head home when I remembered something that might make the whole trip worthwhile.
I meandered my way to Commercial St in Leeds centre, and there it was! What a relief! The Fish& van had braved the sales too, and has been doing rather well out of them. Deservedly so I might add.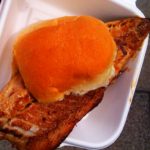 Fish& is fish and chips but with a difference. The menu is sustainably sourced and carefully thought through to provide a steaming plate of deliciousness that tastes as fresh as a sea breeze. I have been a few times now, firstly trying Hugh Fearnley-Whittingstall's inspired Mac Bap. This one isn't deep fried but griddled, which for me is even better. It's served with the horseradish sauce with is livened up by a good kick of lemon. Yum! For a cold wet Decemeber day though I chose the lemon, lime and chilli battered fish and chips. Brilliant! It was perfect for warming me through, right down to my toes.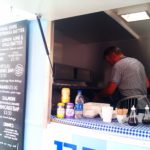 I think this venture is fantastic and that Andrew Critchett, the man behind it, is very clever but also really values the importance and inspiration of food and it's source. Fish sustainability is an important issue, and this business supports The Fish Fight while making some truly delicious and different takeaway food. Get ye down there quick smart to drive out the winter blues and get a taste of the sea. Ooooh arrrrr….
http://www.fishand.co.uk
Comments
comments