If you read my Royally Fed Up post, you may have got the impression that the Olympics were not exactly going to be my cup of tea… and you would be right. HOWEVER. I have been somewhat swayed.
It's great that everyone is behind the Olympics. People are (perhaps temporarily) proud of their country. There is a bit of optimism in the air, which is hard to find in these austere times. The drab, rain filled summer was grinding people down but with the Olympics came sunshine and a ray of hope. Now don't get me wrong. I haven't suddenly turned into a sport loving loon waving my flag in your face. I haven't watched much of it all really, I've just snacked on a few bits and pieces, like Murray kicking ass and a bit of rowing etc.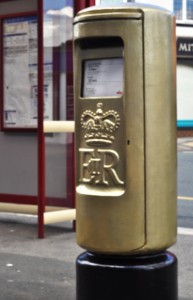 I thought the opening ceremony was stunning, (even though I was a little crushed that David Tennant didn't light the cauldron, what a missed opportunity). It was thoughtful and put together beautifully, especially The Shire episode, (I wasn't quite as keen when mobile phones entered the mix). But then there were the eye scratchingly dull hours spent on every sporting team entering the stadium, and walking, and waving, and walking… I managed to make it through this A-Z torture only to fall asleep at the last hurdle(!); the magical cauldron bit. Typical.
The most exciting thing about the Olympics (for me) is that Horsforth has got a golden postbox!! It doesn't take much to please me at all really, does it? I have no idea how long it will remain golden, but let's hope forever. Thank you Alistair Brownlee! Oh, and well done.
Also, the Olympics have reminded me of this classic theme tune. It's been in my head all day… I'd call that an Olympic win!? (Look out for blinky Scottish guy. He's crazy.)
Comments
comments