I can't quite believe it is still August. Yesterday I awoke to a crisp chill in the air and a grey, rain filled day that felt distinctly like autumn. Unfortunately, not the best type of autumnal day. I love ones with clear blue skies, the sun low in the sky and the air biting your cheeks so that they go rosy red. Days where you wrap up warm and pull your boots on to stomp through the crunchy leaves and pick berries.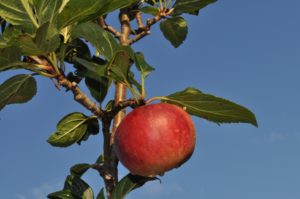 As I said, I'm getting a bit ahead of the seasons here. Apparently summer is making another effort this weekend so I won't get the scarves and boots out just yet. But I couldn't help but make a crumble yesterday. With apples from our very own apple tree!! This was very exciting. We only planted it last year and we're getting a good haul of Red Devil apples already. They're delicious too. Crisp, juicy, sweet and tangy. Perfect for a crumble. And it's so satisfying to go and pick them in the back garden.
We have a plum tree too, and this is the sum total of its offerings this year.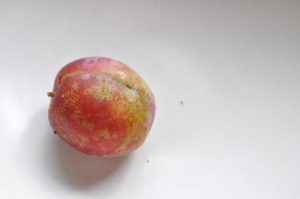 Anyway, back to the apples…!
So, I won't be too sad when autumn really does enter in. It is the prettiest of the seasons and somehow quite comforting. I just hope it does it properly, and isn't a mushy, drab version like our incompetent, half hearted summer. Bring out the jumpers!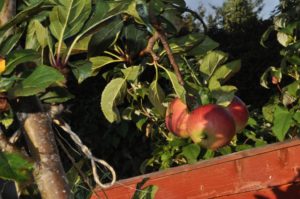 Comments
comments