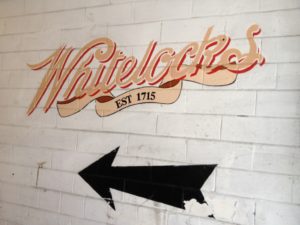 Briggate, one of the main shopping streets in Leeds, can be a frenzied motorway of pedestrian traffic, especially on a Saturday. I love the old alleys that come off it though. Suddenly everything goes quiet. The tall, close walls dampen out the city centre squabble and you are almost transported back in time. There is a distinct Dickensian quality about these little warren like streets, and Turks Head Yard houses the oldest pub in Leeds; Whitelocks.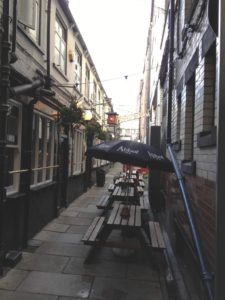 There are picnic benches lining the alley opposite the pub, with shades and hanging baskets, making it one of the few city centre beer gardens available to enjoy in the summer. But it's also a perfect approach to the pub in winter; coming down the alleyway to see glowing lanterns and soft orbs of light in the windows, beckoning you in out of the chill to enjoy a pint or two in this traditional, proper British pub.
New owners took over Whitelocks earlier in the year, and I think they've really turned it around. I had always been disappointed by it before, (everything was lacklustre and lacked attention), but after great reviews from all sides, (including Jay Rayner, which is no mean feat) I was keen to give it another try.
Mr M, Emilia and I met some friends there for lunch on Saturday. We arrived at noon and managed to grab the last decent sized table in the pub, so it is certainly a popular choice. The staff members were friendly without being overly so, and were welcoming to our wee tot, which instantly put me at ease. I don't think kids are regulars there though (not yet anyway) as the highchair seemed incredibly shiny and lacking in the usual grub and stains.
The menu was simple, but had everything you might want. Starters or light bites, including a ham hock terrine and soup of the day. Mains all at about £8-9 including a burger, pies, roasts and even some appetising vegetarian options, which is a rarity in pubs. There was also the option of some sharing platters. Food is sourced from Leeds Kirkgate Markets, and there are plenty of local ales to choose from – fantastic! This is as pubs should be.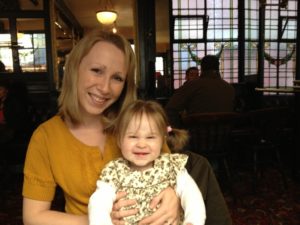 The atmosphere was much more what you would hope for. A bubbling chatter, sounds of glasses thudding beer mats, the door squeaking open and shut admitting more revellers for a drink or bite to eat. More than anything, the pub felt cared for again.
Good job Whitelocks, we shall definitely be returning.
Comments
comments