Last weekend we accidentally discovered Adel Dam Nature Reserve. It's just behind Golden Acre Park, which we had gone to for a brief walk around the lake, to get some fresh air and crunch through some leaves. The bridged path at the far side of the lake being closed, we were redirected to the footpath behind it, and there we saw the entrance to Adel Dam Nature Reserve.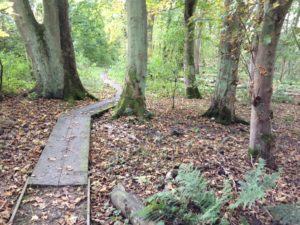 The pathways started off big and sturdy through the beautiful woodland so we set off on our adventure. It's not too long before the paths become interrupted with gnarled tree roots, which is lovely, but a little challenging with a buggy! We navigated our way round, up and over makeshift bridges as we crossed and recrossed the stream, carrying Emilia's chariot as if she were the queen. It's an exciting walk through the woods, and a little bit like a large adventure playground. We only saw one or two other people, so you feel a million miles from anywhere compared to the bustle of popular Golden Acre Park. It was lovely to get away from it all and to enjoy the silence, apart from the occasional rustle coming from the bushes, or bleat from the nearby fields of sheep. The reserve is a perfect place in autumn, as the many coloured leaves on the trees are lit up by the glow of the low sun.
The lake is quite large and beautiful, and there are hides in which to spot birds from. Have a bellowing tot with us though, we didn't spoil people's fun by loitering in them for long!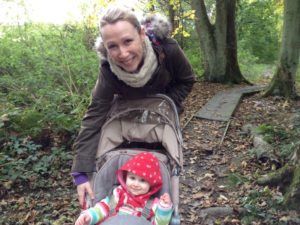 There is of course a lot of 'nature' to be found here, and there are some rare species, which are protected in this reserve. I won't pretend to know much about that, but can signpost you to the Yorkshire Wildlife Trust website for more information, as it runs the site.
I think it's a beautiful and adventurous walk and will definitely return, though I might use the backpack for Emilia next time!
Comments
comments