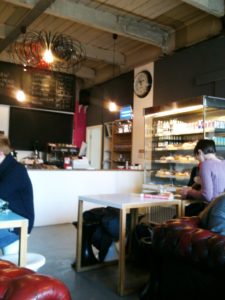 I had been meaning to visit Cafe 164 for a long time. People on Twitter always rave about it, and some of their products are sourced form some great local food producers.
On Friday, I was going to Leeds Kirkgate Markets dangerously close to lunchtime. I did a quip whip round to get the materials I need for a crafty project I'm trying, then headed down to Cafe 164. One of the reasons I had never been is that I wasn't all that sure where it was, but it's just five minutes walk from Kirkgate Markets. After the bus station cross the ring road, and it's straight in front of you.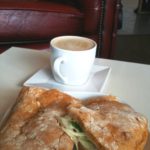 I loved the look of it on my approach. The neon sign in the window, the chalk boards and big red leather chairs inside… perfect. But on entering, I was a little conscious of the loony, loud child I had brought with me. The cafe was full of quite serious folks with notepads and trendy hats, having proper, grown up conversations and looking intellectual. The cafe isn't that big, so you can't just go and blend into the corner, out of sight. However, the lady running it was lovely and really welcoming to us both, so I chose I sandwich and cappuccino to have in. Like a civilised person.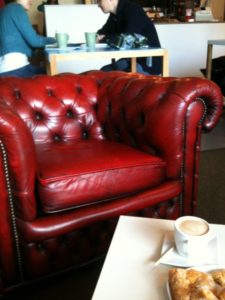 Emilia was on great form, and we had a fabulous time! She didn't even hurl a raisin at anyone. The sandwich I had was delicious. Fresh ciabatta, mozzarella, roasted peppers and pine nuts… (I only made the connection with Bakery 164, the sister site, after seeing these sandwiches. I used to go there all the time when I worked near Leeds University.) Cafe 164 also had an enticing selection of cakes and treats. I had better return soon to sample these, just to give a rounded opinion of the place you understand.
So, next time you're in town, run away from the chain coffee stores of blandness and find a proper treat at Cafe164!
Comments
comments