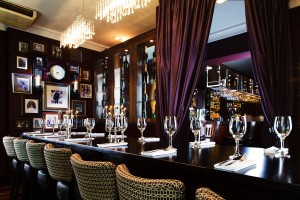 The Living Room was launching a new menu last week. To celebrate this, a dining in the dark event was held for local bloggers and I was invited along.
My friend and I were a little tardy and turned up after the dinner gong had sounded, but were quickly welcomed into the fold. The event was held in a private section of The Living Room, which I presume can be hired out. It was a lovely space and blended a modern bar feel with a more traditional dinner party experience. The table we all sat around was wooden and long, but at bar stool height, and the lighting and decor provided an atmosphere of an intimacy and elegance.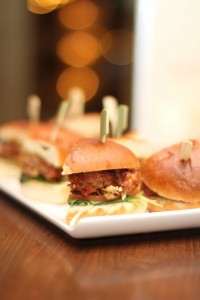 We were brought some wine and then ahead of eating, some blindfolds. It was a bit of an odd experience and a little unnerving at first to be honest! Closing off all sight in a room full of strangers, and then trying to grasp at and then transfer small tasters of food successfully into your mouth. I suddenly got the fear that they were filming it all for some modern equivalent of Beadle's About. And embarrassingly, a couple of the tasters did end up in my lap as well as all over the table. Clearly I am not the most coordinated of eaters, or perhaps I was just a little enthusiastic at trying to shove it all in my hungry face. Beadle would have loved it.
Anyway, the food itself was really tasty and we got to sample each section of the menu. We were set the task of identifying different ingredients in each dish and I'm not sure whether it's good or bad that we weren't too good at it! One thing can be said about eating with blindfolds though – you do taste the dish a lot more intensely, rather than predetermining what a food will taste like by seeing it.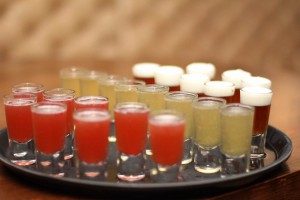 The cocktail round was interesting? I'm not too sure that green tea daiquiri was a massive hit with anyone! But if these samples are anything to go by you will get your money's worth buying a cocktail – they were pretty potent!
It was a really fun event, and it was great to meet some fellow bloggers. The only downside was that the evening was over in a flash! No fear though, my friend and I moved on to Whitelocks for some tasty Broomstick Brew before heading off home.
Comments
comments