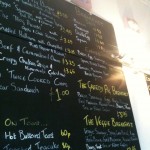 I had seen loads of tweets about The Greedy Pig and had always meant to give it a visit. Tales about top notch breakfasts were intriguing me, but not as much as the highly promoted pulled pork. I flipping love pulled pork. Anything that has that much time in the preparation has to be delicious enough to be worth it, and The Greedy Pig's pulled pork certainly is.
The cafe can be found on North Street just on the outskirts of the city centre. If you are in town it really is worth trotting up there. It's only a couple of minutes walk from the Headrow so don't be lazy!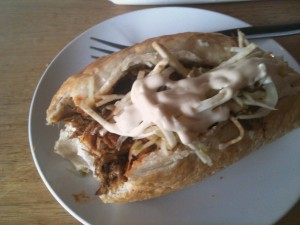 I ordered the special of the day: the pulled pork sandwich, which was prepared with BBQ sauce and had a bourbon sour cream with it. Normally when I'm out I order coffee as it seems more of a treat, but I saw that they served Teapig tea (if you haven't tried it, DO) and couldn't resist it. All of this only came to £4.25 – an utter bargain, especially after seeing the size of the sandwich! It was a really generous portion and utterly, utterly delicious. The pork was soft and gently spiced with warming BBQ flavours which were perfectly balanced and not too sweet. The bread roll was fresh with a good crust and is locally sourced, like most of their ingredients. I devoured it all, with a little help from my cheery tot.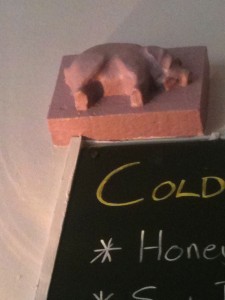 Emilia was made very welcome and befriended many fellow customers as well as Jo, one of the owners who came out to say hello, (you wouldn't get that in Costa).
The Greedy Pig is a real city centre treat – high quality food at great prices. Get yourself there pronto!
Comments
comments