I visited Create Cafe back in November, but couldn't write up my thoughts as my family's Christmas presents would have been revealed ahead of time…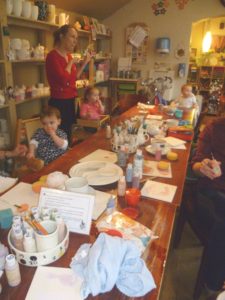 Create Cafe is a fantastic concept. It's somewhere you can decorate pieces of pottery to make personal gifts. It's a great idea if you have children as you can make something with them for family and friends. It's really fun and creates something individual. Also, you can get a coffee and cake while you're there – perfect!
I went along with 4 other friends of mine, and we all had a tot in tow. The venue is charming, and located in the beautiful Victorian Arcade. We arrived and took our places around a great big wooden table as if we were ready for a feast, (I am always ready for a feast). There are shelves full to bursting of various bits of pottery. You can choose something helpful like a plate or a spoon holder, or something more decorative. I chose some tiles as there were great examples of framed ones on the wall and I knew that our folks would appreciate something from Emilia that they could keep.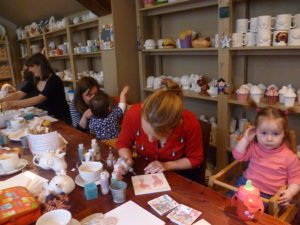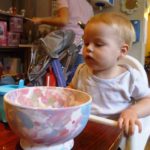 We were given a bit of guidance and then launched in. With 5 one year olds it could have been carnage! But it actually went quite well. I really enjoyed it and Emilia loved dabbing and stamping paint all over the place before tucking into a mountain of raisins.
There were issues though… The customer service left a lot to be desired. Firstly, there are no prices on things, so you get started before you know how much you've spent (which is a lot more than you'd think). Yes, you could try to find someone to ask, but wrestling a tot and paint and coffee and pottery is enough as it is. Also, when I came to pay and asked when my pieces would be ready to collect, "no idea" was the response I received. Great. Really helpful. It was a good few weeks before they were ready, getting uncomfortably close to Christmas. On top of that we had to glue the tiles in ourselves as they had run out of glue….? A discount then? No.
Create Cafe is a great idea and a lovely place, but there are big problems with it. Infuriatingly, they would be so easily remedied!
Comments
comments