As the snow started falling last Thursday, I wrapped myself up and headed out to the launch night of Miller & Carter at Leeds Light. It was a tough call, believe me. My sofa was waiting with a soft, warm blanket, the snow was falling gently outside and best of all, the tot was asleep. A perfect evening for relaxing and snuggling up… But I wrenched myself up and out, and I'm glad to say that it was worth it.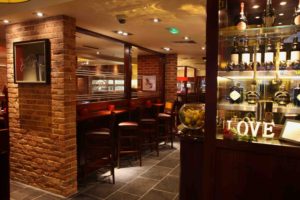 Manager Sean O'Neil welcomed me to the steakhouse and ensured I was set with a glass of champagne before giving me a tour around the restaurant. It's a gorgeous space, perfect for an evening feast, with brick wall interiors and dark wood furniture all brightened and glowing with soft candlelight. The kitchen is tucked away at the back but you can take a look to see the chefs at work and the Head Chef the at the pass ensuring everything is up to standard, (I have learned much from Masterchef).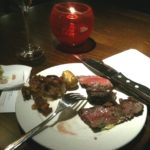 Soon I was settled and was being brought numerous samples from the menu. I'll get straight to the steak! I tasted rump, sirloin and ribeye. All were cooked to perfection (medium-rare) and all were delicious. Ribeye is my favourite cut and this one was bursting with flavour and as tender as they come. Miller & Carter serve their steaks with an onion loaf – genius! I flipping love onions and this loaf makes a great accompaniment. It's basically an onion bhaji without the spices. Whilst their steaks aren't sourced locally, the meat is reared especially for Miller & Carter. They work closely with the farmers ensuring trace-ability and quality practices  The cattle is predominantly grass fed and the meat is then matured for 28 days resulting in tender, flavoursome steaks.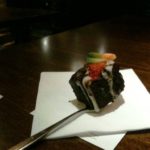 Pudding also had to be sampled of course, and I can heartily recommend the sumptuous chocolate brownie.
It was a great launch night. The staff were friendly and welcoming, the food delicious and the venue well planned and full of character. What more do you need?!
Comments
comments