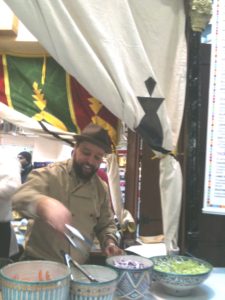 Last week saw the launch of Cafe Moor at Leeds Kirkgate Market. Cafe Moor sells North African, Mediterranean and Middle Eastern street food. The stall is bursting with colour and vibrance but most importantly, flavoursome and delicious food.
The Lord Mayor of Leeds was in attendance to celebrate the launch, as was Councillor Gerry Harper, and they both provided enthusiastic opening speeches, (which Emilia rather embarrassingly for me, guffawed throughout). It's great to see such support for market ventures like this – more please. The market is a vibrant hub of fantastic, fresh produce and new, exciting enterprises like Cafe Moor.
Sampling the freshly prepared food was a real treat. I tried a chicken schawarma, which is marinated chicken, with sauces and salad in an Arabic wrap.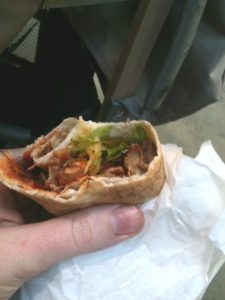 The chicken was soft and bursting with flavour, and the meal was utterly delicious. I also sampled the mint tea, which was refreshing and sweet. The menu appears to be incredible value, with most options costing between £3-£4.50. The staff were friendly and jolly, and seem to love creating their food. And why wouldn't they, when it's this good?
Many market places can be guilty of hosting few quality fast food outlets. A greasy spoon can often be your only hope of finding hot, cooked food. Not so at Leeds Kirkgate Market. Cafe Moor is one of several food gems to pop up recently. Get down to the markets and give them a try. You might well be surprised at what you find…
Comments
comments