A couple of weeks ago, I was leaving the library with tot, who was clasping on tight to her excellent choice of Moomin's Little Book of Words. We were headed towards the withdrawals counter, (I always go to the counter rather than use the machines. I need a satisfying stamp in the front. No new fangled machines for me, thank you. Not in the LIBRARY), but just before we got there, this caught my eye:
I love Antonio Carluccio's
 no fuss approach to cooking and the homely quality he brings to dishes, so I was immediately drawn to this cookbook. Also, when I'm cooking I normally have a small tot clinging to my leg / climbing on chairs / putting potatoes in the washing machine etc. so I definitely need a simple approach to cooking!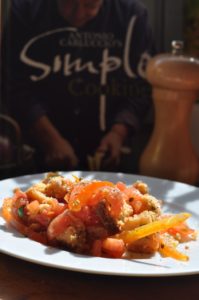 The book has not disappointed. The first recipe I tried was gnocchi, which I love, and it's really not that hard to make. The only time consuming aspect of it is rolling those darn delicious dumplings. All worth it though.
With the sun arriving over the weekend, and Mr M having a triumphant trip to Leeds Markets (more on that later), I wanted to try some of the more summery recipes in Simple Cooking. First, I created the Bread and Vegetable salad, (which is more exciting than it sounds). It's fresh, vibrant and makes you feel 100% healthier, but also satisfied. (Many healthy dishes taste too healthy in my opinion.)
I also made the roasted peppers, and am currently waiting until tomorrow to try them as the recipe suggests…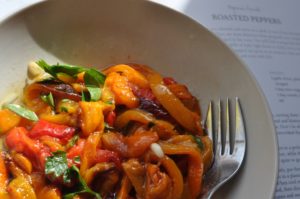 (Ok, so I had a little nibble… they're already a winner.)
If you need some new ideas for meals, or just a prod to recreate some old ones, I can certainly recommend this cookbook. It's so good I may have to actually buy it as there are still a lot of recipes I haven't tried.
The library is a great resource for trying out new cookery books before investing in them. However, if you live in or near Leeds and could do with some new cooking ideas, then there is another option for you… Sage and Thrift's Cookbook Swap is taking place on 21st April. It's their first swapping event, and a great idea. Maybe I'll see you there?
Comments
comments