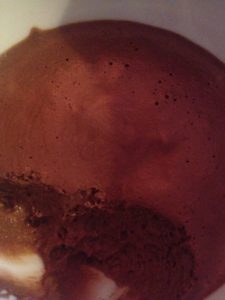 I've been getting mousse, loose, aboot this hoose!
Sorry, couldn't help it.
After making a white chocolate mousse with samples from Millies, I couldn't help but make more versions! This time I used the Mint Extra Dark Chocolate from Seed and Bean, and, tweaking my recipe, I created a much more indulgent, rich affair, which needs a much smaller portion size. It's equally as delicious though, with the mint cutting through the rich, bitter chocolate and refreshing the palate rather than swamping it. Normally I get about two spoonfuls through a chocolate pudding before giving up, but I had no trouble polishing this one off, even after two portions of Easter lamb. So, I'll be starting running again this week…
Give it a go though! Here's the recipe:
Mint Dark Chocolate Mousse
Serves 4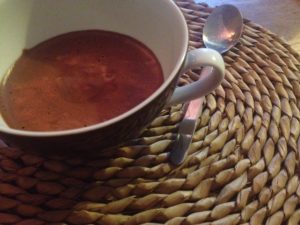 85g Mint Extra Dark Chocolate
40ml milk
2 egg whites
60ml double cream
A squeeze of lemon
1tbsp caster sugar
Melt the chocolate in a bowl over water boiling in a pan.
Stir in the milk then remove from the heat.
Whist the egg whites with a squeeze of lemon and the caster sugar until you get stiff peaks.
Gently fold into the chocolate mixture.
Whip the cream until it's just about forming soft peaks.
Fold into the mixture.
Pour into four cups/glasses.
Put in the fridge for at least 2 hours.
This chocolate is available from Millies: http://shop.milliesleeds.co.uk/collections/fine-food-hampers
Comments
comments