Last year was a total washout when it came to vegetable growing. The relentless rain and the violent onslaught of slugs destroyed just about everything. It was totally disheartening. So, it's been a little bit of a battle to get my enthusiasm up for veg growing this year, but my empty beds were looking mournful, and determined not to be forever defeated by mean blobs of slime, I dragged myself out and bought some seeds…
Besides, who could stay disheartened when they have a little helper like this one?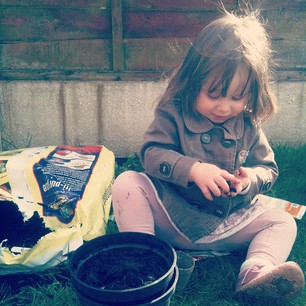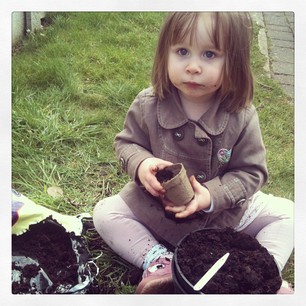 We spent a messy afternoon together sowing seeds, and as if to reward us, I suddenly noticed my garlic (which I thought had died a miserable death over the long winter), had sprung into life. Also, my leek sproutlings (which I'd ignored on my windowsill until December, then threw in the ground on a whim), have somehow survived the chill too and, with the spring sun are having a major growth spurt. Huzzah.
We have so far sowed leeks (yes, I may end up with many, many leeks), spring onions, courgettes and Brussel sprouts, so they are all nestled in the cold frame (strange name for something that keeps things warmer?), waiting to sprout. Slugs be damned!
I've never grown many flowers in the garden, as they somehow seem beyond me. They seem to be the stuff of proper gardeners who have some magical secret knowledge endowed upon them. However, some wildflowers caught my eye at the garden centre so I have created a bed for them, along with some alpine flowers (it's on a slope so alpine seemed a sensible choice?). I'm hoping their wild nature will survive my lack of knowledge, and that they will spread and tangle and create a ramshackle bed of colour. I am definitely in the 'whack it in the ground and see what happens' camp… You never know, they might just save the bees.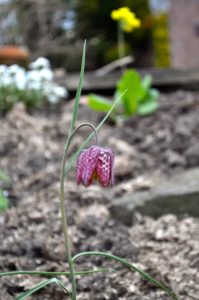 Are you growing anything this year? Have you started?
Comments
comments