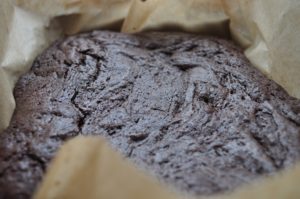 This is the last of my series of recipes created to test out the Seed and Bean chocolate from fabulous Millies in Leeds. It's probably for the best – I'll be eating fruit for a week or so now… And I did a teeny tiny run. Hurrah.
These brownies were great; squidgy, rich and you knew you were eating something naughty… I used Lemon and Cardamom Fine Dark Chocolate for them. The lemon lightened the brownies and the cardamom added a warm and gentle spicing, which stopped the brownie becoming too cloying. Perfect as a Friday treat with a coffee. (Or a brandy?)
So, no more posh chocolate for me for a while. But you should try some! For delicious chocolate goodies and desserts it's worth investing in high quality chocolate, like Seed and Bean. The excellent array of flavours to choose from makes baking with it much more interesting too.
Lemon and Cardamom Dark Chocolate Brownies Recipe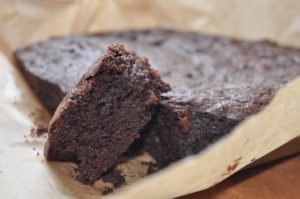 85g Lemon and Cardamom Fine Dark Chocolate
125g butter
40g cocoa powder
35g plain flour
1/2tsp baking powder
160g caster sugar
2 eggs
Slowly melt the chocolate and butter in a bowl over boiling water.
Sieve all the dry ingredients and add to the melted chocolate and butter.
Beat the eggs and mix in with everything else. Ensure it is a smooth consistency.
Bake in a grease proof paper lined tray (ensuring that the mix is approx 2cm deep), at 180 (160 fan) for about 20 minutes.
Make sure that it is still squidgy when you take it out, but not runny. It definitely shouldn't be cooked all the way through like a cake.
EAT.
Comments
comments