I recently entered a competition by Beth Made This. I had a good feeling about it as soon as I entered, which was slightly ridiculous as I have only ever won one competition before. So I tried not to pay too much attention to it. (I do have a habit of misplaced optimism though; whenever I buy a lottery ticket I'm utterly convinced it's going to win and start planning my bejewelled future. Well, that hasn't happened has it?)
The prize on offer in the Beth Made This competition was an antique coin necklace, personalised with the initials of your choice. I thought it was a fantastic idea; something unique, drenched in history, yet stamped with the present. So I entered, and waited, and tried not to believe that I would win.
However, win I did! I couldn't believe it and was so excited. Luckily I didn't have long to wait as the gift arrived promptly in the post the following week.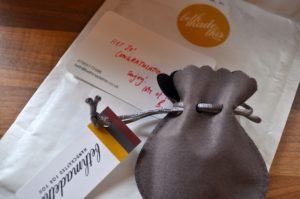 The package was so exciting to open. Such attention has been paid to all aspects of the wrapping, and it is beautifully branded, so a real treat to receive. The necklace came in a tied pouch, which I eagerly opened and out spilled the silver coin necklace. I had wondered if the coin might be a little clunky, but it is actually delicate and light, and comes on an elegant chain.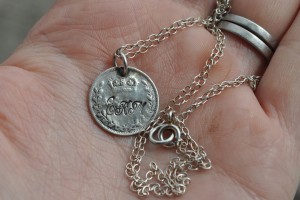 The coin is a Victorian one from 1885. Now that is OLD! It feels lovely to juxtapose all that time and history with (if you hadn't already guessed) my very young daughter's initials. The stamping is done beautifully, matching the delicate, antique nature of the silver coin. It's strangely reassuring to carry those initials with me whenever I'm away from Emilia.
I already treasure this gift. In fact, I haven't taken it off since I received it, and I generally don't wear much jewellery, so this is something special. Beth Made This creates individual, artfully and emotionally considered jewellery and gifts as well as illustrations, wedding invites and more. She is an incredibly talented lady, so if you're looking for something truly individual, have a look at the website and get in touch with her. While you do that, I'm off to buy a lottery ticket…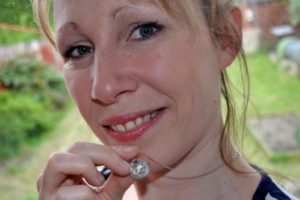 Comments
comments