This competition is now closed.
Ray-Ban's Envision Tour Comes to Leeds
I have ten free tickets to give away for the Leeds leg of the Ray-Ban Envision Tour taking place on Thursday 6th June at A Nation of Shopkeepers.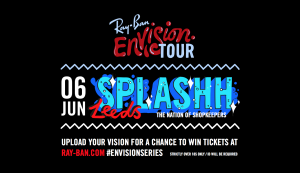 Go to http://www.ray-ban.com/uk/neverhide/envision/envision-tour to enter your vision, giving you the chance to see it brought to live.
Splashh and Menace Beach are headlining this great event, and both bands are set to play Beacons later in the year. It's a great chance to see these up and coming bands, and be part of a spectacular event.
If you'd like to win tickets to this exciting Leeds gig then just comment below, or tweet me @JoMurricane. The winners will be picked at 12.30pm on Wednesday 5th June, so enter quickly!

Comments
comments