On the outskirts of Leeds is Italian restaurant, Gusto. This modern restaurant is beautifully designed, and is built around a 200 year old olive tree that is decked with twinkling fairy lights. It's an open, welcoming place that has a terrace perfect for summer afternoons and evenings. The wood burning stove is open to see, and we saw kids with chefs hats on, all lined up watching the pizzas they'd put together going in and being cooked. Fantastic! Such a great way to get kids involved with the food they're eating.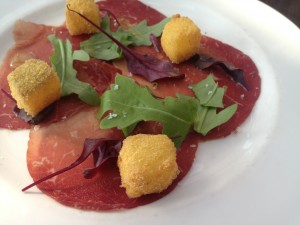 Mr M and I visited early on a Saturday evening, along with tot. I am always nervous going to new restaurants with our little monster, but Gusto was more than welcoming, and there were plenty of other children about which proves that it is somewhere that serves this audience well.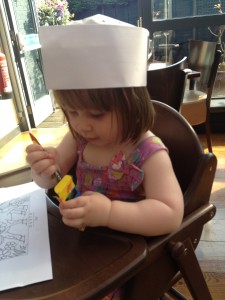 The food was fantastic; simple and delicious, as Italian food should be. To start, I had carpaccio of bresaola (dried, salted beef), which came with fried taleggio, a robust cheese that the beef stood up to and matched it well. Mr M had the chicken liver pate (which of course I sampled quite a lot of) and both starters were of a really high quality. One thing I noticed was that they were served at room temperature, allowing the flavours to sing out. Often restaurants can ping them out straight from the fridge, which just dulls the whole dish.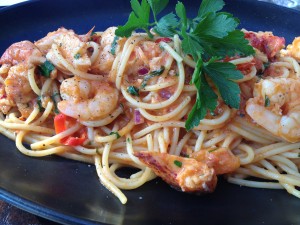 Being an Italian restaurant I had to go for pasta. Posh pasta though. I had lobster and prawn spaghetti, with tomato sauce, chilli and garlic. Oh my goodness. So vibrant, sweet but balanced by a gentle chilli heat and my most favourite flavour of all; garlic. The seafood was cooked perfectly and was soft and succulent. I couldn't fault this dish, (or finish it, as the portion was generous), it was just incredible.
For dessert I went for the light, soft panna cotta; perfect. And pretty, look.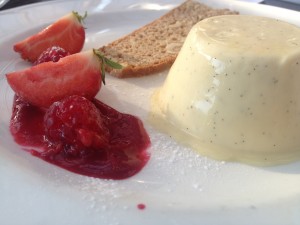 Emilia is not to be forgotten, and she ploughed her way through the classic spaghetti bolognese with a huge grin on her face! She had a great time, donning a chefs hat and getting involved with crayoning, (with the picture and crayons provided by Gusto).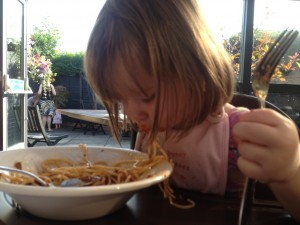 This restaurant shows off some of the best things about Italian food. Flavours, simplicity and style are in abundance, within a calm but joyous restaurant environment. It's well worth a visit.
Comments
comments