Box Pizza is supporting fantastic Leeds based charity Simon on the Streets, which offers support to the homeless people of Leeds.
Throughout August there is a special pizza on offer, The Yorkshire Pizza, which has been created to celebrate fantastic Yorkshire produce and 10% of sales will go to Simon of the Streets. The pizza consists of chorizo, black pudding, chilli and pepper jam, and garlic. Cor.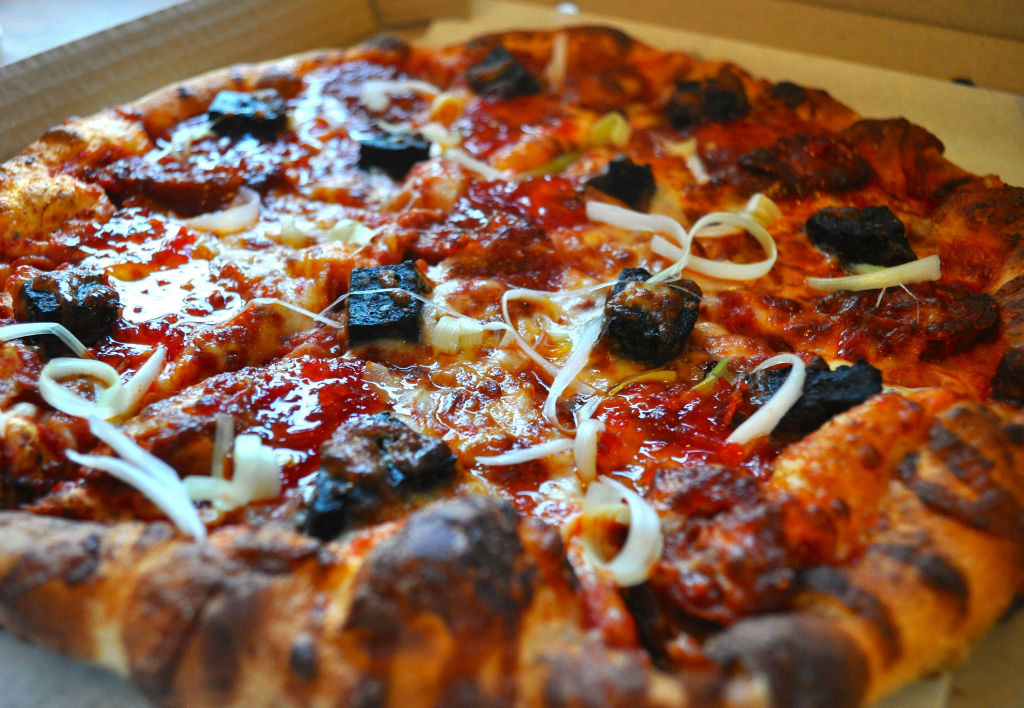 The chorizo comes from one of my favourite producers, Yorkshire chorizo, from Malham. This chorizo is serious business. Flavoursome, rich, and well flavoured, the oils and spices ooze out into the pizza without taking over; a balance that can be hard to perfect, but the quality of the product sings out.
I have never encountered black pudding on a pizza before! It's an original and ingenious idea. The black pudding from Haigh's in Thirsk, is earthy, mellow and unctuous, balancing out the chorizo perfectly and playing as a great partner for the chilli and pepper jam that's been sourced from Harrogate Preserves Company. This sweet jam has a light, warming chilli spice that is nothing to be afraid of if you're not great with heat.
Of all the flavours, garlic is my absolute favourite. The garlic on this pizza comes from Hutton Conyers near Ripon, and completes the flavour combinations seamlessly.
If you're looking for a take away treat, get this pizza while you can! Not only is it incredibly delicious, but it supports local suppliers AND 10% of the cost goes straight to the fantastic charity, Simon on the Streets.
Simon on the Streets offer street based support to the homeless people of Leeds, helping them access services that can make a positive change to their lives. They offer individual support to those who are homeless; at risk of becoming homeless; those with behavioural and mental health issues; and those who are struggling with an addiction, by working closely with them to offer support to help them rebuild their lives.  The weekly soup kitchen held by the charity serves as an opportunity for staff and volunteers to engage with their client group in order to build the crucial relationships which will then underpin the support they offer.
Comments
comments