Summer is the time for BBQs and it's been great to have a proper summer in England this year, with SUNSHINE, and HEAT. Crazy. To celebrate this, we had some good friends over for a BBQ last weekend, and it was a great chance to try out our new pizza stone… I'm not sure about the concept of BBQ pizza though? It doesn't seem quite right somehow, but then again, it's a smokey, hot oven of sorts, so why not?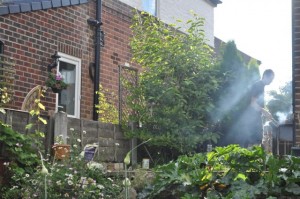 We had many BBQ treats on the go, including ribs with our homemade BBQ sauce (recipe here), beef grill steaks, piri piri pork shoulder and lamb burgers. A true feast! I also meant to cook vegetables, but then the wine came out and they suddenly seemed less important… We did manage some corns on the cob though, so at least there was at least one token piece of veg.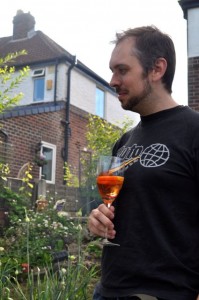 Then came the BBQ pizza. It worked much better than I thought it would! The base was definitely the best bit; crisp and quickly cooked so it had a real bite and crunch to it. We made the pizza dough ourselves, and this always makes a big difference. I use Jamie Oliver's recipe and the added semolina flour (which I also used to roll it out on – it grips the dough better so it's much easier), and it adds extra texture, colour and flavour.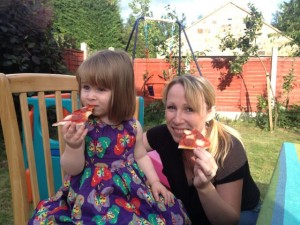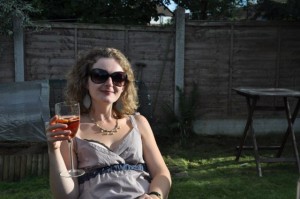 However, this pizza stone is really meant for a Weber style BBQ that has a lid, which ours hasn't. The lid would have held in the heat in to cook the pizza top properly too… that's my only qualm with the pizza stone though, and I'm definitely going to use it in the oven for our Friday pizza nights. Also, it might be less terrifying than plucking a red hot heavy stone out of burning coals! (Suffice to say, I left that for Mr M to do…)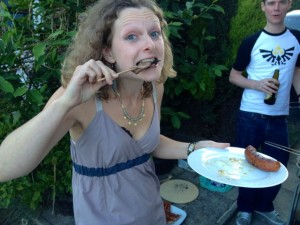 Whether you choose pizza or not, get barbecuing quick, before autumn comes storming in!
Our Weber pizza stone came from John Lewis, and you can find it along with other BBQ items, here: http://www.johnlewis.com/home-garden/garden-conservatory/bbqs-/c7000011355/pg-view-all

Comments
comments