The Handpicked Foodstore is an online outlet of gourmet gifts and treats for food lovers. A panel of food and wine experts source and sample each product making sure it's top notch before it's added to the store. There's a great selection of artisan cheeses, potted shrimps, smoked fish, fine wines and a fabulous array of gift hampers for you to choose from.
I sampled a few of these, and was impressed. The beautiful package arrived with cool bags to keep the food fresh, and was put together really well. I opened the plush box and eagerly pushed aside the straw to reveal the goodies within. Look: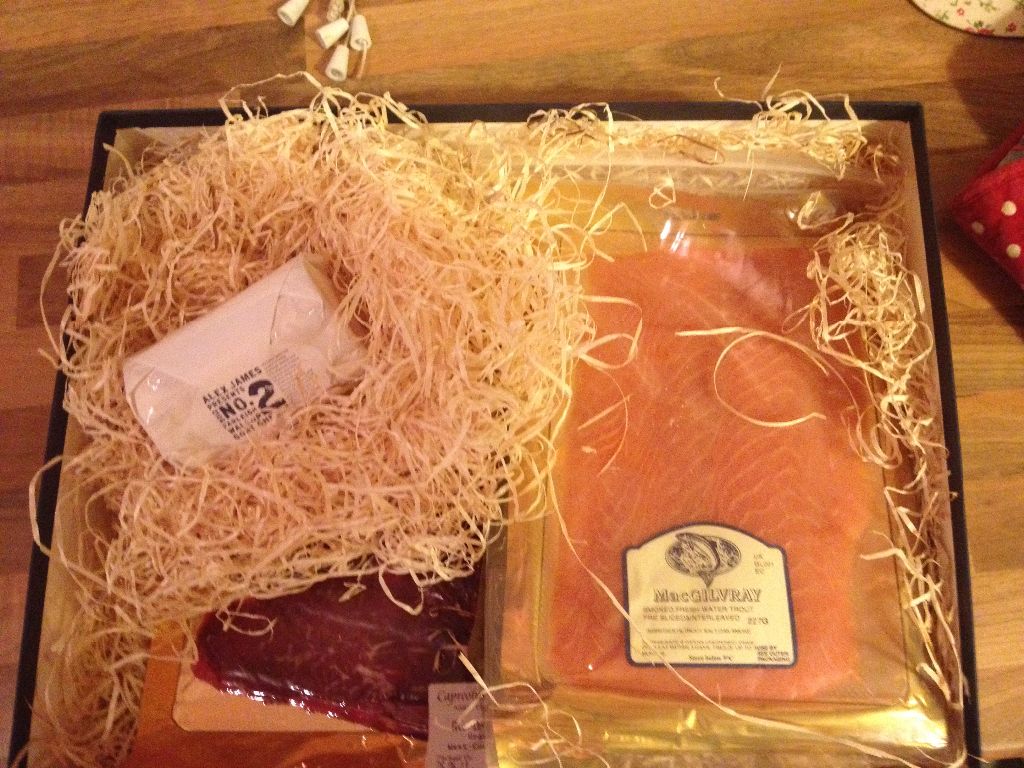 First up was the Capreolus Dorset Air-Dried Sirloin of Beef. This is high quality beef from grass fed cattle in the West Country.  The beef is dried to become firm, and is finely sliced, much like prosciutto, but the flavour is dense, deep and unmistakably BEEFY. Unsurprisingly, and justifiably, it's won awards. I made a lunch using the beef with rocket from the garden (I let it go to seed years ago, and it just keeps coming back), parmesan shavings, olive oil and toasted, seeded bread. Cor.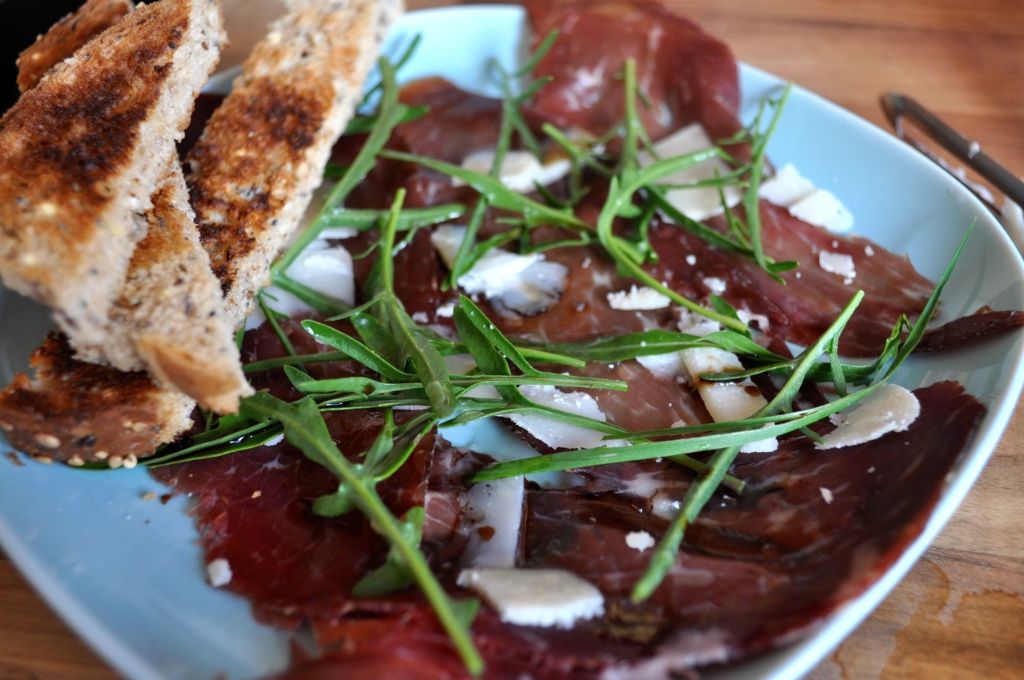 Next I went for the Farleigh Wallop Goats Cheese by Alex James. Now this cheese is properly goaty, in a farm yard kind of way. But don't get me wrong, it's fanstastic for goats cheese fans. It's a mile away from the bland supermarket type, that fades to nothing against other flavours; it truly stands out! I made some ravioli with it, also using spiced and roasted squash, then served it with a sage butter. It was a winner.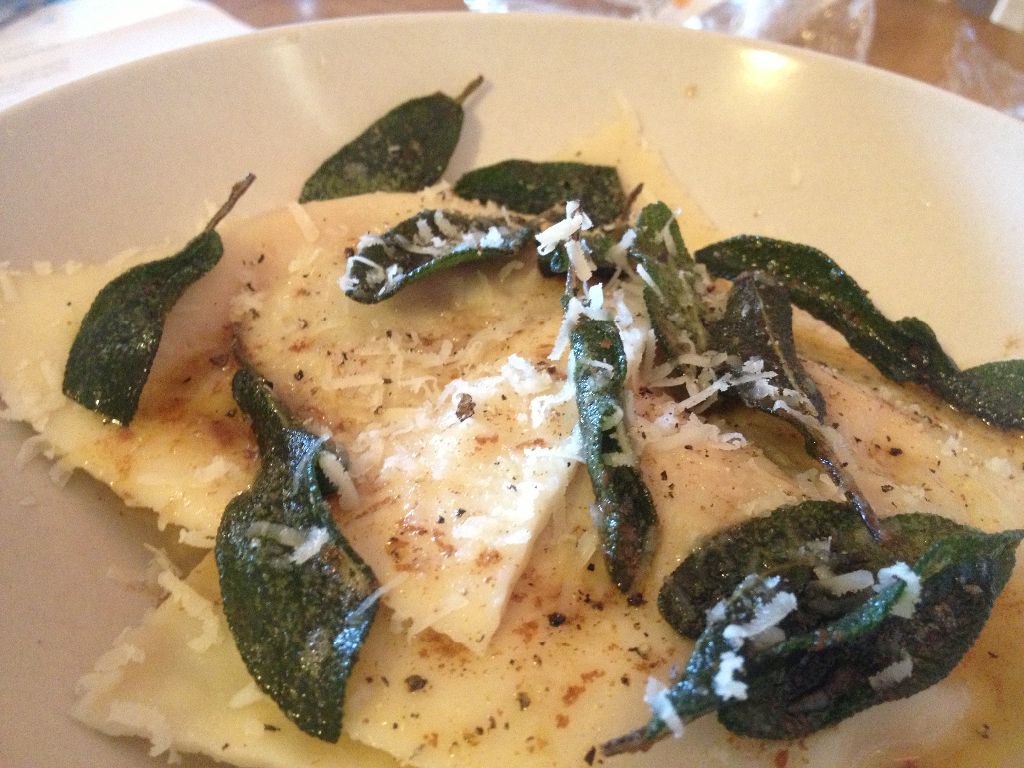 Last but certainly not least, was the smoked trout. This has a lighter, more delicate flavour than smoked salmon. It seemed fresher, and less dense with salt than salmon can be. It's really high quality, and you get a more generous serving than you'd think. We had it with fresh poached eggs from our chooks, which was a great breakfast to kick the day off with.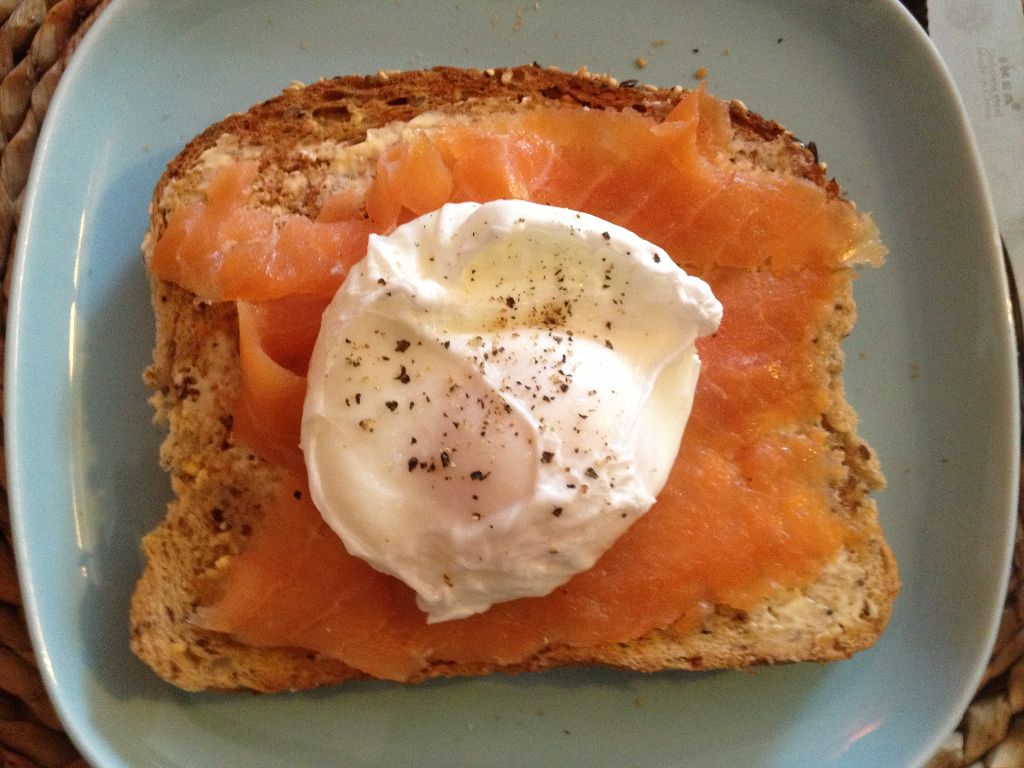 Have a gander at the website and peruse the goodies. You won't be disappointed and you could find some great gifts for friends and family. (Not that I'm mentioning the C word. Not yet!) Also, I enjoy faffing and making dishes out of great food, but you don't have to with this stuff; I'd have happily just sat down and troughed the lot straight out of the packets!
Comments
comments