What's better than Christmas? Christmas with CAKE. And when I say that, I am definitely NOT talking about your traditional Christmas cake. I can't stand the ruddy stuff, which is annoying as I love all things festive. But festive bakes (mince pies, christmas pudding, stollen etc.) are just not for me. It's ok though, there are many more options… Make a chocolate cake look like a log and you're there! Gingerbread houses, snowmen biscuits, reindeer faces or just about any sweet thing covered in glitter is just as festive as any spiced fruit catastrophe.
To make Christmas and Cake even better, The Arch Cafe has created an event combining the two, with all proceeds going to the charity Age UK; this wins on all fronts!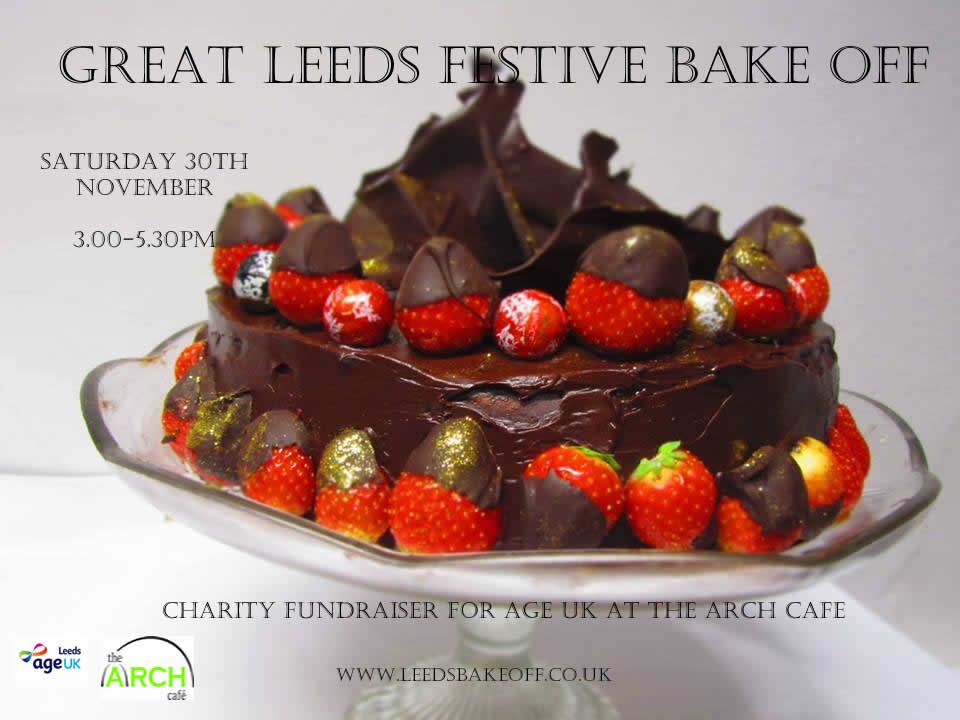 The venue was host to its first Bake Off in the summer, which was a corking success, and now they're back for more:
We loved it so much in the summer, we're going to do it all over again! Bring us your nordic nibbles, practice your panattone, and sprinkle that cinnamon, as we aim to get your Christmas season started with baking fun, and raise some dough for Age UK Leeds!
Loving the pun there …
I'm intending to enter and have high hopes for a festive creation that will dazzle and delight. (I have, however, no ideas as yet. Shhh. Other competitors must be terrified of my baking might.) Tot will also be entering, so we'll see what her 2 year old hands can create, but she is surprisingly talented at baking (hurrah – long may this continue).
Exciting prizes up for grabs are from Kenwood, Renshaws, Yorkshire Tea and Hobbycraft. Come and give it a go! Or if baking isn't your thing, put a festive jumper on, then come and eat cake!
Tickets and further details can be found here.
The Arch Cafe can be found in Leeds city centre, and is a fundraising enterprise for Age UK Leeds, which is a fantastic charity supporting older people.
Comments
comments