Harvey Nichols would not normally be my first port of call for Christmas shopping. I shudder at the sight of the store in Leeds, only because I assume that every single item within its doors can only be bought with a bar of gold. I was asked to review a food Christmas gift item though, and was obviously thrilled. Out of a list I chose this, the Easy Tasty Magic Alchemic Larder: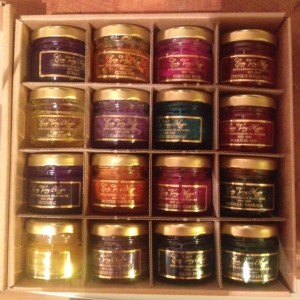 Why wouldn't you? What isn't fun about it? It has the word magic in the name, and that is an instant seller for the likes of me. The box is opened to reveal a huge collection of different coloured pots all lined up like jewels, with different powders and potions within. Brilliant. They have fantastic names too, like Renaissance Stardust or White Mischief; who doesn't want to try them?!
It reminds me of a toy sweet shop I had when I was little, and those small, glittering jars sparked the imagination and were so enchanting to me then. This creates the same feeling but allows you to play as a grown up. It's also perfect for people who like to cook but don't have much time for planning or recipe reading. You can sprinkle and add to your heart's content without actually needing any knowledge at all.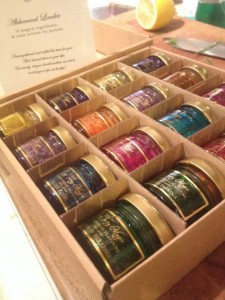 The larder comes with descriptions of each product and some ideas of what to use them for, which is handy. Devil's Penis Chilli though?! Not so magical a name.
Mr M chose a couple of items from our magical larder, and created a dish for our Saturday evening feast last weekend. Here's the recipe should you wish to try it.
RECIPE: Paradise Marinated Chicken with Cacao Nibs Balsamic Dressing
For the Chicken: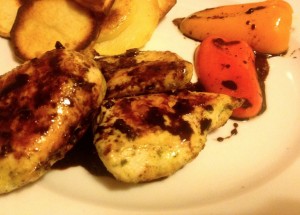 2 free range chicken breasts
1 teaspoon Grains of Paradise
Handful of Parsley
Sprig of Thyme – just the leaves if it's a bit woody like it tends to be this time of year
Squeeze of Lemon juice
Glug of Olive Oil
2 fat cloves of Garlic
Salt & pepper
For the Glaze:
50ml Balsamic vinegar
1 teaspoon Cacao Nibs
Toast and Grind Grains of Paradise in a pestle and mortar/blender
Add everything else and blitz till you get a nice green fragrant sauce.
Take off the "mini fillet" from inside the chicken breast and chop into 2. Chop the rest of the chicken into similar sized pieces (about 1cm thick) and cover in the sauce. Leave them for a bit to let them get to know each other.
Meanwhile, crush and toast 1tsp cocoa nibs in a small pan, then add the balsalmic. Bubble a bit till it just starts to thicken. Just needs thickening, not turning into a horrible sticky paste.
Add a bit of olive oil to a pan and fry the chicken for a few minutes each side till nicely cooked.
Rest the chicken for a few minutes on a warm plate while you char some sweet peppers in the pan. Once the chickens rested, pour the juices that are on the plate into the balsamic reduction.
Give it a good stir in.
Plate up – nice big bits of chicken, peppers, spoon over some of the balsamic reduction, serve with chips.
Easy Tasty Magic costs £29.95, which is very reasonable given the amount and quality of the spices involved. There are plenty of other food centred gift ideas available from Harvey Nichols too, some of which you can see here.
Comments
comments