Having only been to Trio once before (rather late on a Friday night, after a party and before home), I didn't realise that it even had a food offering, never mind that it is so strong. My impressions were somewhat limited and a little hazy… so when I was invited back to try some new dishes I was intrigued.
Executive Chef, John Richold, recently teamed up with the renowned Anthony Flinn to design a healthy yet filling Super Food menu. It was launched at the start of January – a perfect time to catch all those New Year dieters. There's something ultimately depressing about dieting though, isn't there? Just the thought of it makes me hungry. It's all lettuce leaves and grumbling tummies, but that's not the only way people! Super Food is a healthy option, yet also a satisfying one.
The menu at Trio has three Super Food Salads to choose from, which you then match with a meat / fish / veggie option. I chose the Salmon and Sweet Potato Fish Cake, which I had with the Quinoa salad. QUINOA. Quite a ridiculous word that makes you sound as smug as a well-to-do, middle class Guardian reader, who might listen to Radio 4 while in the bath, and knows exactly what they're doing with their entire organised life. (It's pronounced Keen-Wha in case you were wondering… and, no, I didn't know that either.)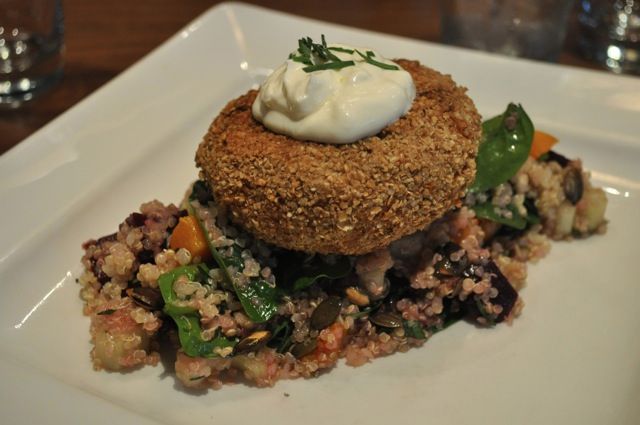 The QUINOA salad includes beetroot, roasted butternut squash, spinach, celery (which, like any decent human, I plucked out), parsley and pumpkin seeds with a garlic oil dressing. It is delicious. Annoyingly so for something so healthy. The fishcake was equally tasty and I left full, satisfied and feeling virtuous.
Trio is a great, relaxed venue for lunch, and this menu is excitingly different and surprisingly satisfying. Give it a whirl!
Comments
comments