I love the concept of having a proper American diner in Leeds. Milkshakes and burgers on tap – relaxed, fun, grab-a-bite food that might make you feel a little like you're in Grease or Happy Days. (Or maybe a more current and infinitely cooler programme that you might watch.)
I was a bit overly excited to visit the recently opened Rosie's Diner, (which is found at Cardigan Fields, opposite Vue; a prime location for a quick meal before a movie. Or so you'd think). On arrival, it didn't disappoint. It's big, it's fun, and IT'S GOT A BUS IN IT. An Actual Bus. We were there early evening (5ish) and it was already busy, leaving only seats on bus itself. Brilliant!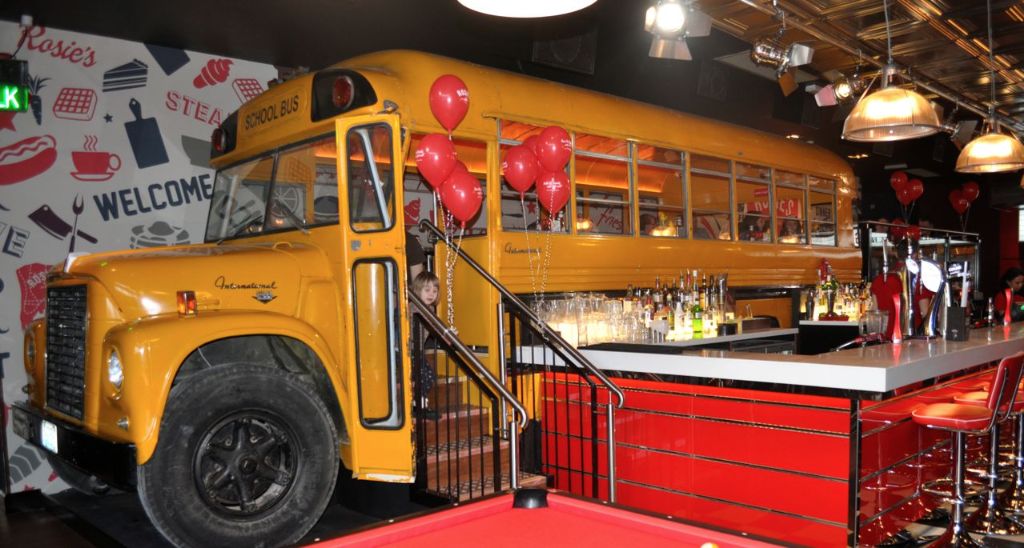 Rosie's Diner has a great menu serving everything you might want from a venue like this; hotdogs, burgers, ribs, crab cakes, chicken… all served with fries. (Well, no one is heading here for health itself are they?) The best thing about the menu though is that, where possible, everything is sourced locally, and the chicken is free range. I hadn't expected this from a large venue in such a commercial setting, but why not? It makes perfect sense. Great ingredients and great quality result in great taste. Good for them.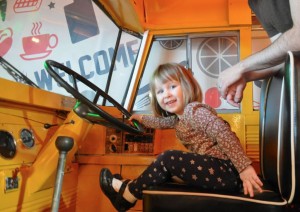 Sadly though, we waited and waited and WAITED for our quality, local food… it was almost an hour for our half rack of ribs starter to come out. At this point Emilia, being two, was understandably getting a little ratty. We chased the slightly hassled waiting staff, and eventually, a full hour after ordering, our meals emerged.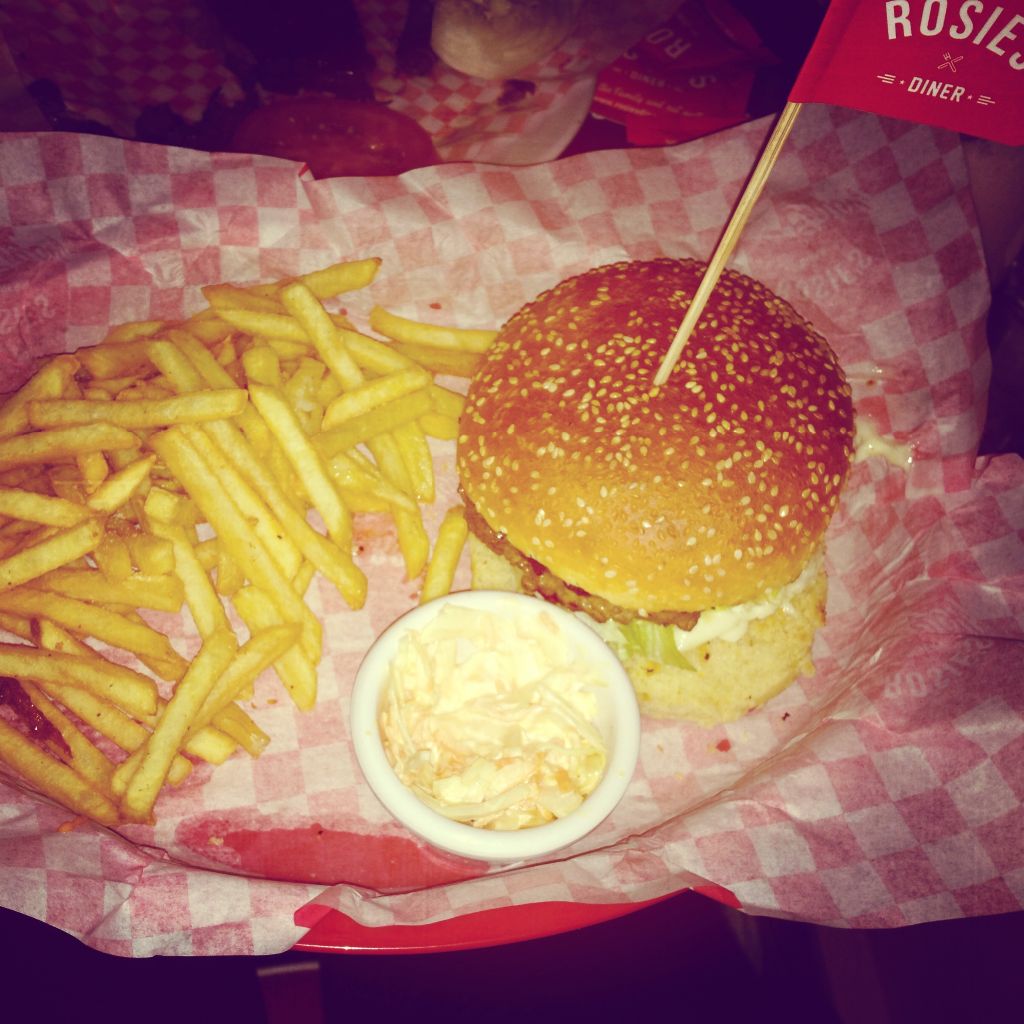 The food was great though. Served on plastic trays lined with paper, it had the authentic touch, was perfectly cooked and delicious. My burger was handmade, with a chargrilled outside and soft, juicy inside. The fries were crisp and freshly cooked too.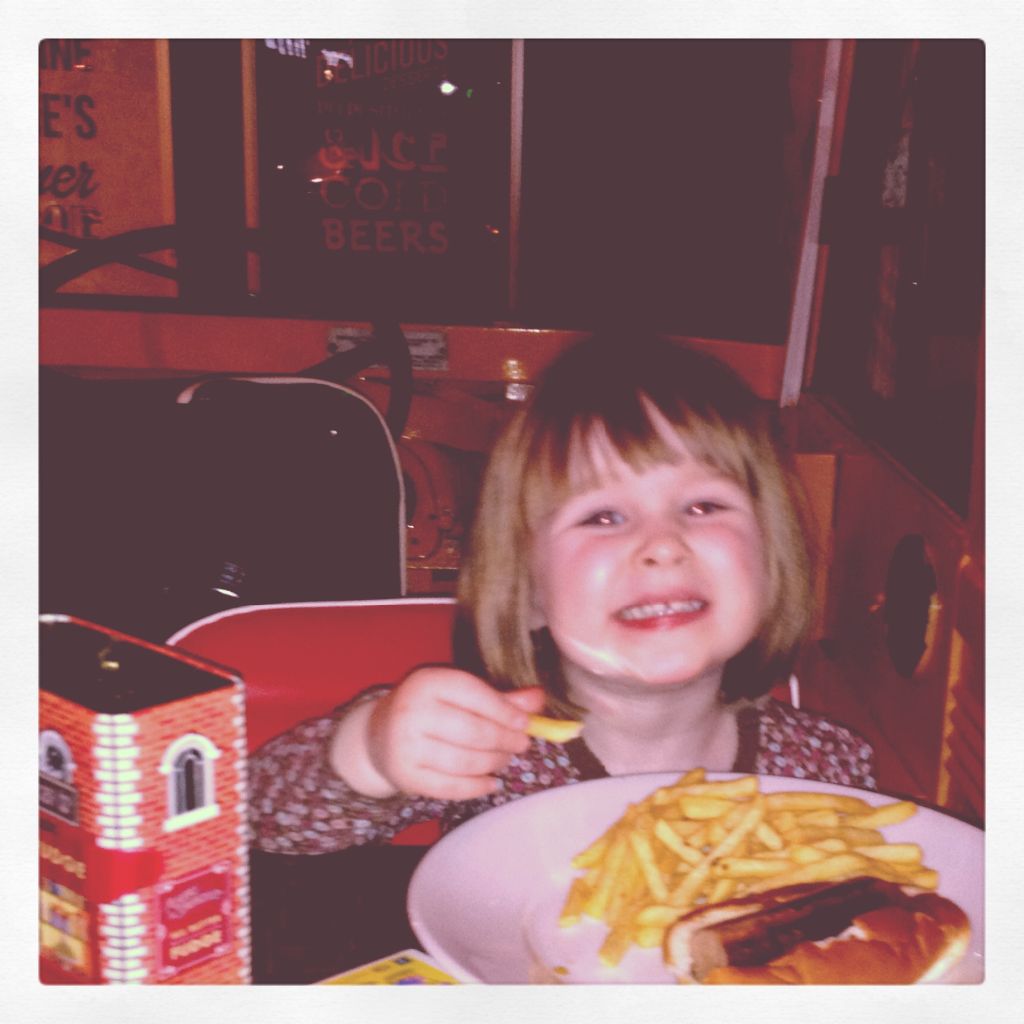 The kids portions were incredibly generous but also so good that the tiny tot devoured the lot. Don't judge her eating ability by normal standards though – you could certainly order from the children's menu for older kids too (Emilia eats A Lot). I initially thought it slightly pricey at £6.95, but the portions are big and a drink and pudding are included alongside the main meal.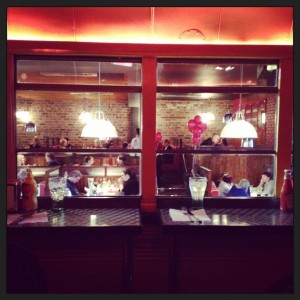 All in all I love Rosie's Diner but it is an incredibly frustrating place. It's a fun idea, and real thought has gone into its design and the quality of produce used, but these great aspects are all ruined by the immense waiting time… It is a new venue, but words gets around, and if it isn't rectified soon it could be a real issue blocking its success. I'd hesitate to go back, which is really annoying, as I'd love for it to be a regular treat. Sort it out please!
Comments
comments