I have been a little distracted recently, as I've been working on a new project with fellow food fan, Nick Copland. We've been setting up Leeds Food & Drink Association, which has the aim of promoting Leeds as a city that is passionate about great food and drink.
It's exciting times. We have incredible members (check them out here) – they're some of our food and drink heroes. It's all just beginning to take off, and the first official event is the launch of Grubstakers (excellent word, no?!).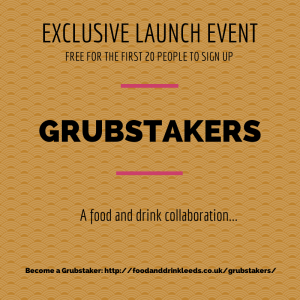 The event promises to be amazing. How couldn't it be when it involves the likes of Latitude Wine, Salvos, Friends of Ham, The Arch Cafe, Lazy Lounge, Swillington Organic Farm and George & Joseph? Cor.
It's an exclusive one-off, so if you want to be a part of it, snap up a Grubstaker membership asap – the first 20 will be invited to our sensational supper event. Don't miss out!
More information about Grubstakers and the event can be found here.
Comments
comments