Not many people use the full term Hamburger anymore, which is a shame. It always reminds me of one particular evening of my misspent youth. I was probably about 15, and had been out for a friend's "civilised birthday meal" … Returning to my friend's house we were all a little worse for wear, but none more so than my host Aileen. I desperately tried to distract her rather strict, no nonsense mother as others were forcing Aileen's stumbling body and flying limbs up the stairs. I used my charm and wit as best I could; "I had the best burger," I exclaimed, "you see I don't like beef, so I got a hamburger!". Ah. Cover blown.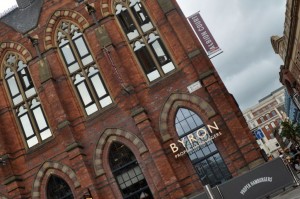 I digress… Bryon recently opened in Leeds, and I went along with my funny band of Murricanes to try it out. I was a little apprehensive that we might be scowled at, and generally resented for allowing the mini people out into society, however, this modern venue is genuinely welcoming, to all folk. There were friends, couples, the young, the not so young, lone diners and a rowdy family of four… A whole mishmash of people. Perfect.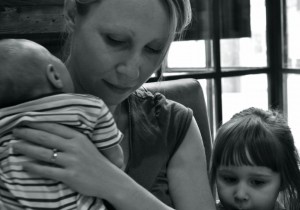 Byron claims to serve its customers Proper Hamburgers, wanting "to do a simple thing well, and do it properly".
We source good beef from Scotland. We mince it fresh and cook it medium so it's pink, juicy and succulent. We place it in a soft, squishy bun with minimum fuss and fanfare. We serve it with a smile in a comfortable environment. And that's it.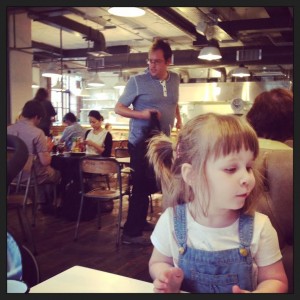 The menu reflects this, being simple and straightforward. A selection of burgers, sides and mains salads. I opted for the Byron burger: Dry cure bacon, mature Cheddar, shredded iceberg, tomato, red onion and Byron sauce. It arrived really quickly, as it should (take note Rosie's Diner), and it was darned delicious. Cooked pink, as advertised, with really flavoursome dry cure bacon, almost sweet cheddar and crisp, crunchy red onions. We shared a side of fries (this was big, so no need for one each) and onion rings. Both were fried to order, crisp, well seasoned and tasty.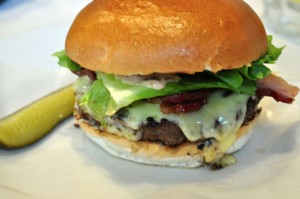 For me, pudding was a chocolate brownie with ice cream. Again, a simple dish but done extremely well, and served promptly. Mr M chose the rather impressive Strawberries and Cream Sundae, which looks like the kind of pudding you dream of as a kid!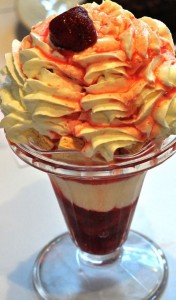 Byron's drinks menu is well designed, and has some fantastic craft beers. Just the right amount to choose from too. I tried the Byron Pale Ale, which is a bit pricey (£4.25 for a small 330ml can), but it's fruity, dry and refreshing and comes served in an ice cold glass – nice touch! I also love the way Byron rates its wine selection: GOOD / BETTER / GREAT / BEST. That's my type of wine tasting lingo.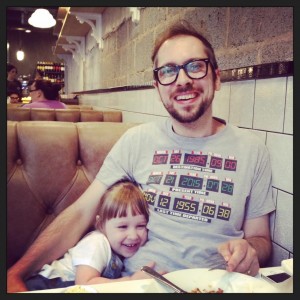 Byron is a great addition to Leeds. Simple, but proper food and drink, served in a fabulous New York styled venue.
Comments
comments