My second night out since having Tot 2 was spent at Gusto, with some great friends of mine. I was feeling a little on edge, to be honest. I'm not used to the bright lights of freedom, or the art of conversation without jiggling an infant whilst also making a cup of tea. My sleep deprived haze was all too apparent to me as I entered the glittering, grown up world of Gusto… However, a warm welcome was delivered, and soon I was safely tucked away into a booth with two brilliant buddies.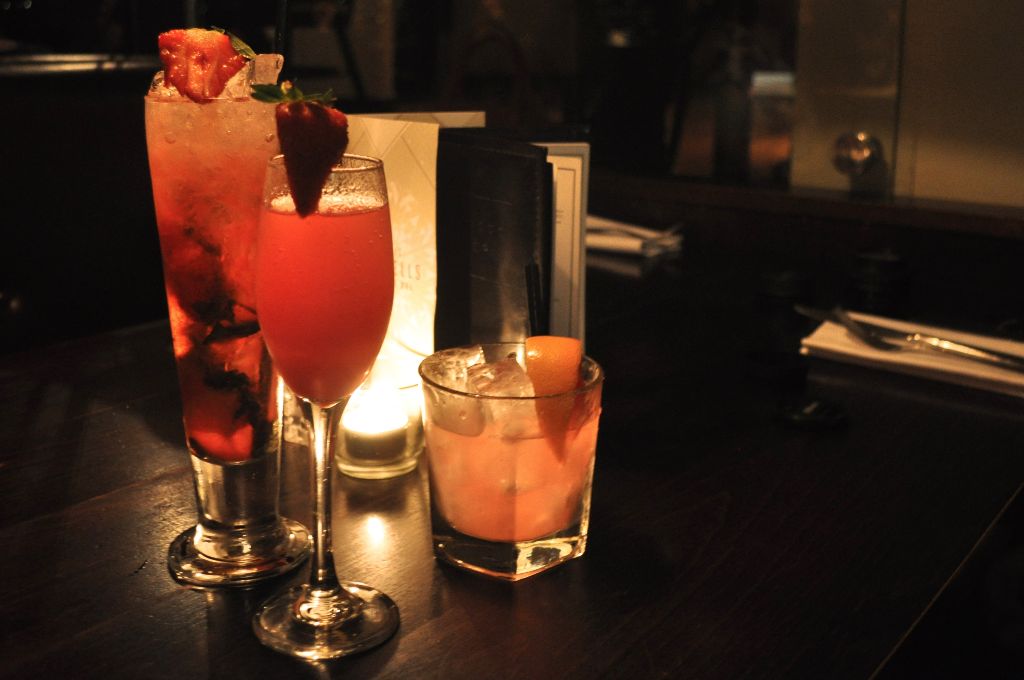 First things first – let's order a drink. Gusto has an extensive cocktails menu. (In fact, all their menus are extensive, and a little overwhelming when you want to make a quick choice.) After some deliberation I went for a Gin Old Fashioned, (I like to pretend I live in a Fitzgerald novel). If I was feeling sleepy, this certainly woke me up with a bang! The bitters were really bitter – it could have been balanced with a bit more sugar, but I enjoyed it none the less, and it opened my eyes enough to be able to tackle the food menu.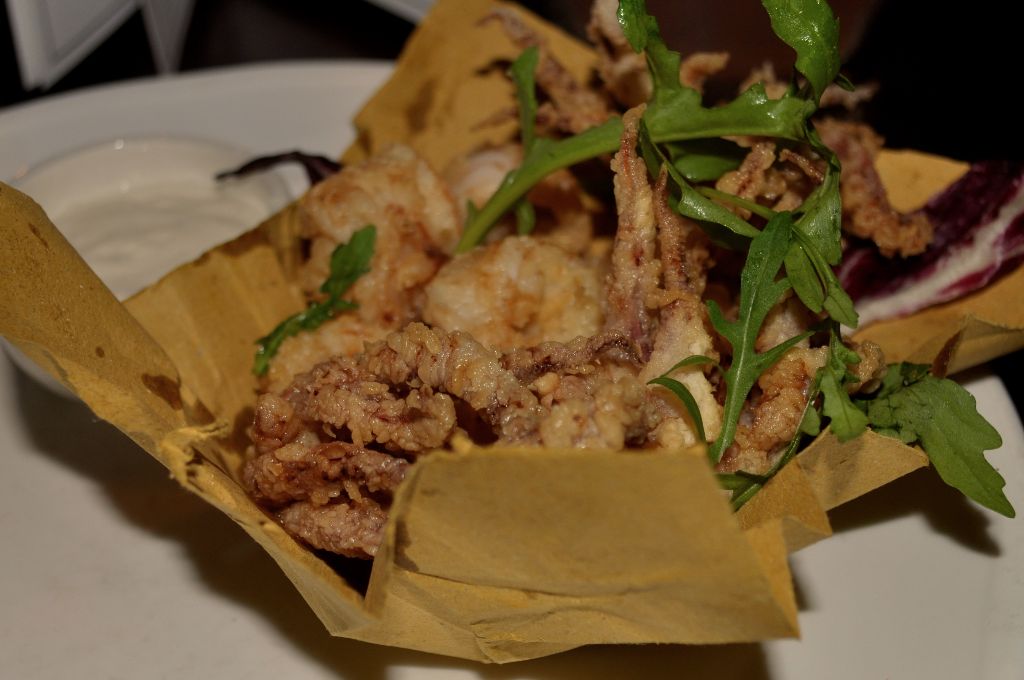 To start, I opted for the deep fried calamari. I flipping LOVE calamari. The portion was generous and it was well cooked. My friends had the bean dip and the classic mozzarella, tomato and basil. All arrived in good time, and all were enjoyed…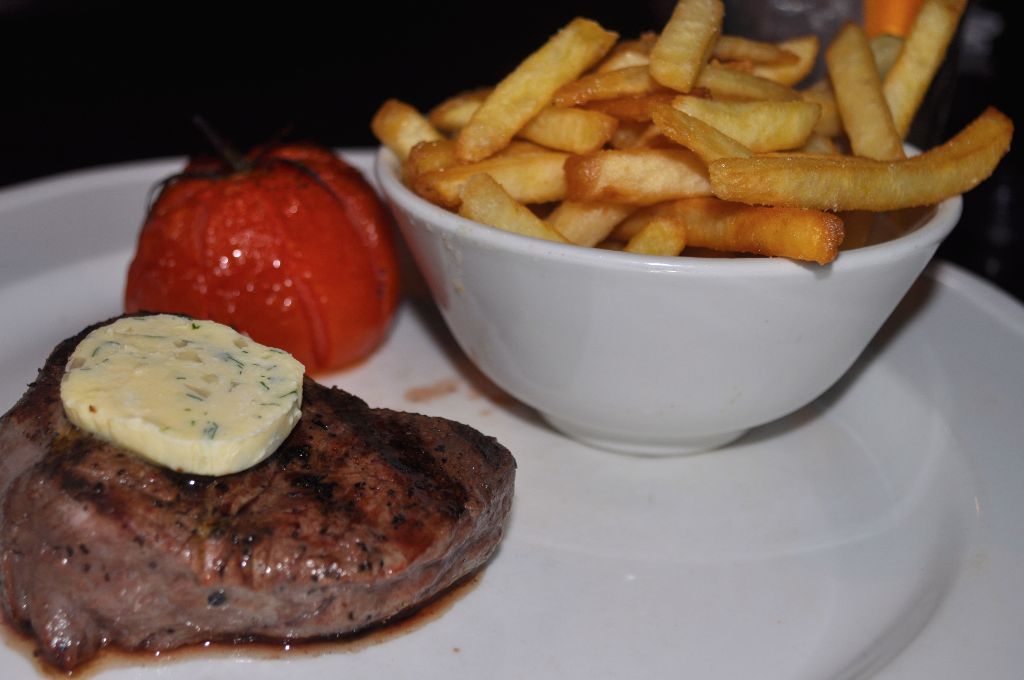 Next up I had STEAK. Fillet steak, with garlic butter, roasted tomato and fries. You can't go far wrong with an order like this, and I really enjoyed it. The steak was perfectly cooked to order (medium-rare) and it was plump, tender and full of flavour. The garlic butter was a great accompaniment – not too strong, but added a nice rounded flavour and richness.
As I'd pinched the steak option, my friends both went for pasta. One with white crab, chilli and garlic, and the other had lobster and prawn – ohh la la. However, they were both left a little underwhelmed by them. The crab pasta was a bit dry, and the lobster pasta seemed to have the effect of being pre-cooked and then reheated, (I think the word 'congealed' was mentioned…). This is a shame, as I've eaten fantastic pasta here before, so I certainly wouldn't say it's the norm, but that said, pasta is a relatively simple thing to cook – they should be getting it right every time.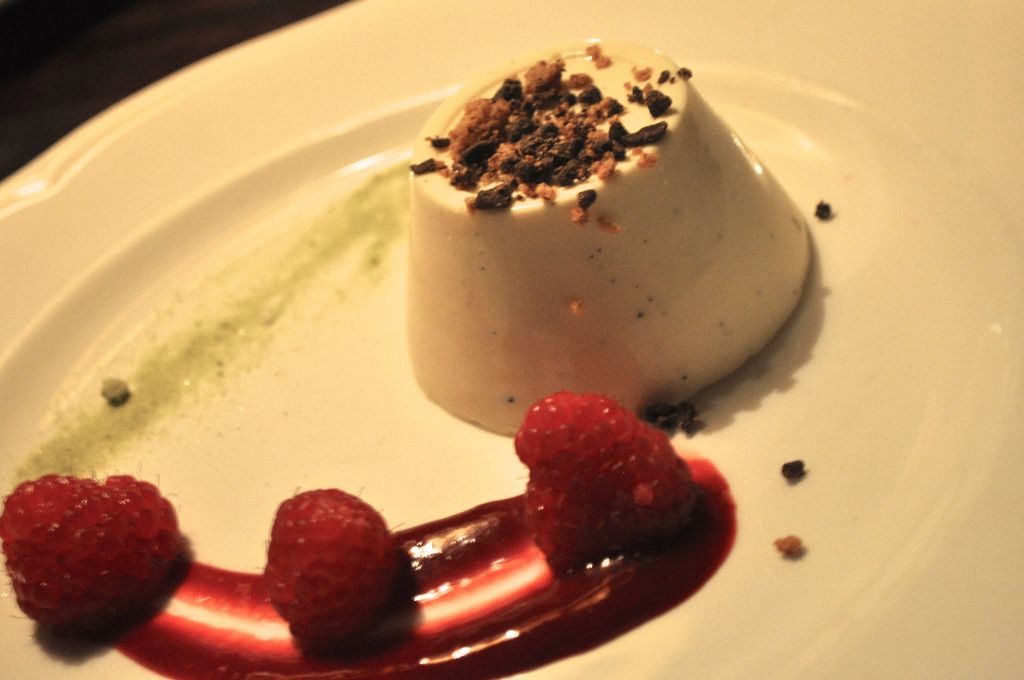 We rounded off the meal with puds. GOOD PUDS they were too. I had a perfectly wibbly-wobbly vanilla panna cotta, whilst my friends enjoyed and devoured the brownie and an Italian Mess.
To finish, I ordered a cosmopolitan. It was a little on the sharp, scrunch your eyes up, alcohol side… I may have been spoilt by sampling the perfectly balanced creations at The Botanist and other places, but there was definitely something a little askew here. My friend was much more successful with her Strawberry Bellini – a definite hit, being both sweet and refreshing.
We had a lovely evening. It's hard not to when surrounded by twinkly lights, eating good food with great company. Gusto has menus that cater for all, so it's a great place to head to with a group and I would recommend it if you're looking to please varied tastes. It's worth noting too that the service was exceptional. There were a couple of minor glitches on our visit, but nothing that took away from a great evening out with friends.
Comments
comments