Street Child is running a fantastic campaign this festive season; Pass the Presents.
If you struggle to think of a gift for some of your family members (maybe because they have everything already?), why don't you just NOT give them a gift this year? Instead, pass the present on to someone who really needs it.
Street Child is giving you the chance to buy something real for the Ebola orphans in West Africa. Their online giving system shows you exactly what your donation equates to. For example, the famed gift of socks (classics for family members) equates to a new set of clothes for an Ebola orphan. Due to the disinfection process, all clothing and bedding etc. is destroyed, leaving children with nothing.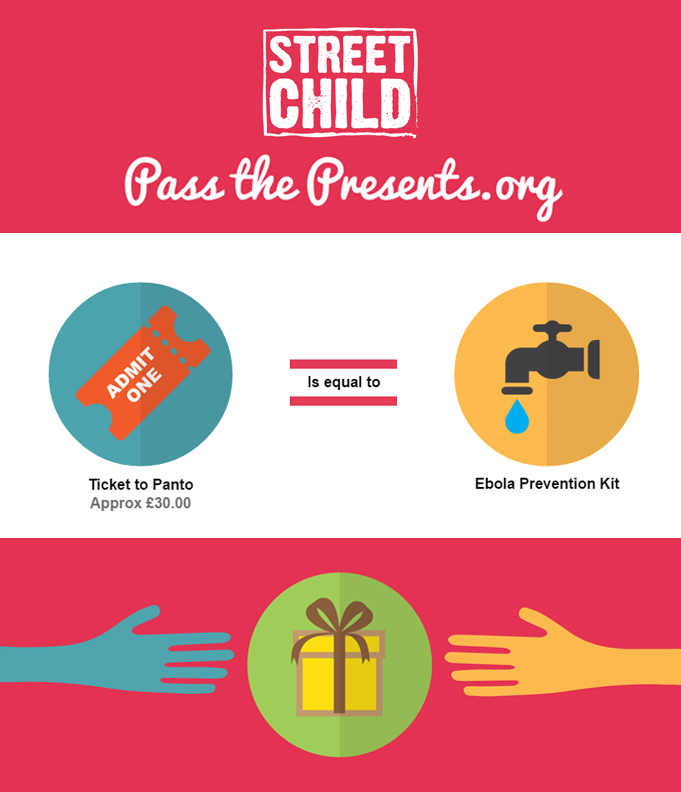 Not only is Street Child dealing with the problem, but they're also working on prevention: a panto ticket gift would be equivalent to an Ebola Prevention Kit (chlorinated water and soap), as seen above.
The website is simple and smooth – fun even. So pop on and take a look: http://passthepresents.org/ You can print out a certificate to give to people, showing what your donation has bought.
Let's NOT give pointless gifts this year. Pass the Presents.
Find out more about Street Child here.
Comments
comments