A good few years ago I made the odd decision to do the Great North Run. Let's be clear. I have never been a runner. I'm just not that type of person. I'm more of a pint in the pub type of person. That's why it was a bonkers decision, but also a good way to raise sponsorship money. (I always think it's a bit cheeky to get people to sponsor you to do your own hobby…) Anyway, miles of pain and tears and rain were made easier by the jolly Geordies, but as I passed each distance marker, I kept asking myself "WHY DIDN'T I JUST DO A 5k, 10k etc.". Look how much fun I had: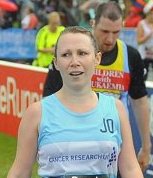 After having little Robin last year, I now need to get fit again. So, I will be running once more, but not in an insane way like last time. I'm starting small, and I'm bringing back the fun.
I've just signed up for the Color Me Rad 5k! It's at Harewood House Estate on 16th May 2015. It's a short run, in a beautiful place with colour bombs. BRILLIANT. Why is running normally all about stopwatches and energy drinks?! NO. Colour bombs and FUN. They don't even time you. This is much more my style!
I have started my own team: Team Hurricane (it's like Murricane, but with an H, hehe). If you fancy doing the Color Me Rad run with me, feel free to join my team of 1! Hurry though, they're selling out fast (it costs £20, well, closer to £30 with bits and bobs).
Wish me luck. I actually have to train for this now, and I've only done two tiny runs in the last 2 years, so … EEP. Oh well. I'm looking forward to looking like a rainbow on 16th May. Albeit a tired rainbow…
Comments
comments