NOSH Super Brekkie is a new breakfast drink / meal in a bottle. (I'm not sure I want my meal in a bottle, but there you go.)
It's a healthy yoghurt / fruit / super food style breakfast which is kind of a mix between a yoghurt pot and porridge, with fruit. The aim is that it's a super quick breakfast for all you busy people who are eating as you race out the door, rushing out to your busy and very important lives.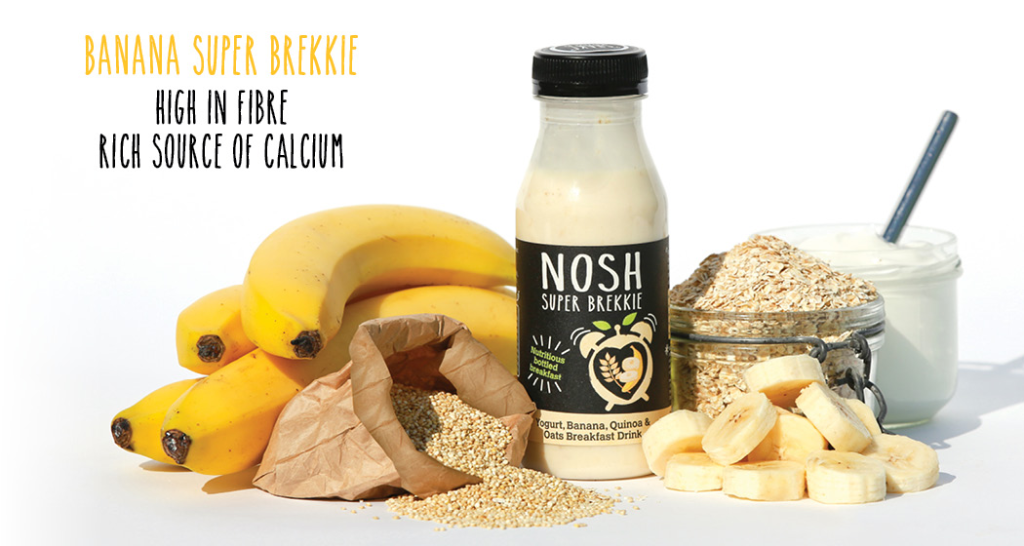 The contents are good – it's all really healthy, natural stuff, with no added bad sugars or anything. The drink is meant to keep you full until lunchtime, due to all those super oats and quinoa etc. and you can choose from four different flavours: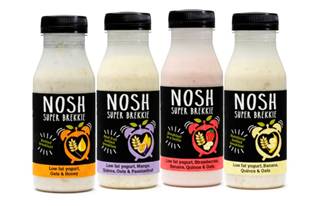 Yogurt, oats and honey
Yogurt, Banana, Quinoa & Oats
Yogurt, Mango, Quinoa, Oats and Passion Fruit
Yogurt, Strawberries & Banana, Quinoa and Oats
My issue with NOSH is the texture. I'm a little bit childlike when it comes to yogurt, in that I can't stand bits or surprise lumps. They make my whole body shudder, and I can't quite swallow them. These drink are packed with bits and lumps. It's a drink that you chew, and I'm much more of a YOP type of girl.
My other issue with NOSH came in the press release. It's hilarious:
By including oats and quinoa in our recipe we have something really special – we like to call it a 'foothie' – a food you drink or a drink you eat.
Geoff Read, NOSH founder
A FOOTHIE. Yes.
However, the flavours of NOSH Super Brekkies are delicious, and if you're more of a grown up texture-wise, you'll probably really like them (Mr M thinks they're great!).
Why not find out? I have a week's supply up for grabs – simply "like" my Facebook post and comment "FOOTHIE" below it, to be in with a chance of winning!
Competition closes on Friday 29th May 2015, at noon.
Comments
comments