I remember waking that morning, glancing at my phone, and it was the first thing I saw; David Bowie has died.
I had a jolt to the stomach. I really couldn't believe it. When someone is so famous and talented, and has created such an enormous body of eclectic work, they somehow become superhuman. We don't imagine they're able to submit to the pesky, every day nonsense of mortality. It can't be possible that Bowie was simply human, after all. Can it?
I listened to BBC 6 Music all day long. Lauren Lavern somehow managed to put into words how everyone was feeling. She said that it's ok to be truly upset and to take the loss of Bowie personally, because it is personal. And she's right. Bowie has been present through all the different parts of my life, all of those little moments, and big moments… his music is tied in with so many memories, so for him to not be there any more, and to not be creating any more, is completely surreal.
Bowie had such an individual and recognisable voice, constantly popping up on TV, the radio, all over the place. His voice is weaved in amongst the fabric of our time, and he became a singing passenger within my story.
I tend to steer away from writing about music because I think that you have to be a very particular kind of historian to do it. People cite dates, genres, and movements of music so confidently, and compare albums and artists almost scientifically, which is a task I'm just not up to.
Music that means anything to me, has been felt or experienced, and has left an impression. I just want to dive into it, but none of this is very factual so it makes me feel like an amateur when I write about it. This post isn't anything like a neat round up of Bowie's career and what we should learn from it (as so many ruddy branding agencies are currently doing). It's simply about what his music meant to me.
I was 6 years old when I first remember seeing David Bowie on screen. The Goblin King of the Labyrinth struck a chord immediately, and I was captivated by him. The story merged so perfectly with the music and I was completely, and willingly, immersed that glittering, if somewhat unnerving, fantasy land. The film stayed with me as I grew up (who wouldn't want to be at that masked ball, in that dress, dancing with Bowie?) and, years later, in a dark, smoke-filled university room, I unearthed the Labyrinth soundtrack once more. I danced with a boy to As the World Falls Down, and that was magical too.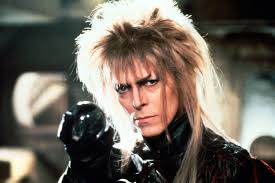 My university days were also when I discovered David Bowie's Singles Collection, which lead me on to discover his early albums. I loved them. I bought an ankle-length leather jacket, smoked cigarettes, drank a lot and felt completely free. It was incredible. (Though I also remember listening to The Rise and Fall of Ziggy Stardust and getting completely freaked out by Five Years.)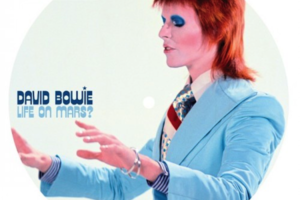 I went on holiday to Rome with friends, and we were sat in the pitch black in a somewhat rusty, and questionable car, waiting for a somewhat questionable driver. We sang "here am I sitting in my tin can" over and over, laughing hysterically, because we were so adrift from the world at the time, and it was brilliant.
My friend made me an incredible cake for my birthday a few years ago, and it was a representation of Life on Mars – one of my most favourite Bowie songs. Have a listen and a watch – it's a David Bowie tribute, in cake form:
There are a lot of standout memories that have Bowie's music at the core of them, but there are so many more every day ones… days just sat drinking tea, listening to tracks and albums of his, or more often than not, his voice coming over the radio, or TV, just saying hello…
He was fabulous, crazy, brilliant, emotional and clever. And I will miss him.
"Nothing has changed. Everything has changed."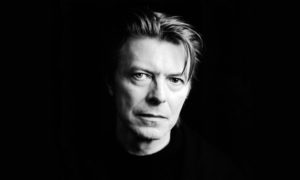 The Songs of David Bowie
There are far too many amazing songs to choose from, so I've just selected one from each decade that Bowie was creating in… This may be a slightly ridiculous thing to do (how on earth do you choose just one from the 1970s?!) but I wanted to portray the huge variety of styles, sounds and songs that Bowie created. He changed himself through time, over and over again, becoming almost new to us once more. He had so much to say. Here goes…
1960s – In the Heat of the Morning
1970s – Rock 'n' Roll Suicide
1980s – Let's Dance
1990s – Thursday's Child
2000s – I Would Be Your Slave
2010s – The Stars (Are Out Tonight)
David Bowie's Goodbye
2016 – Lazarus
"Look up here, I'm in heaven."
Comments
comments