Chaophraya has developed and launched a new a la carte menu at their venue in Leeds. When we arrived to sample it the ground floor of the restaurant was packed – and I mean PACKED – with business types, drinks in hand and lanyards on, "networking". We battled our way through the herds and finally made it to the first floor. However, when I gave my name no one seemed the recognise the booking, and it was only after some excruciating exchanges that we were finally found a table.
We chose some dry Thai wine (a chenin blanc) and ordered starters of Soft Shell Crab & Squid Tempura, and steamed dumplings. At this point, our favourite staff member, Fon, clocked us and gave us the warm welcome we'd been so missing. She suggested that we try out the Thai Chicken Tacos starter too, and so we did. They were amazing! Rice flour tacos with curried chicken, a bit of coconut milk and fresh herbs and chilli. I know that tacos are traditionally a Mexican dish, but this was a playful Thai take on them. The textures and flavours are completely different, but it made for an interesting starter that was packed with flavour. Sadly, the tempura wasn't as fresh as it could have been, and there was still some gritty shell left on that soft shell crab.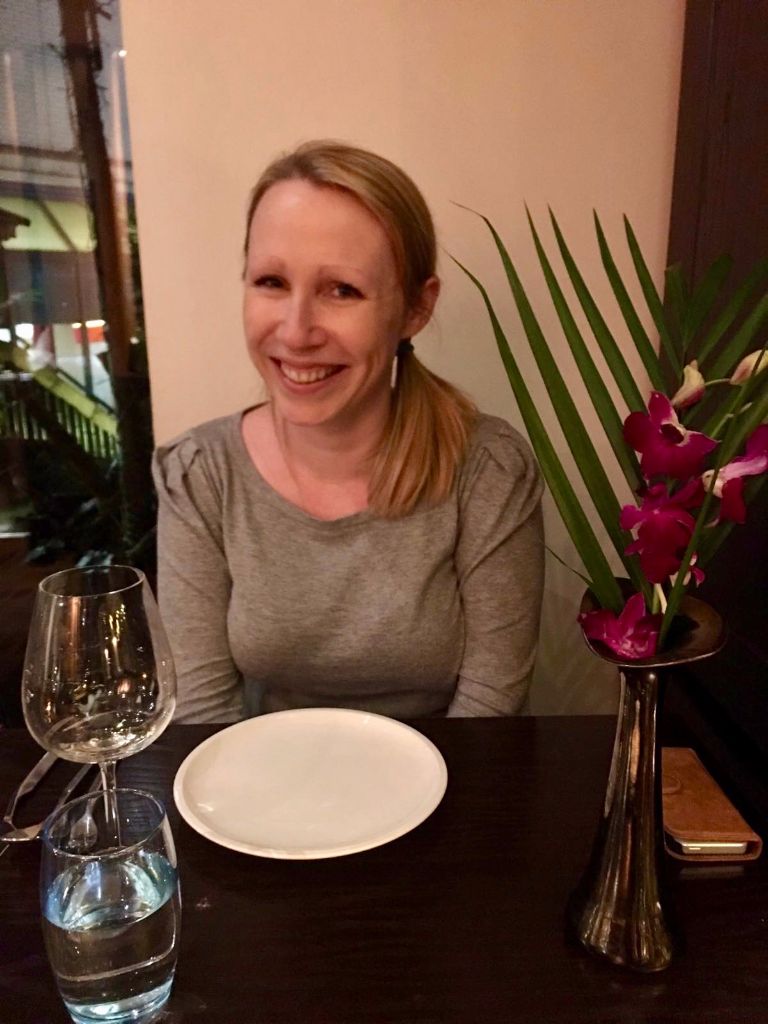 My friend ordered the Massaman Lamb Curry with sticky rice for her main course. The curry was sweetly spicy, rich and packed with flavour and the lamb in it was incredibly tender too.
I'd ordered the Chamber Aged Sirloin Steak. Now, I don't know if it's just me, but read this:
Cook your own seared 8oz sirloin steak on a Himalayan rock salt block! Served with a tangy chilli dip alongside stir-fried shimeji mushrooms, onions and Bok choy.
I completely believed that I would be fully "cooking" my own steak. This wasn't the case at all though, as it arrived cooked already (perfectly cooked though).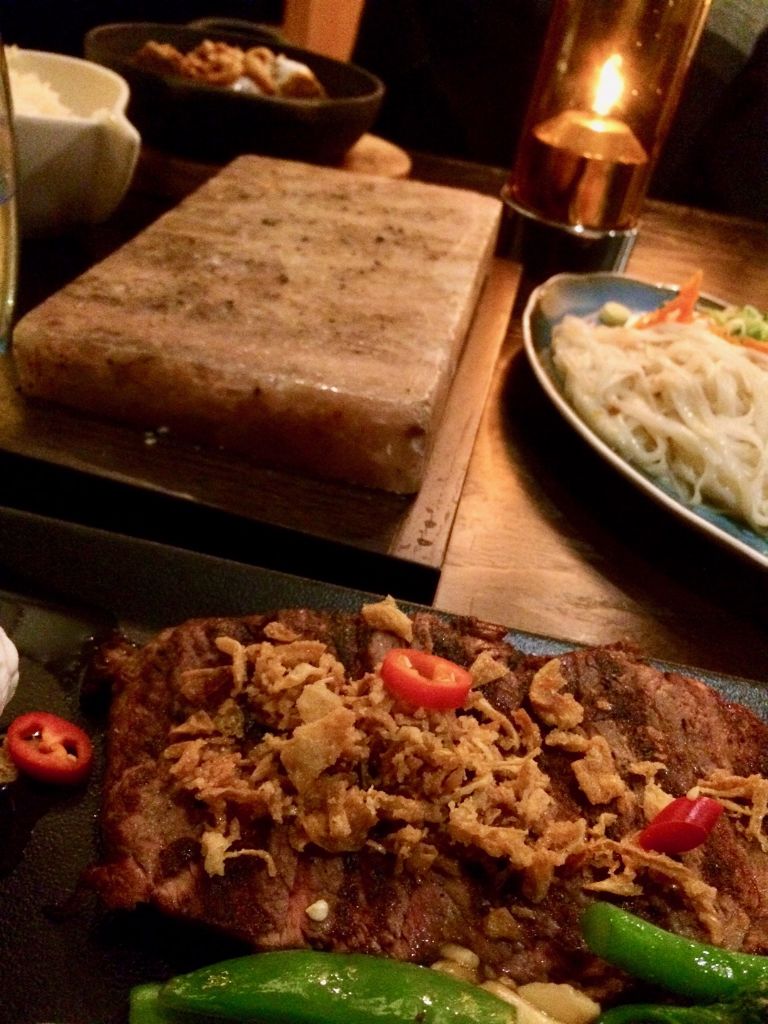 The salt block is there to warm through each slice of steak before you eat it. After expecting something to sizzle, I was disappointed at first, but once I understood the point of it all, it was great. The salt block not only warms the meat, but it seasons it too, which is brilliant. The steak was completely delicious, and the vegetables were too. The waitress had recommended noodles to go with the dish, but you don't really need anything with it at all.
For dessert, I was lured in by the chocolate bomb, which it was while impressive, it was ultimately disappointing. After the show was over, I was left with a pile of whisky ice cream that wasn't very nice (and I love whisky, but this had no depth to it at all) and some very sweet toffee sauce, which was far too sweet for me. Randomly, there was some popcorn in there too?
My friend had the mango meringue and I unashamedly stole half of it. Sweet, but delicate and light, and served with nuts and fruits, it was a fantastic dessert. More of that, please.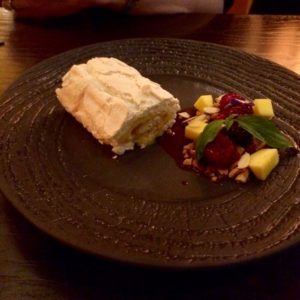 It was a strange night at Chaophraya, full of hits and misses. The service wasn't at its normal standard as it was very slow and there were problems too. For example, we had to remind the waitress about the wine, so it finally arrived long after we'd finished our starters. Not only that, but one member of staff was using the ledge just next to us to sort through all her receipts and paperwork, which was was really off-putting. It made it hard to have a normal conversation with somebody being right there, able to hear every word, and shuffling paper all the time.
I like the new menu – it's got some exciting and playful choices on there, which have really livened things up. The food was generally good, but I think the huge event going on downstairs was very distracting to everyone. I'm sure that next time the standards will be back to normal.
Comments
comments