I've known Charlotte for a long time online (through Twitter) and chance played a part in me meeting her in real life when Emilia started school. Charlotte's daughter was in Year 6 and was assigned as Emilia's buddy, to help her settle in. A few months later, she also (very kindly) provided Robin with homemade rainbow cake when she heard that he was poorly and that rainbow cake was the only thing he wanted to eat in the world.
https://www.instagram.com/p/BMzLUmEF_pa/?taken-by=jomurricane
Charlotte Luisa designs and makes luxury bags. All of her materials are sourced locally in Yorkshire where possible, and she finds and reclaims high quality materials that would otherwise end up in landfill. This means that each run of her creations is limited, and each product has only a few replicas (if any) in existence.
My friend's birthday was coming up a while ago, and I was thinking about what to get her. She has a one year old wee boy, which is exhausting, and I wanted to get something for her and her alone. A little piece of luxury to enjoy, but something that would also be useful.
Chance played its part again. Charlotte's post popped up on my Facebook feed showing a new range of wristlet bags that she had just created. They smaller than her other designs, and perfect for when you're out and about as they're just the right size to fit in the essentials – money, phone, cards and keys.
I loved the denim look of the outer and the surprise of the rainbow pattern inside, and knew my friend would too. Even though I could have chosen any of the fabrics Charlotte had, I went with these and I placed my order (accidentally adding an extra one for myself…).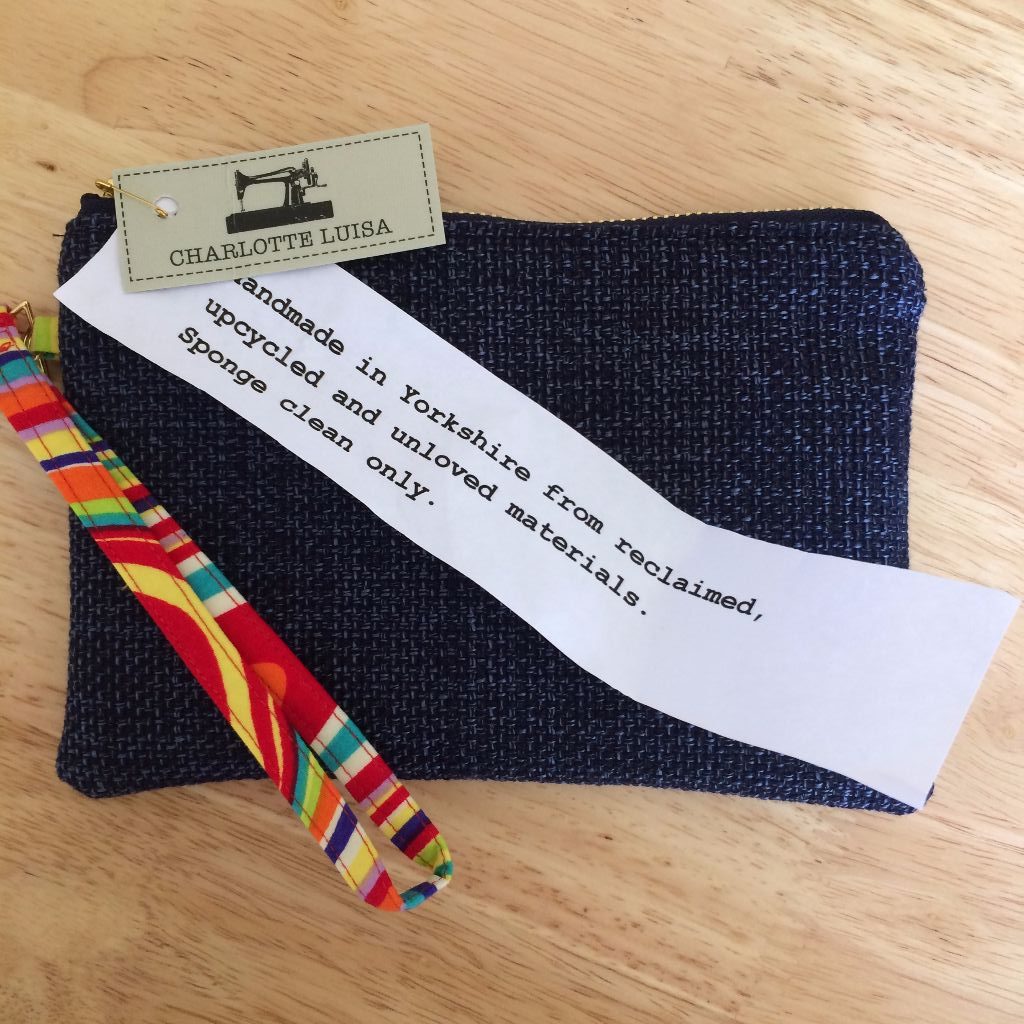 The pieces arrived and were beautifully packaged. They're fantastic to use and really well made. It's also lovely to have something unique that isn't from the high street. (The labels on my wristlet bag are a little crumpled in this picture due to my daughter hugging the bag and claiming it as her own! Perhaps I should have ordered three…)
Support local, support quality and support handmade. 
Have a look at Charlotte's website for gift ideas or for a spot of luxury for yourself. Postage is free throughout the UK and she's just launched some laptop sleeves, which look amazing…
Comments
comments