Hidden Harewood has been created by the Harewood Food & Drink Project. It was set up to celebrate the abundance of produce that's found on the sweeping Harewood estate, to share it with people, and to collaborate with the some of best food and drink folks in the region. What's delivered, is an experience like no other.
Winter in the Woods is their second event, and Mr M and I were lucky to be able to go along for my birthday treat. Tickets are expensive at £75 each, however, when you're there, you understand the amount of work, energy and skill that's gone into creating a truly unique experience, and it's well worth the money.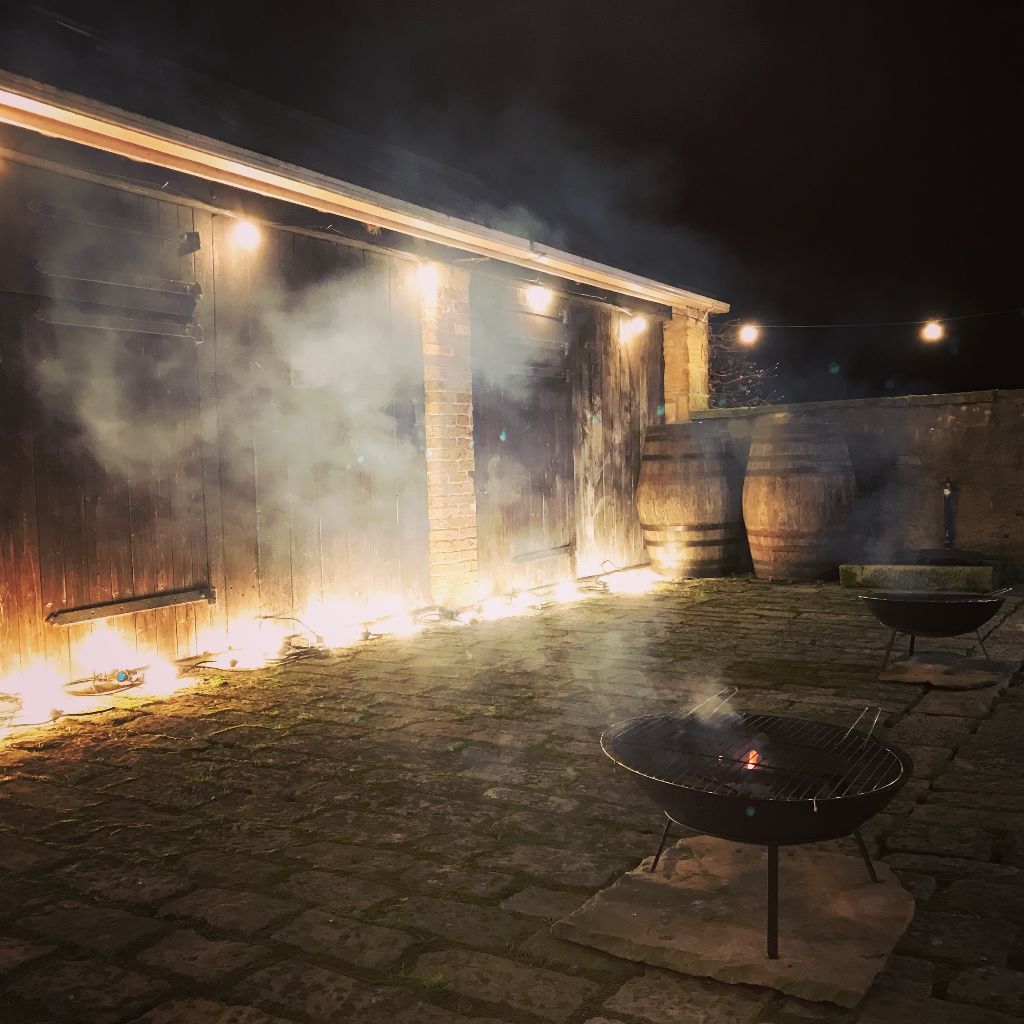 We arrived on the coldest of nights (eventually – The Hovels within the Harewood estate seemed to be an impossible place to find for our taxi driver!) to glowing lights, and smoking fire pits before being greeted to go inside for a warm gin cocktail and canapés…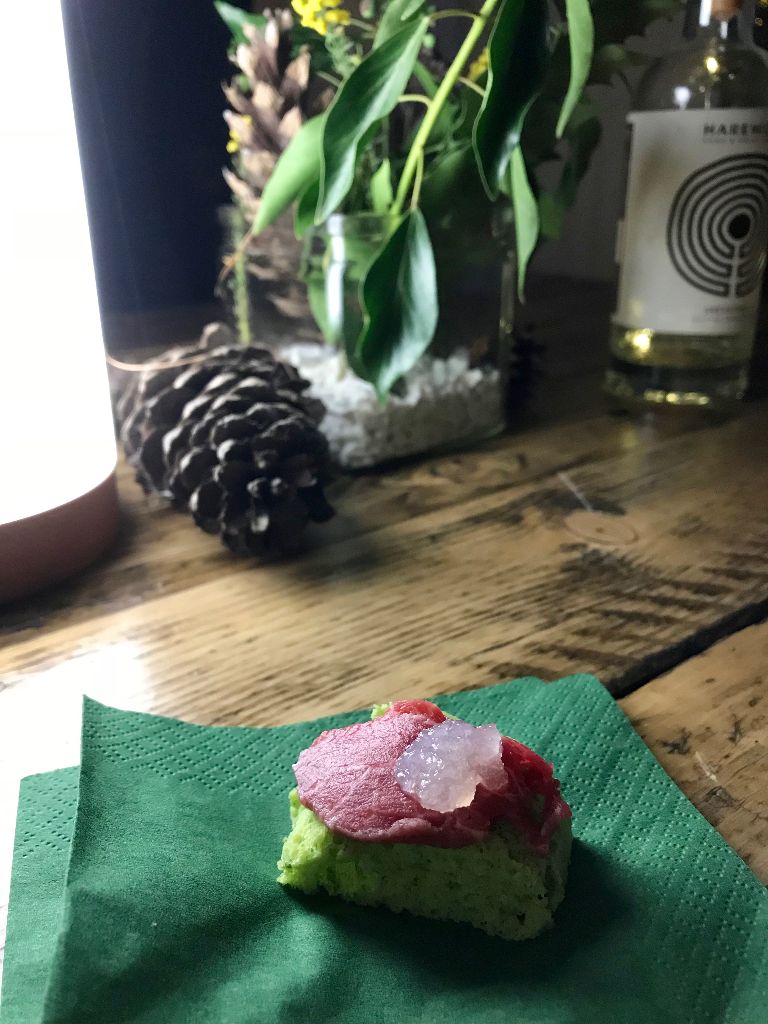 First, raw beef, horseradish leaf cake, with coconut. Light, simple, amazing.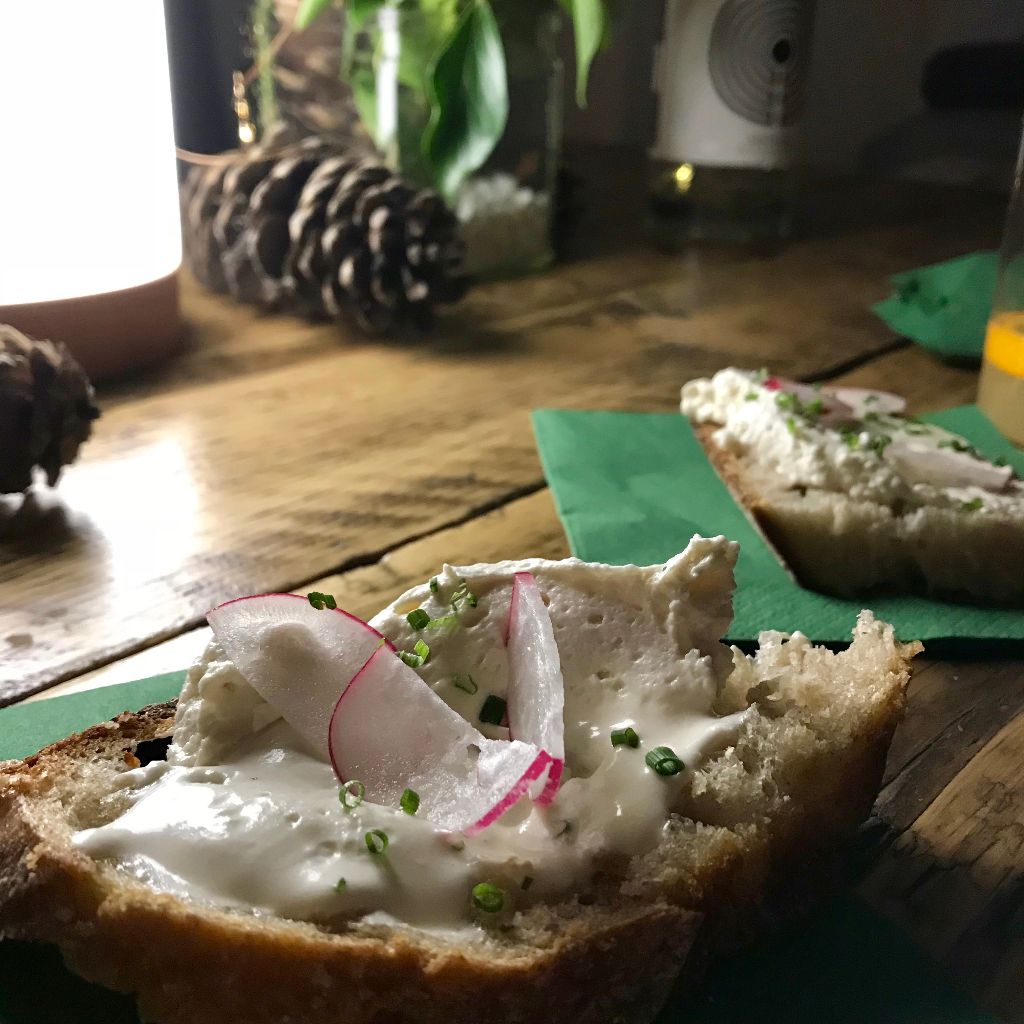 Then THIS. Leeds Bread Co op sourdough topped with whipped bone marrow. Oh my. It's like nothing I've ever had before. As light as air, but deeply beefy. It's seems like it shouldn't work, but it really does.
We were given menus with a wax seal and we kept ours closed to keep its secrets. (We were loving the surprise element of this event already…) Soon we were back in our coats to head off to the next location, but what or where this location was, we had no idea.
As a (supposed) grown up, it's rare to be surprised in this way. To feel that childlike excitement of not knowing what's coming, but that it's going to be brilliant. It's the feeling of Christmas Eve. Warm, glowing, and giddy with the anticipation of what's to come. That's what Hidden Harewood delivers, and if you love food and drink like I do, it's the perfect adventure.
To the carriage!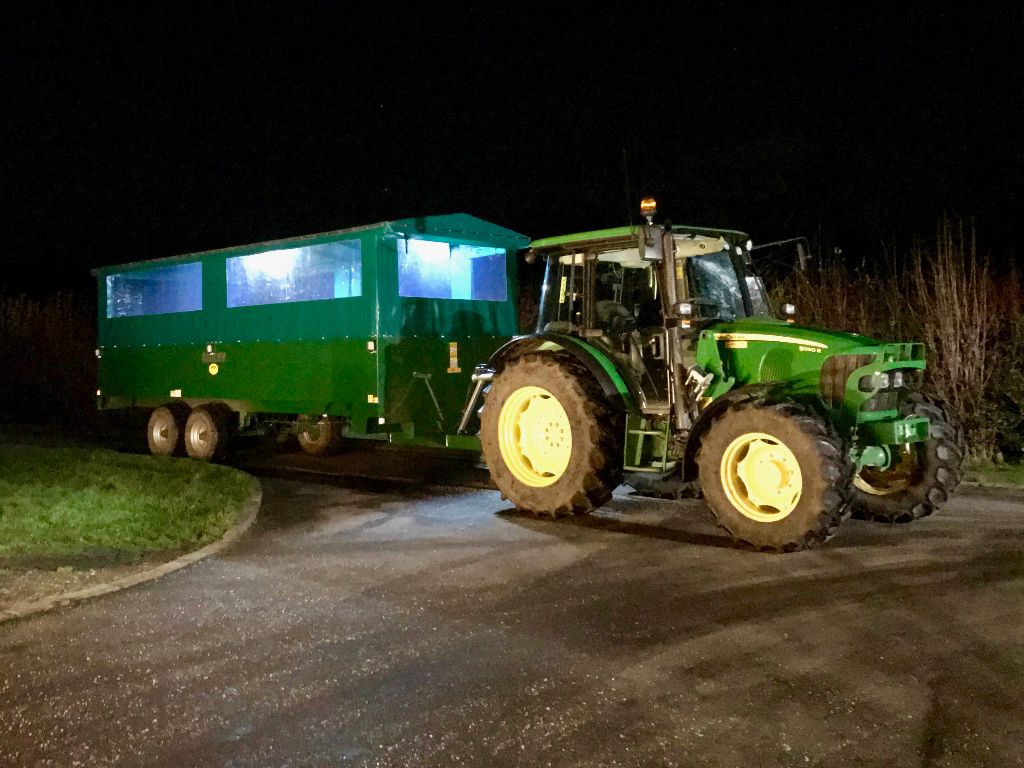 Our tractor-carriage took us on a 20 minute adventurous ride through the deep dark woods. The trailer had lights on the side of it to illuminate the woods for us, which was great as it allowed us to see the hidden woodland, and the ground twinkling with ice. The night was freezing cold, but we had been given blankets to warm us on our ride until we arrived here…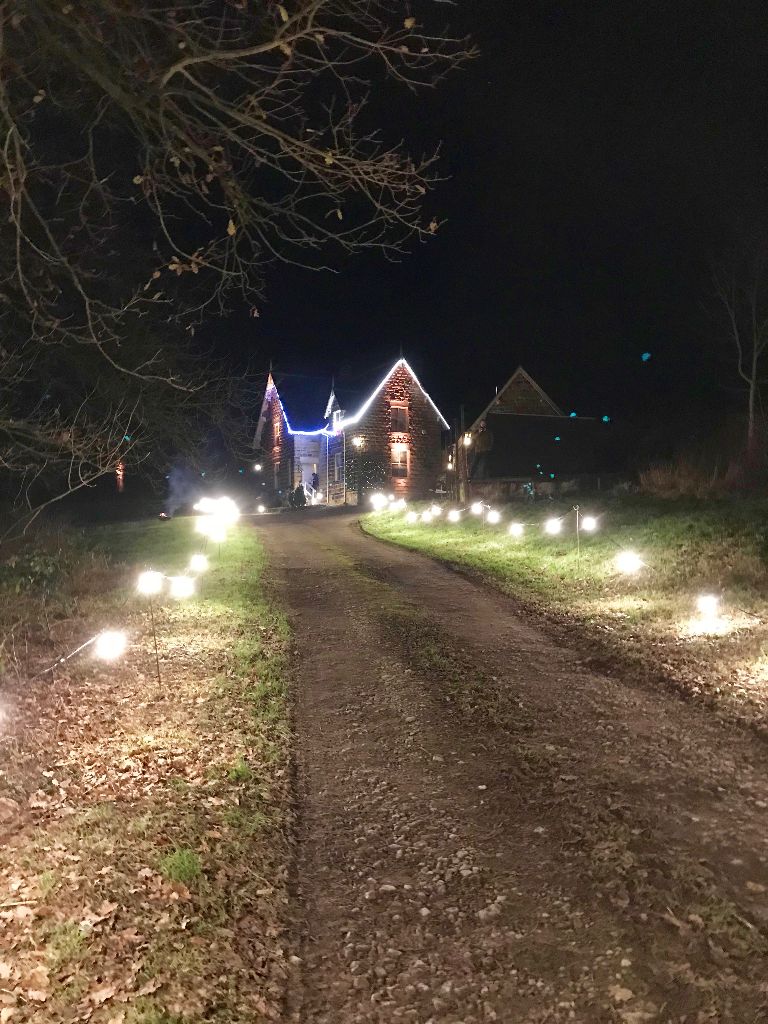 A twinkling path leading up to the beautiful, lit up woodland cottage… all very Hansel and Gretal, but without the worry of an evil witch. There were three dining rooms and we were allotted to the first, and just like the outside it was gorgeously bedecked for Christmas.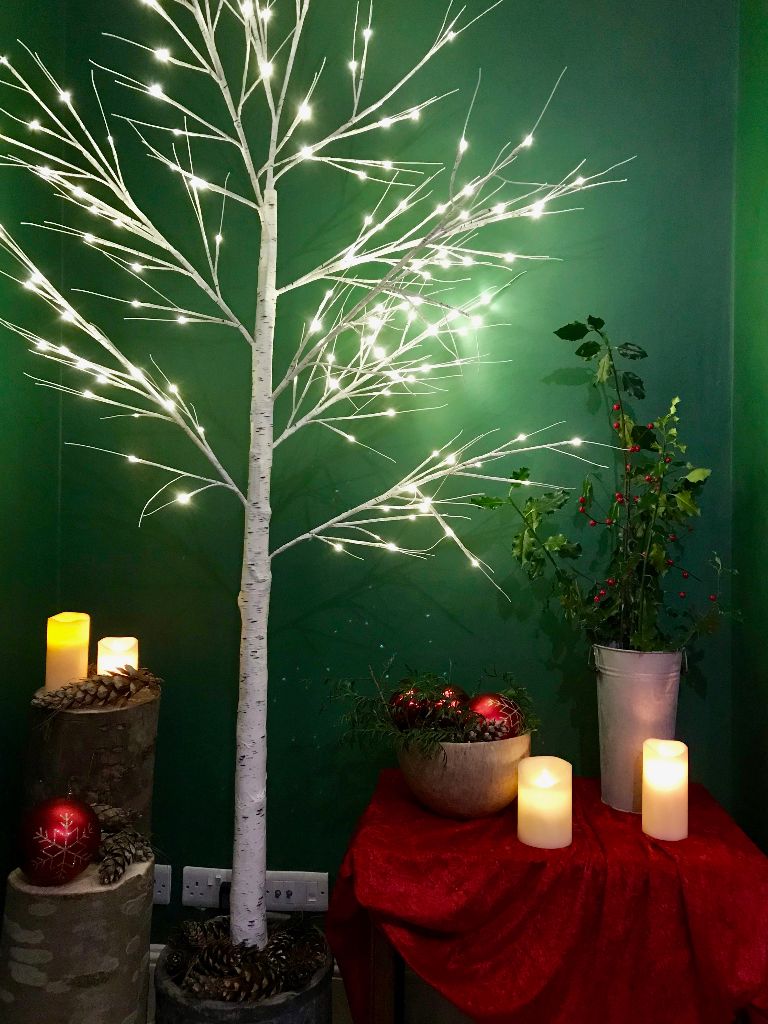 Our chef, Ox Club's Josh Whitehead, introduced us to each course. First up, was rabbit (from the Harewood estate) with pork and peanuts, served as a dartoire (something like a sausage roll). Look: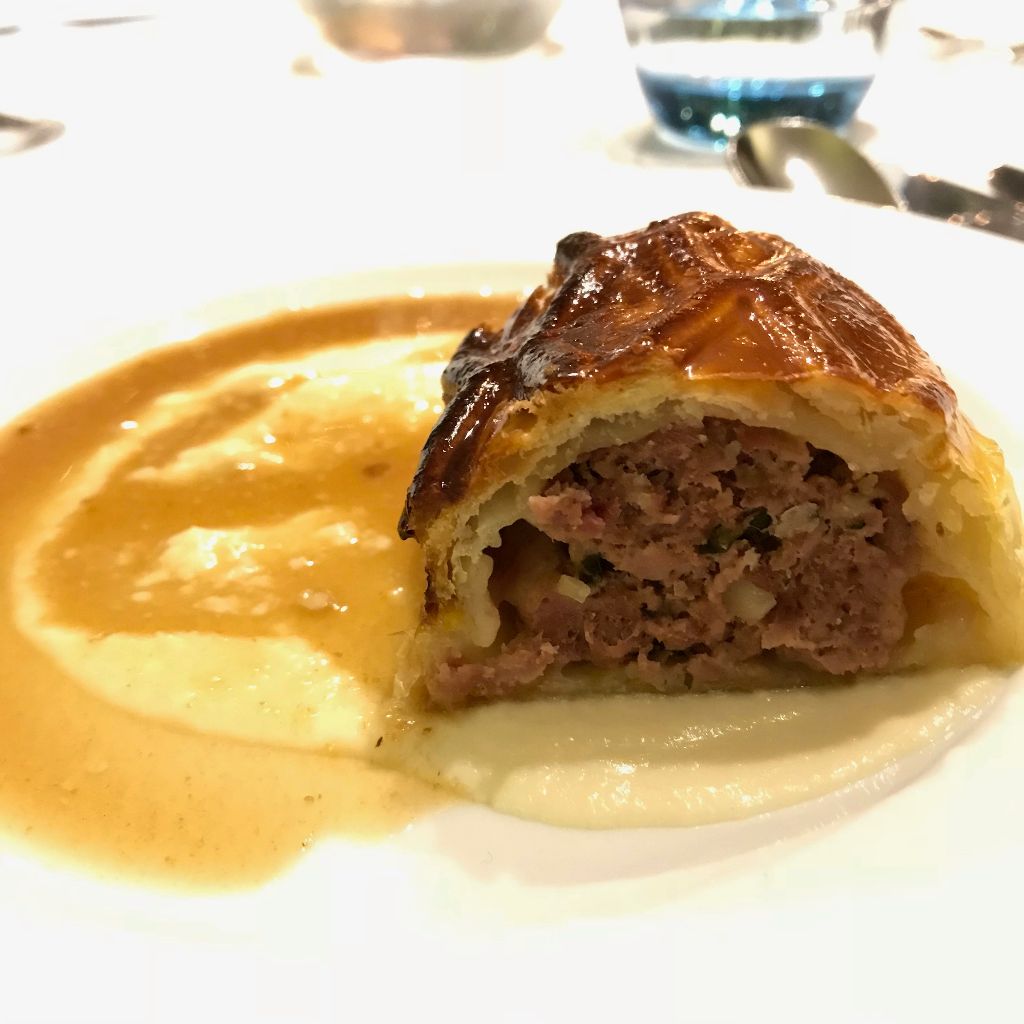 The flavour was intense, and the texture kept interesting by those crunchy peanuts. A fabulous start. Next, we were served Highland Cattle Sirloin, with Onion, Tamarind and Acar Timun (relish).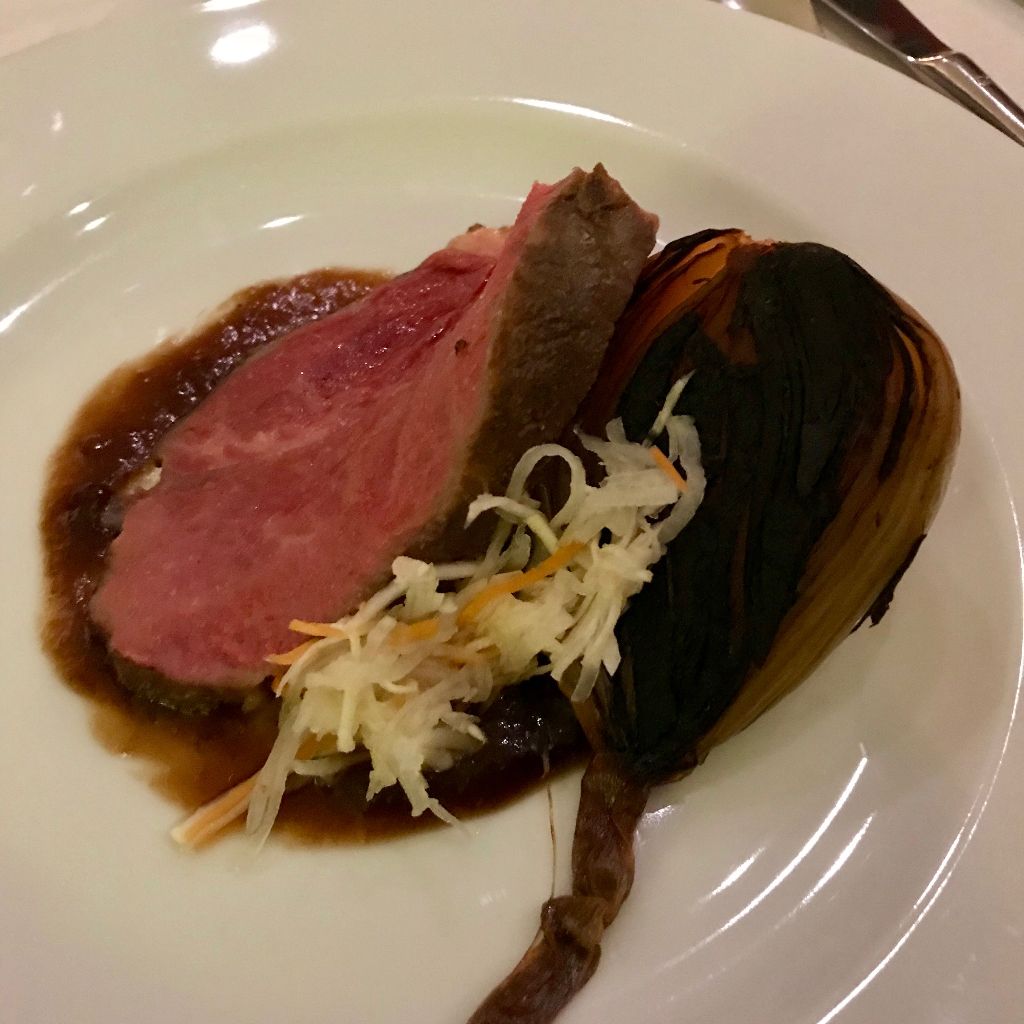 This was served with a side dish of offal curry, with potato and red currant.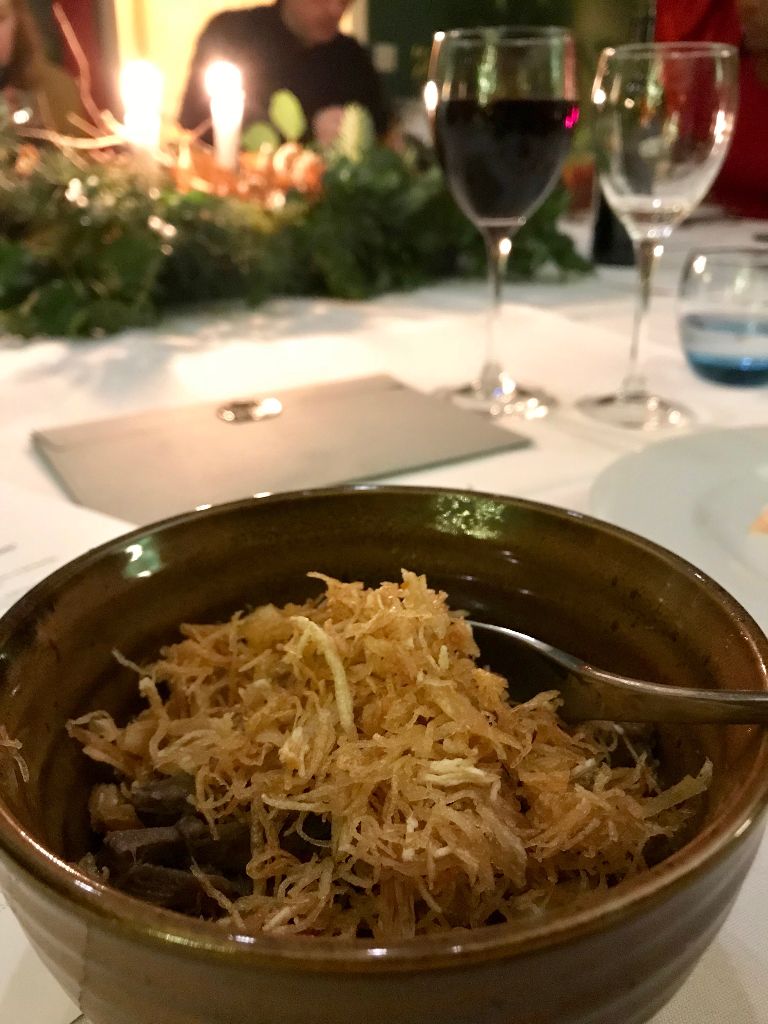 The sirloin was soft, flavoursome and some of the best meat I've had, but the offal curry was an unexpected delight. Earthy, rich, well spiced, and topped with those onions… just fabulous.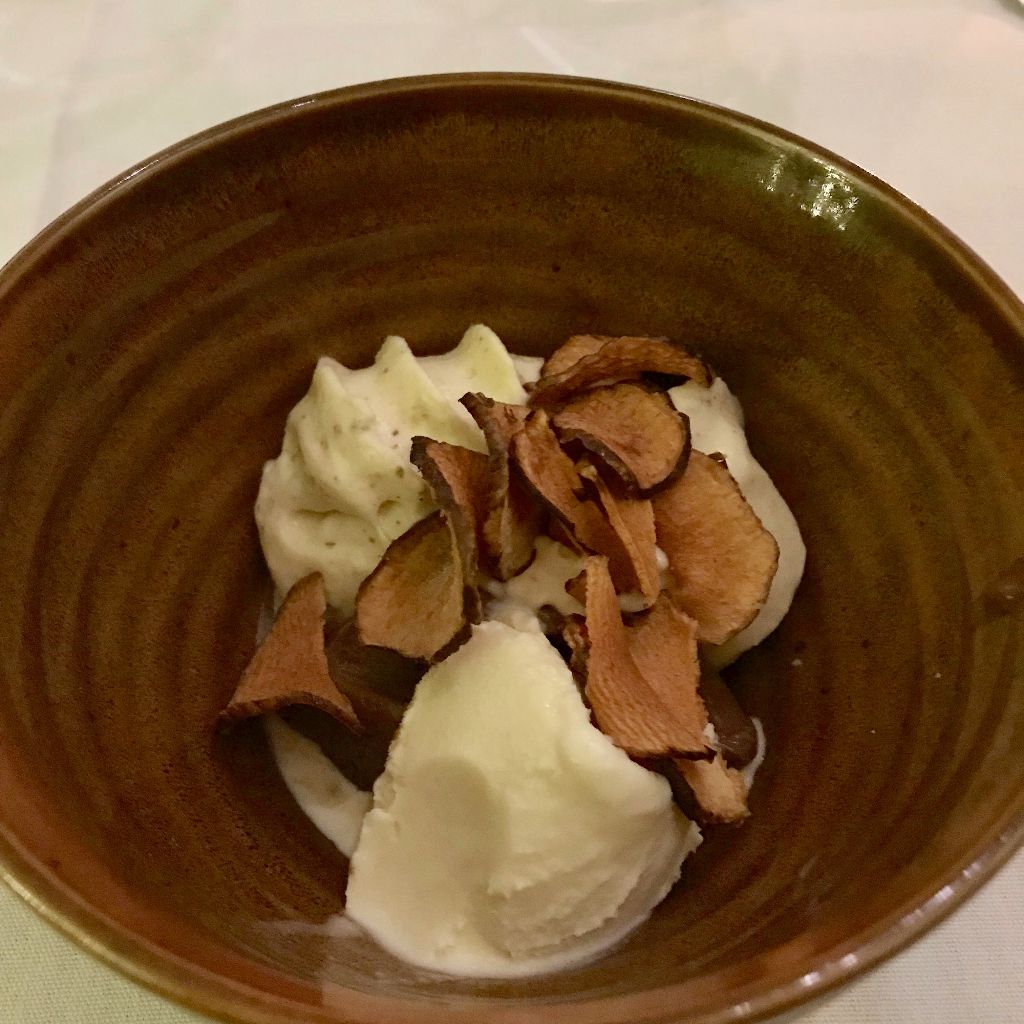 Dessert delivered a touch of the forest right to our table: Chocolate and turmeric Cremeux, with Douglas Fir, and Jerusalem Artichoke. Flavours of the trees just outside the door were within the bowls right in front of us. It was amazing, exciting and oh so very tasty.
We chose wines that had been paired to each dish by the always brilliant Latitude Wine and they were the perfect match for each course. This was yet another collaboration that made the event so special.
Soon everyone was making their way back to the carriage, feeling warm, fuzzy and happy… that jolliness stayed with us on our ride back through the dark forest, where we spotted deer, glowing trees and beautiful glistening bridges.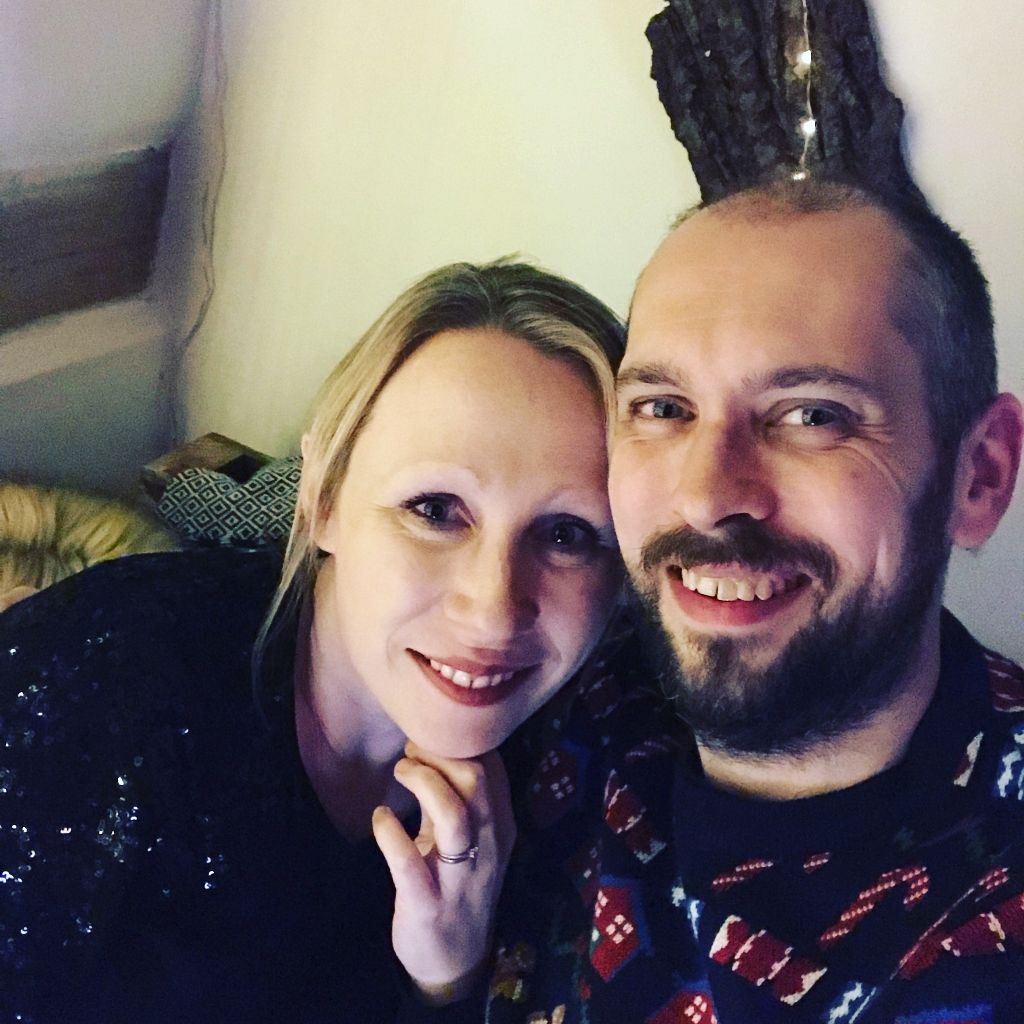 We returned for some drinks by the fire, before the babysitter gong sounded and our adventure was at a close.
Winter in the Woods was exciting, comforting, festive, surprising, luxurious, adventurous and delicious. A complete treat that was filled with joy by both the people that created it and the people experiencing it. Look out for the spring edition of Hidden Harewood – I know I will be…
Comments
comments