After great success in Manchester, Tattu opened in Leeds last summer. It's a modern Chinese restaurant that I'd heard had tasty food and opulent surroundings so Mr M and I went there for lunch.
The booking system was great and I even received a phone call to confirm our table and ask about any dietary requirements etc. We don't have any, but I imagine that if you do this attention to detail is highly reassuring. On arrival, I marvelled at the glitzy bar and the huge blossom trees looming over the stairway. It was beautiful and such a gorgeous sight in the bleak mid-winter gloom of twiggy January.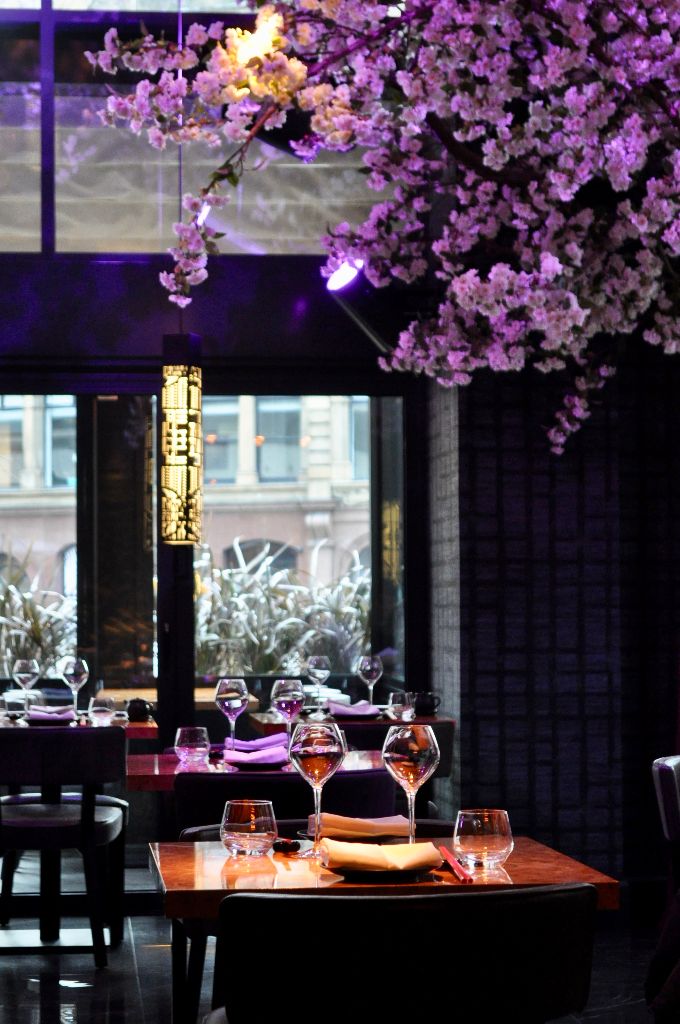 I was taken through to be seated in the restaurant (where there was more blossom – hurrah) and handed a card after my rather huge duvet-style coat was taken to the cloakroom for me. Whilst I waited for Mr M, I perused the menu and messed around taking photos like this one…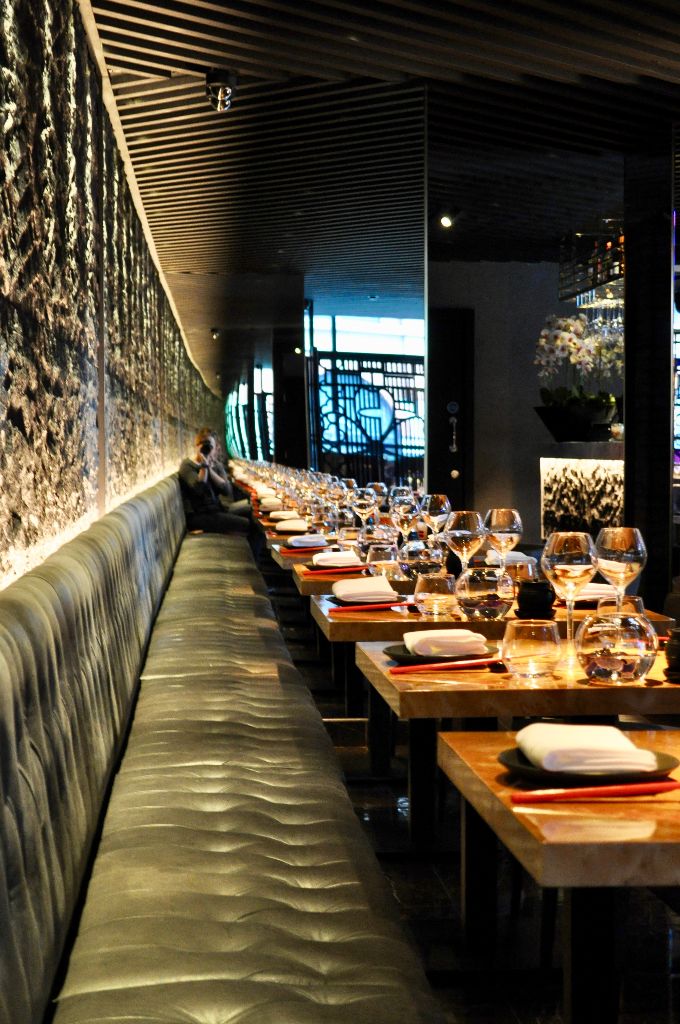 Mr M and I went down the small plates route (you don't have to – there are main courses etc.) so we had two plates of dim sum and then four dishes from the small plates menu. (This was great and meant we could try as many things as possible.)
For our dim sum we chose Black Cod and Asparagus, followed by Spicy Pork Wontons. They were stunning to look at with their gorgeous colours… Look at the contrast of green against jet black here: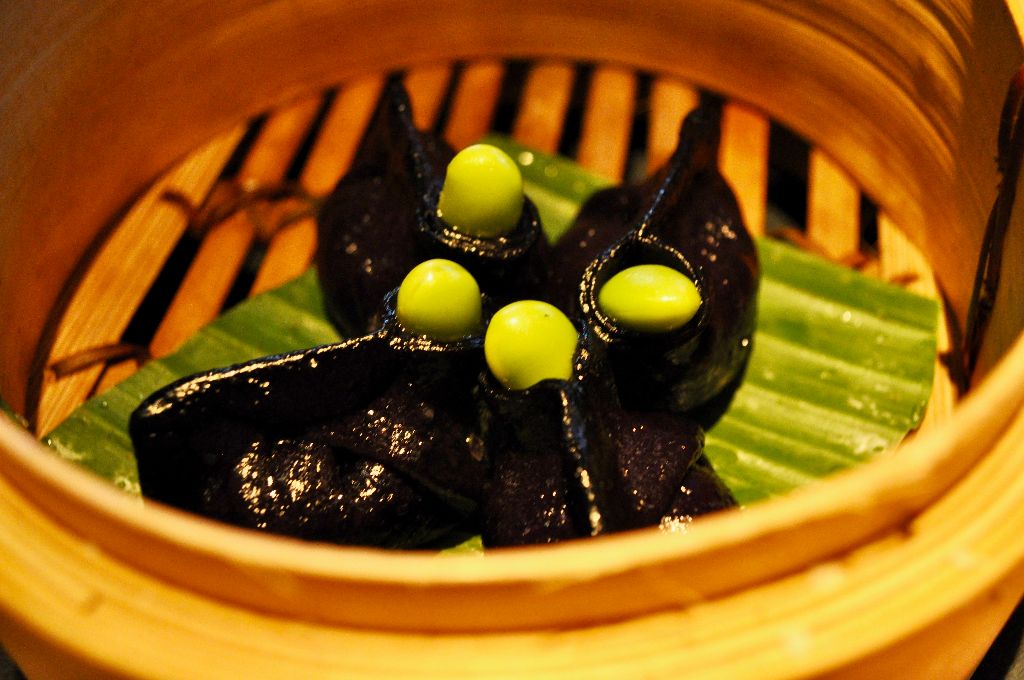 They were soft, delicately flavoured and moreish. The dips that came with them were perfect too and gave you several options of flavour combinations (fishy, soy/vinegar or a coriander based sauce).
The pork wontons were strong with Szechuan chilli and had a good bite of peanut in them to give extra texture, as they were steamed rather than fried.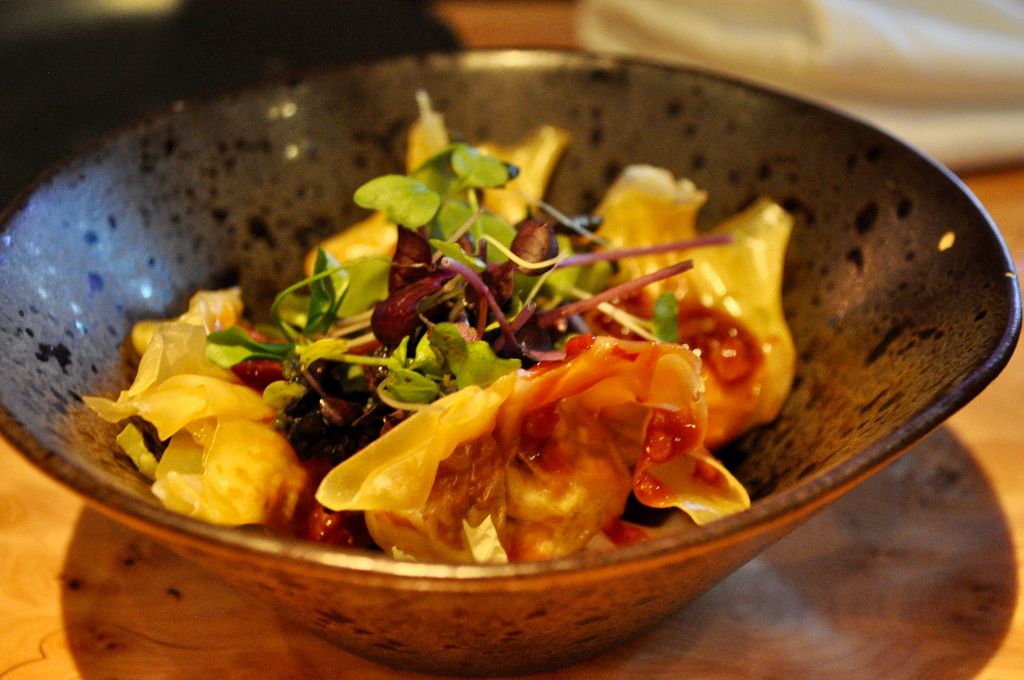 Next up two of our small plates came out together, which seemed almost like a starter and a main. First, we had the seared tuna.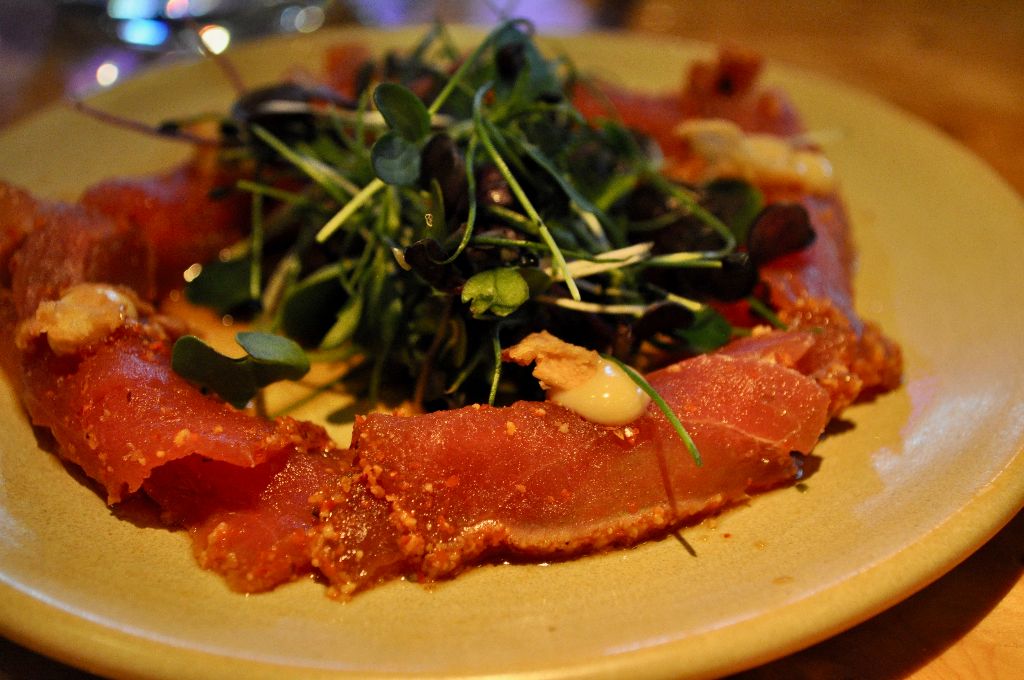 This was a light dish, with a slight kick of Togarashi spices and strong, fresh citrus. Divine.
The tuna was followed with almost it's exact opposite; Sticky Beef Short Rib with veal jus. Dense, soft, but packing a deep beefy punch of flavour, these were amazing mouthfuls that were surprisingly filling. (Watch out for those fresh chillies on top as they pack a punch too…)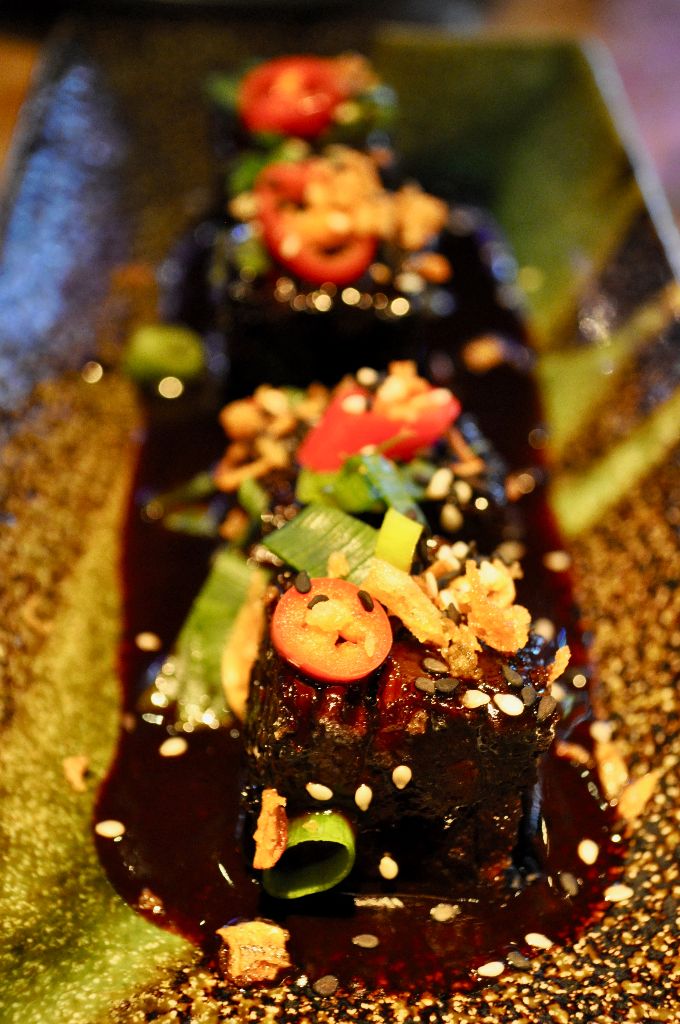 Our last two plates were the Teriyaki Scallops and the Chicken Satay Lollipops. The lollipops were ok, but I was quite full by this point and they weren't as impressively flavoured as our other plates. Also, the peanuts were a bit too large and kept falling off the chicken, so it was all a little tricky and messy.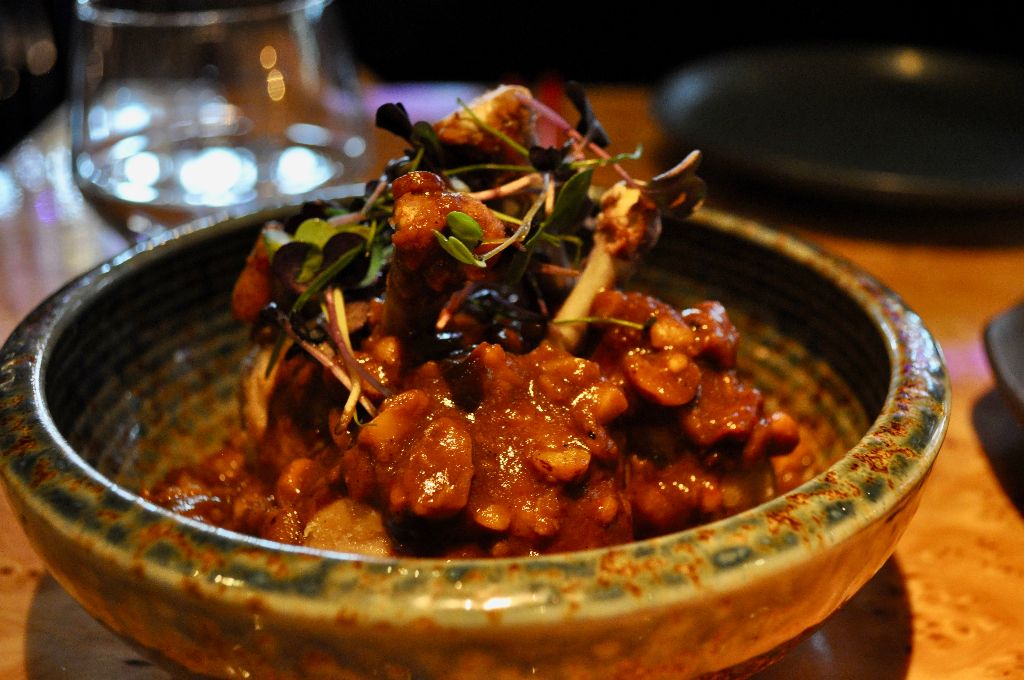 But let's talk about the Teriyaki Scallops – OH MY! If you're going to order just one dish, it has to be this one. This dish has stayed with me. I think about it, I talk about it, and I want to eat 14 plates of it right now. It's so clever.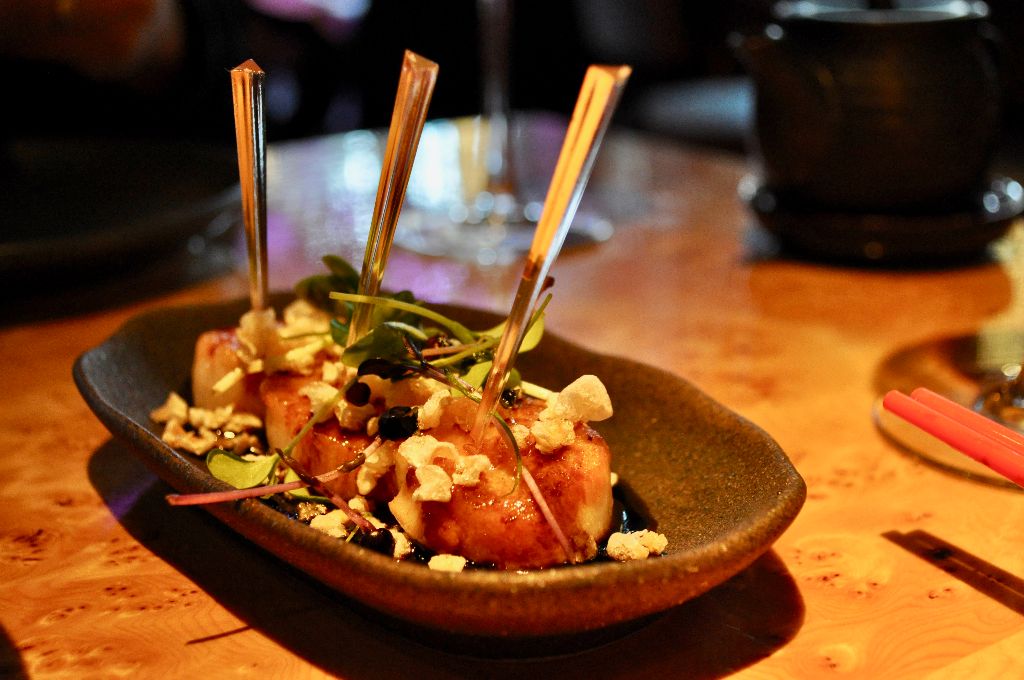 First of all, look how pretty it is; almost like a little sailing boat. BUT. The taste is insanely good. I worried that it might be too sweet, but no. The scallops married with the sauce perfectly because they too are a fine balance of sweet and salty, and additionally there was the slight edge of sake in there. The scallops themselves were gorgeously warm throughout, but still remaining brilliantly soft in texture, with a sticky note of sauce glazing them. Then scattered all over was the perfectly formed, delicate popcorn-like small pieces of pork crackling. These little kernels took this dish above and beyond anything else. Utter genius.
Tattu is as shiny and glitzy as you may have heard, making it feel like a real treat to be there. The food went above my expectations; the flavours are strong, but balanced to the main ingredient of each dish and I was really impressed with the presentation of both the food and the surroundings. This isn't hearty, big bowls of food, so if that's what you're after this isn't the place. The food here is contemporary, beautiful and clever – I loved it.
Comments
comments