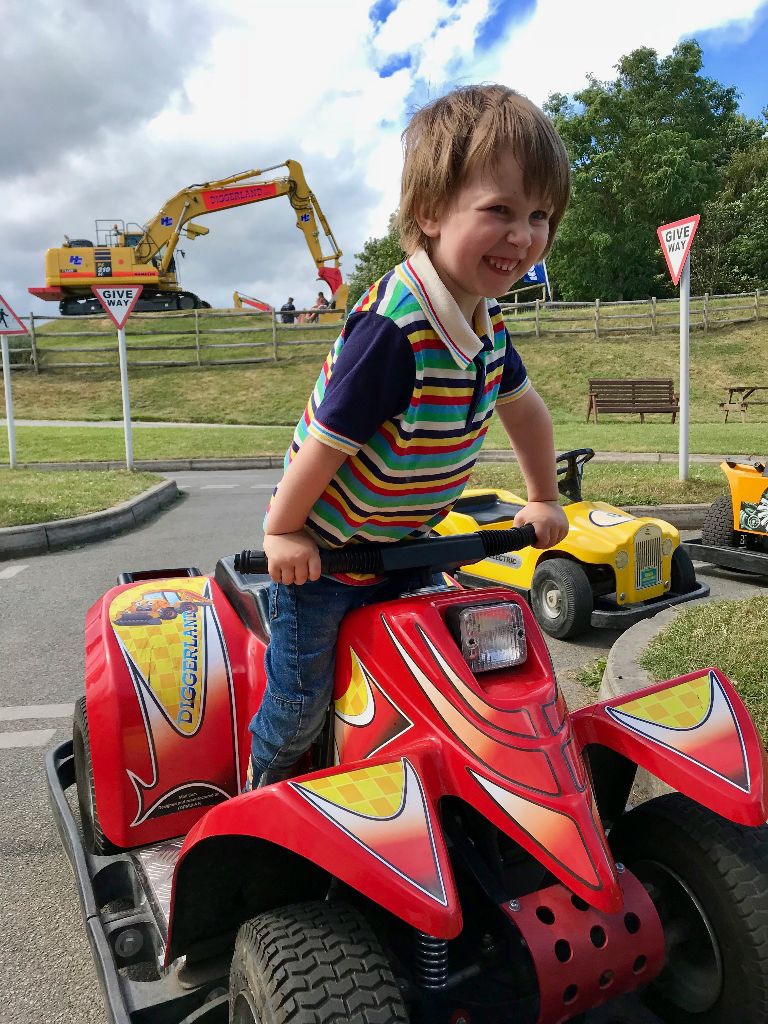 Robin has an unexplained love of all vehicles. We live beneath the flightpath of Leeds Bradford airport, and still, each time a plane goes overhead he shouts  "AEROPLANE!!!" at the top of his voice and jumps around, as if he hasn't seen dozens of them every day of his life. He's already been to the National Railway Museum (birthday number two) so to satisfy his love of vehicles on his fourth birthday, we thought we'd give Diggerland a try.
There are four Diggerland sites across the country, and Yorkshire has its very own, found in Castleford. I didn't really know what to expect, but the clue is in the name really – a land of diggers awaited us, and we were READY.
The first thing we did was the most terrifying; the Spindizzy. It's a fairground ride, in a digger. Your seat is within a giant digger bucket and you get whirled up and down, and round and round, FAST. Really quite terrifying. The boys lasted no more than a minute before we had to give the sign to stop. Emilia, however, completely loved it, and made me go back on with her a second time. (She was laughing her head off as I was shouting "Emilia, WHAT ARE WE DOING ON HERE???".)
Things calmed down after that. The children had turns using real life diggers, digging real life dirt. It was such fun, and so exciting for them; when else would they get to have a go at something like this?
There's so much to do and we did the lot; train barrel rides, driving mini tractors, go karts, hook a duck (using a digger), driving dumper trucks…
Oh and there's the Skyshuttle. Now, be warned, don't go on this if you are prone to getting even slightly claustrophobic or if you're at all scared of heights. It's amazing, and the views are spectacular, but you're up there a good few minutes, giving your mind time to mess with you … I came off looking and feeling really rather grey.
Emilia had a fierce determination when it came to the skittles and hook a duck games, which were play