Nearing the end of half term (wasn't it a long week?!) Emilia finally persuaded me to take her and Robin to Clip 'n Climb, in Ilkley, Yorkshire. She'd already been to the Leeds-based one for a friend's party, so we thought we try out the original venue in Ilkley, which meant we could also enjoy driving out through the beautiful countryside.
If you've not heard of it before, this is their description:
…climbing meets theme park in an exciting new leisure concept for ages four and upwards and that INCLUDES ADULTS…

Our stunning series of climbing-based activities provide healthy, challenging fun for all the family!
Arriving early, as requested, the kids got increasingly excited for their climbing adventure – there was a lot of jumping around and "how long NOW?!". The space is smaller than I'd imagined (having seen the larger Leeds venue) but it was perfect for an hour's exercise and play.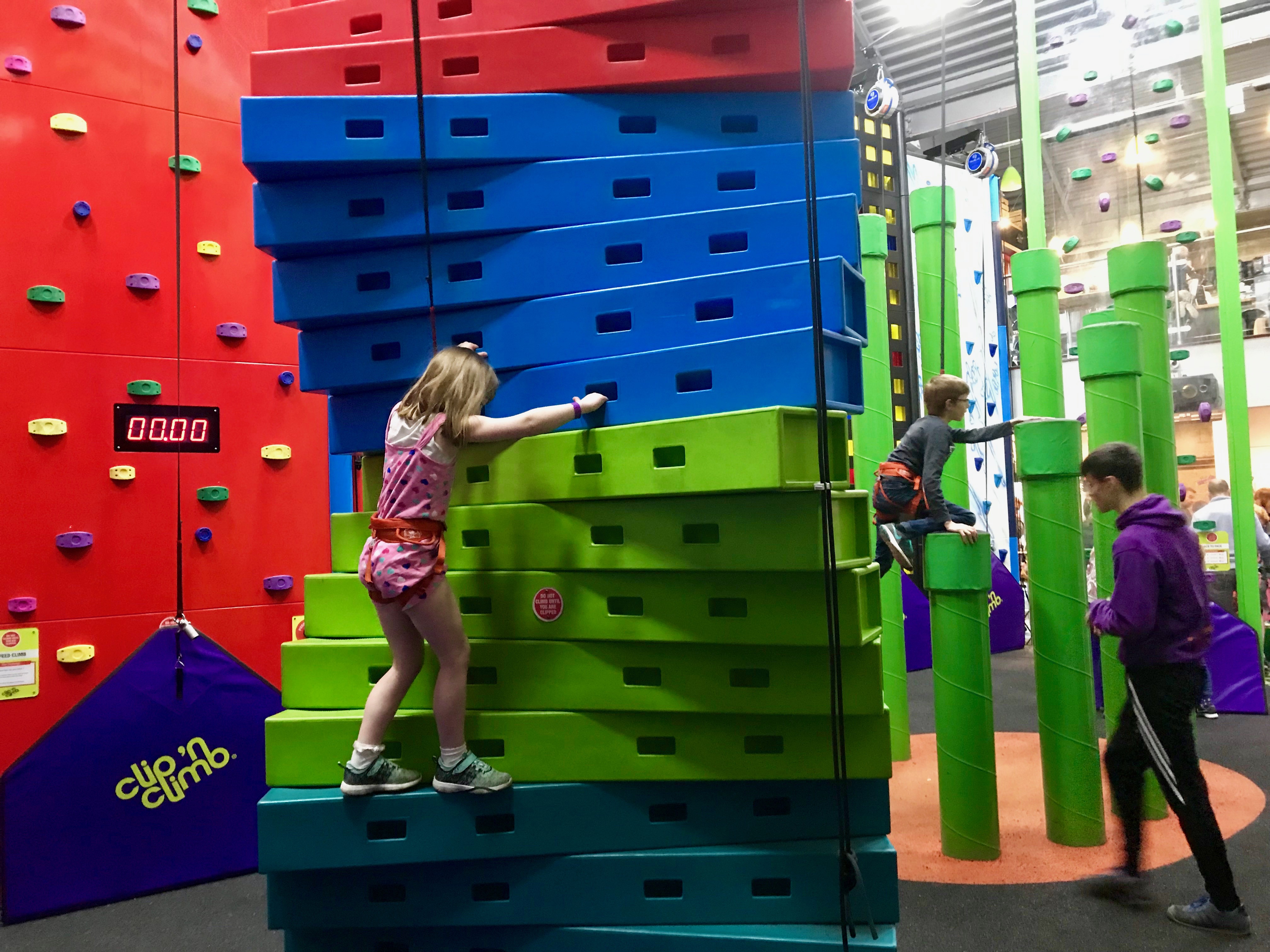 My two were soon harnessed up and shown the safety video so they knew what to expect and what they had to do. There are 21 different climbing stations to enjoy in there, and you clip yourself on to the rope at each station. The belay device takes up the slack as you climb upwards, and it lets you lower yourself slowly back down. They can be a little tricky to remove, but there's plenty of helpful staff members around to help out. They are such nice people, too; really friendly and incredibly patient.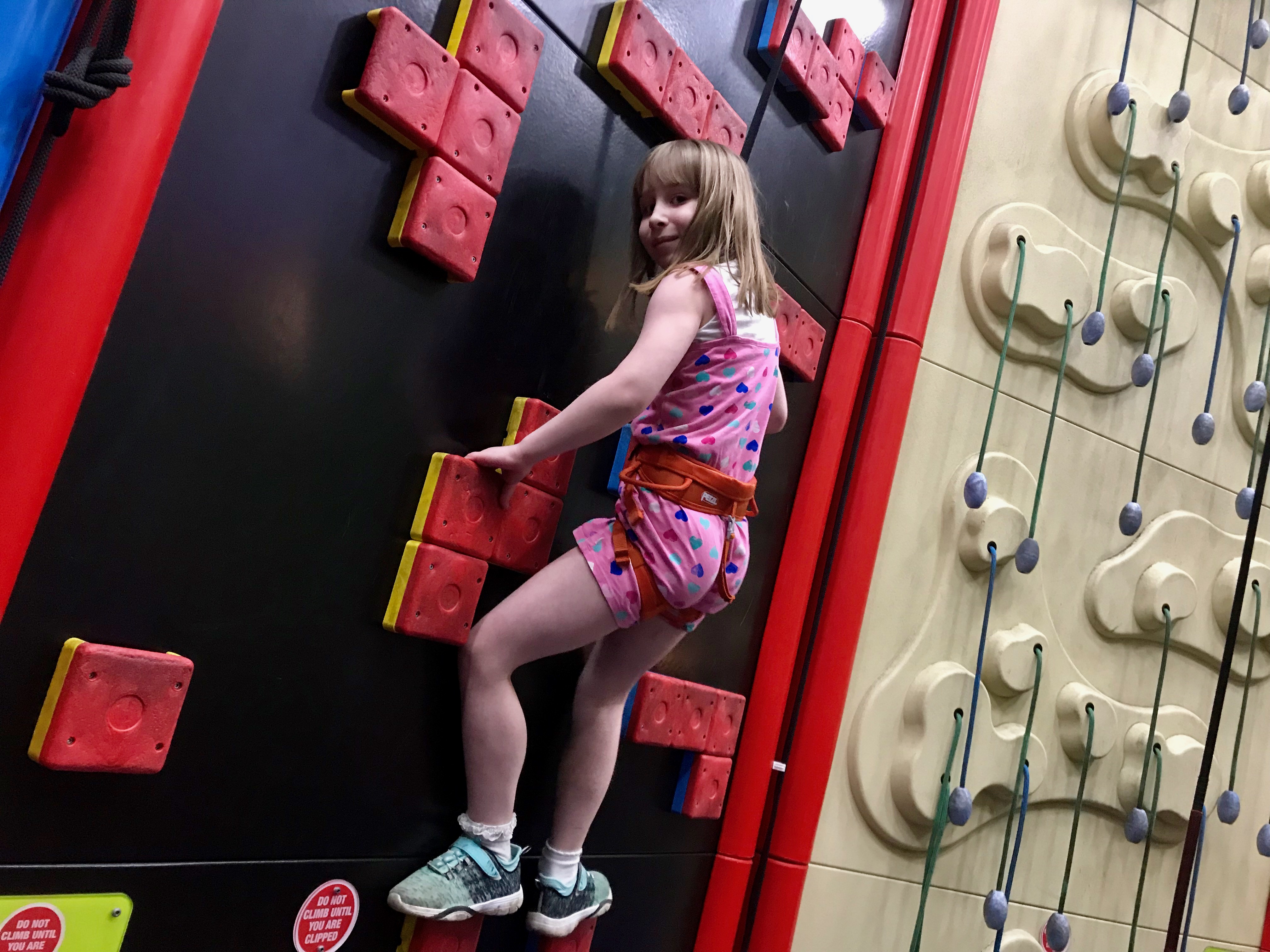 Having done it before, Emilia raced off the second we entered, and I barely saw her for the rest of the hour. She monkeyed her way to the top of the first wall she tried and then she set herself challenges on the walls that had timers on to see how fast she could complete them.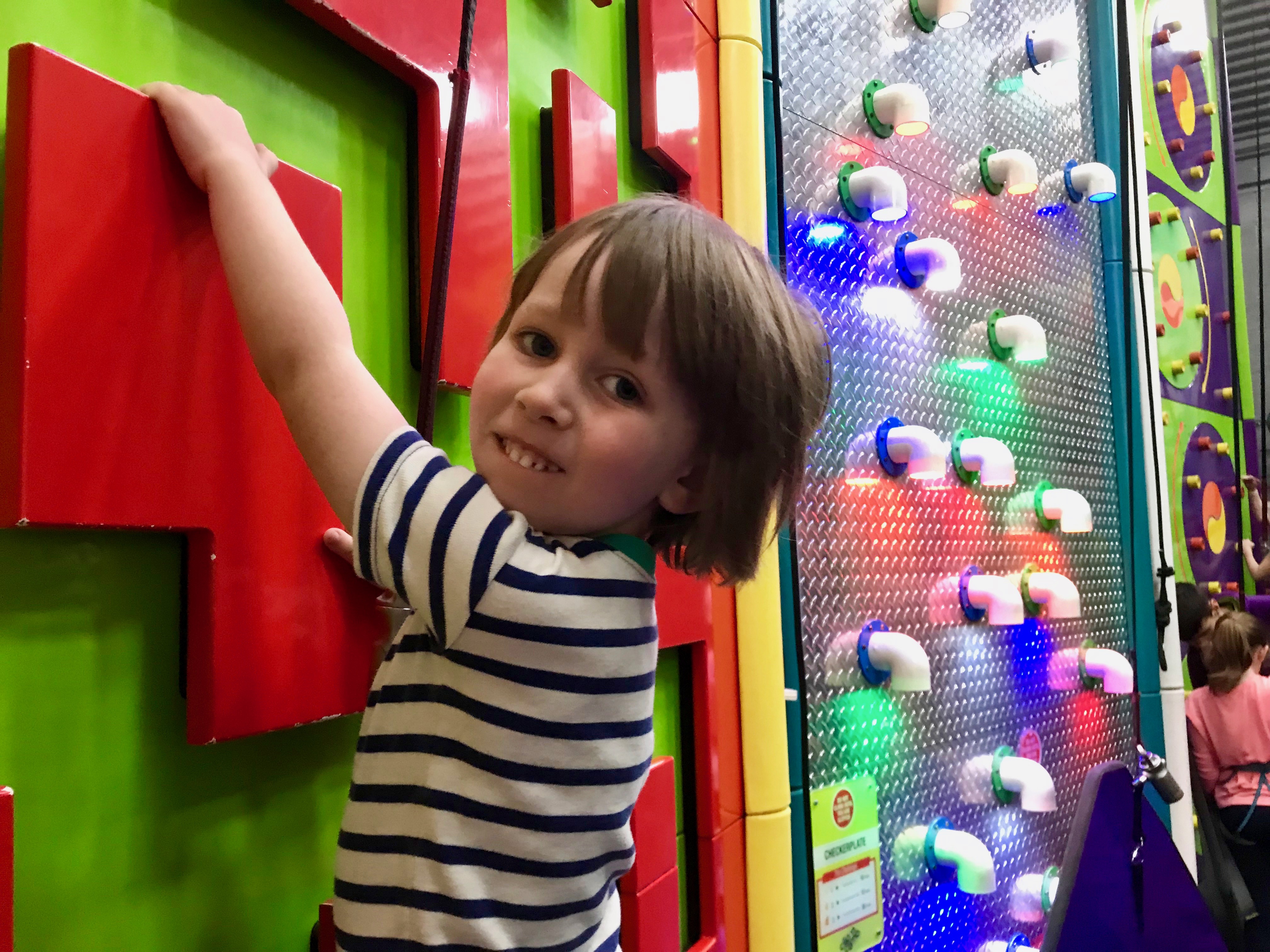 It was a different experience for Robin, who's only 4yrs old and hasn't done anything like this before. He was a little nervous about it all, and found pulling himself up onto the walls hard work. He also didn't like getting too high, as it made him nervous and it didn't feel natural for him to kick off the wall to lower himself down. He did brilliantly though and kept at it, trying different walls and different ways of getting up them. It was extremely tiring for him, so we took a much needed Twix break halfway through.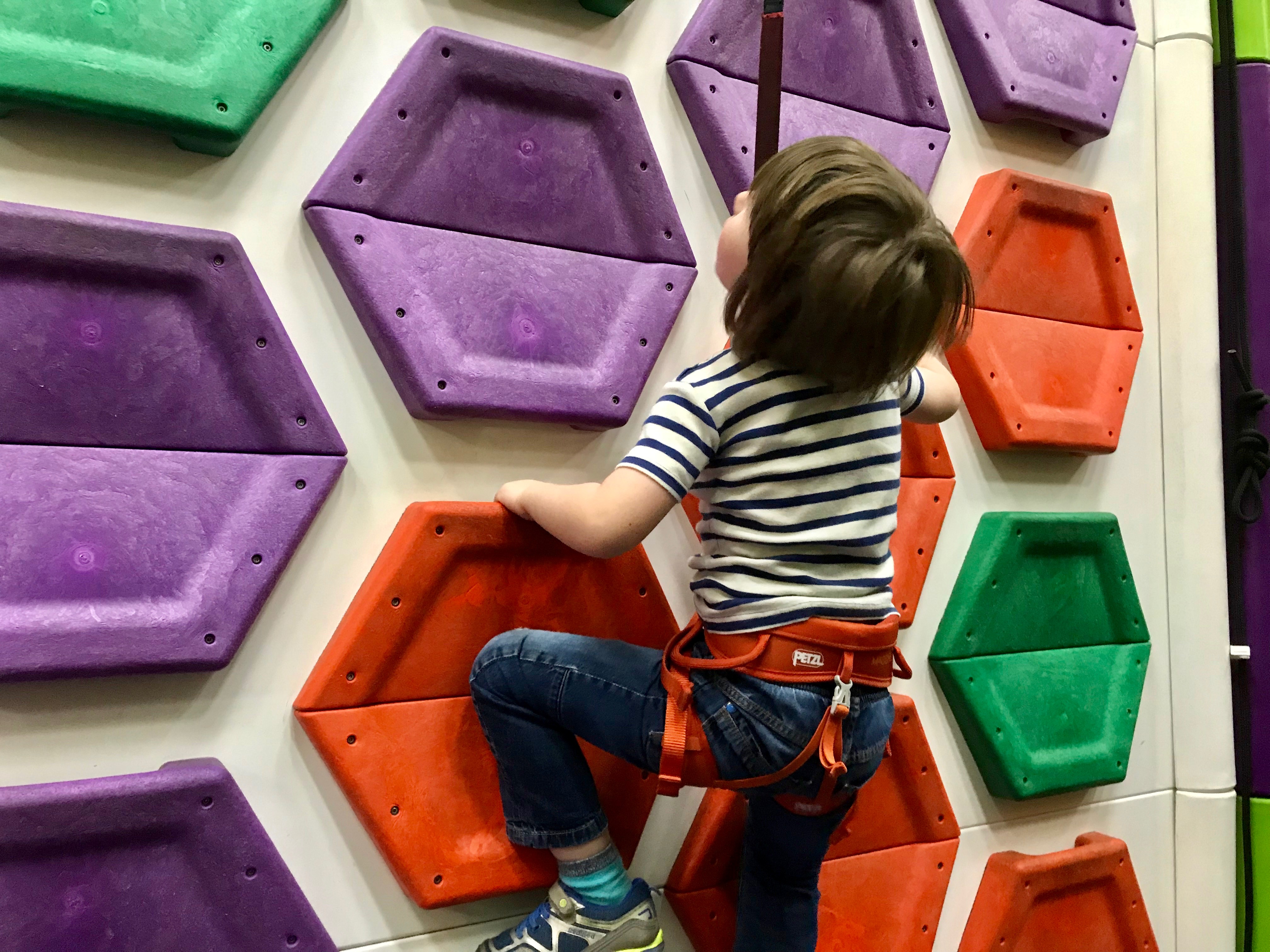 Adults can get involved at Clip 'n Climb too, and I'll definitely give it a try when Robin's older and can climb a bit more on his own. It's fantastic exercise and a whole new way to challenge yourself. Emilia's keen to go back asap, and Robin is too (especially because they have a cafe there that sells enormous chocolate chip cookies – not that he's all about the food).
Ilkley Clip 'n Climb is found at Ilkley train station, so there's plenty of parking around and you're close to everything in town, including Betty's, which I couldn't resist…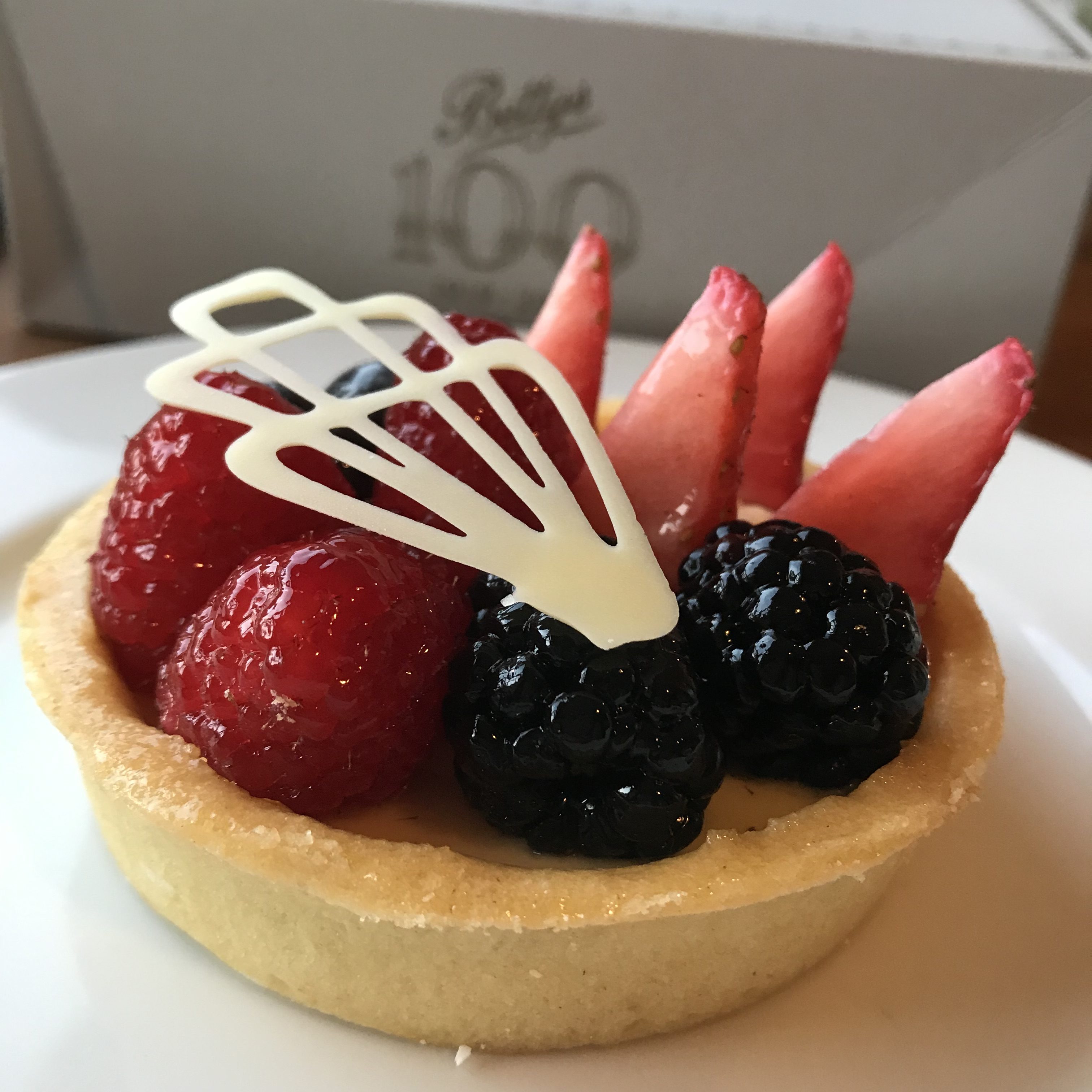 We'll definitely go back. It's not cheap (£22 for the two of mine) but it's a full hour of exercise and a great new challenge for kids. Plus it definitely wears them out, which by the end of half term I'd give just about anything for!
Comments
comments